Art therapy projects for seniors provide a wide range of mental and physical benefits — plus they're a great way for seniors to socialize, have fun, and make new friends!
What Is Art Therapy for Seniors?
Art therapy is more than just painting activities for older adults. Art projects help people cope with stress while developing new skills and maintaining old ones. A range of different art forms can be used in art therapy, but the goal is always the same: to address mental and physical health issues while using artistic expression to improve quality of life.
Benefits of Art Therapy Projects for Seniors
Art therapy positively impacts cognitive function, mood, and fine motor skills. Art activities for seniors can help maintain healthy neural connections in the brain by stimulating the senses, while the process of learning new art forms exercises a person's thinking skills. These benefits slow rates of cognitive decline.
Many seniors see their mood improve with art therapy. Working on art projects in groups reduces feelings of loneliness, anxiety, and depression. Group projects encourage collaboration, such as the group mural our Alexis Pointe community created, and provide an opportunity for seniors to socialize together in a friendly environment. Completing projects creates a feeling of satisfaction, and allows seniors to explore and develop their self-expression.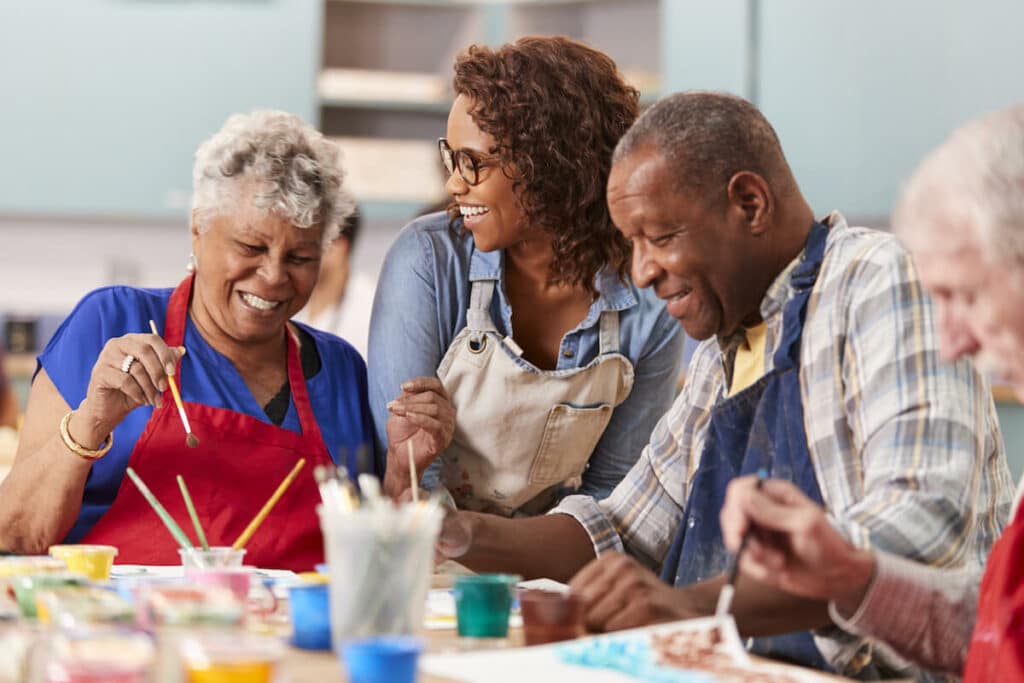 Physically, art therapy helps seniors maintain fine motor skills. For seniors with arthritis, art therapy has been shown to positively impact pain perception: focusing on their art distracts seniors from swollen joint pain.
For people living with memory loss, art therapy can trigger memories from their past, creating moments of clarity. Music, especially, seems to trigger buried memories, so music is often incorporated into art activities for seniors.
The Variety of Art Therapy Projects for Seniors
When people think about art therapy projects for seniors, they often conjure up images of painting activities for older adults. Now, there's nothing wrong with painting as a form of art therapy: many seniors enjoy exploring their creativity with paint, just as many enjoy sketching with charcoal. Painting and sketches are hardly the only art activities for seniors, however. The range of projects available is remarkable:
Quilling: Quilling uses strips of rolled paper to create decorative designs, and is great for improving fine motor skills.
Carpentry: Carpentry is as much an art as a science, and many seniors have a lifelong love of making things with their hands. Building birdhouses, boxes, and other carpentry projects challenge a senior's cognitive reasoning and imagination while working with different carpentry tools keeps projects fresh and interesting.
Sculpting: Working with modeling clay or papier-mache is a very tactile experience, and provides plenty of sensory stimulation as well as an opportunity for self-expression.
Writing and journaling: Seniors have a lifetime of stories, so why not tell them? Writing memoirs and tales of their youth often triggers memories long-forgotten, while providing opportunities to bond over stories with family members.
Beading: Beading stimulates the nerves in seniors' fingers while promoting cognitive function and memory skills.
Flower arranging: Flower arranging provides plenty of sensory stimulation, including touch, smell, and sight.
Paint by Numbers: Some of us weren't born to be great artists, and that's okay. Painting by numbers projects requires seniors to make creative choices on which colors to use while challenging cognitive function and fine motor skills.
Ultimately, art therapy projects for seniors are about self-exploration and fun. Painting and similar projects aren't really about the end product — they're about the process and enjoyment seniors get out of socializing in a fun, happy environment.
Interested in finding out what other activities can be beneficial for both mental and physical health? Civitas Senior Living has a calendar full of engaging activities throughout the year. Check out our communities and contact us to see what we offer at the property closest to you.