Assisted living may be beneficial for your loved one, but understanding what it offers can be unclear. If your loved one is living with dementia, memory care may be a better fit. Understanding what is offered and what options are available is key to making the right choice.
What is assisted living?
Assisted living refers to services provided in a home-like setting or community that help residents live their everyday lives while remaining as independent as possible. Services provided vary by facility but generally include:
One to three meals a day
Medication monitoring and assistance
Personal care, including dressing, bathing, and grooming
Housekeeping and laundry
24-hour emergency assistance
Some medical services
Social and recreational activities
Passionate care, passionate living
You can find exceptional assisted living in Park Forest. The environment at The Avenues of Park Forest is upscale comfort meets compassionate care. Located in Farmers Branch, a charming suburb of Dallas, you'll also find a wide array of unique programs in our community. Our signature Passion Program truly enhances seniors' lives by focusing on wellness, activities, communication and engagement.
Residents enjoy a carefree lifestyle without the burdens of home maintenance, constant upkeep, housekeeping, or even cooking. Dining is an experience and menus are thoughtfully crafted with our residents' wishes in mind.
Imagine life with customized care, based on your own personal wellness assessment. Our certified, compassionate staff are on-site 24-7. Life's a breeze when housekeeping and personal laundry service are taken care of. You can finally focus on enjoying life with a variety of fun, interesting activities, clubs, and experiences to choose from.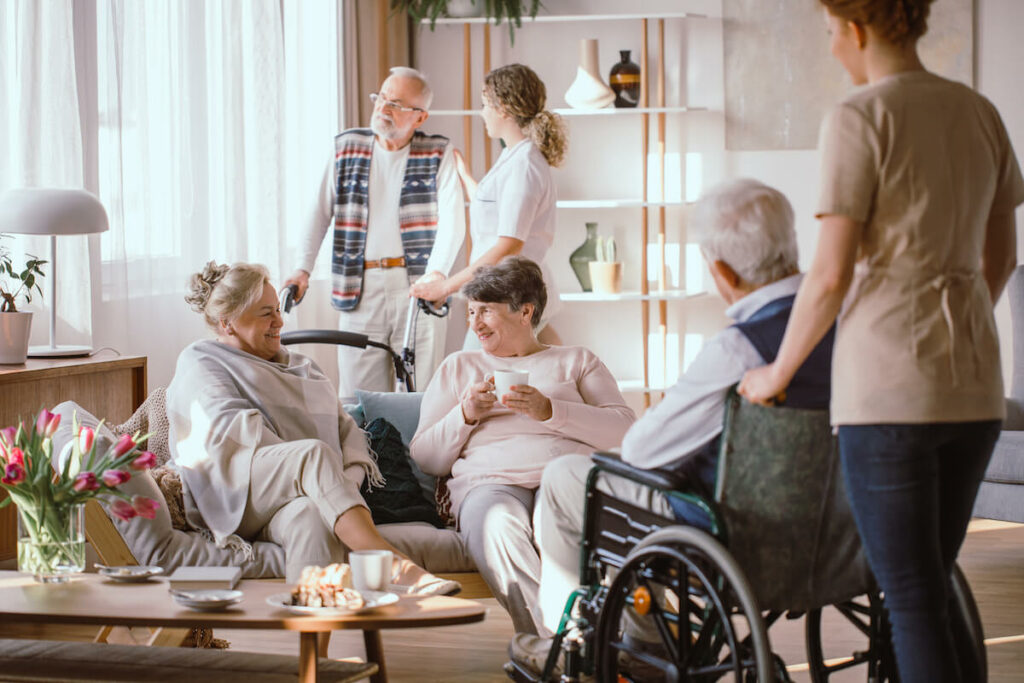 In addition, our stylish senior apartments offer studio, one, or two-bedroom options so that you can find what works best for your lifestyle. Assisted living in Park Forest gives seniors the best of independence and care.
What is memory care?
If you think your loved one may benefit from memory care, Dallas, TX has many options out there. It's best to understand what is offered so that you can make an informed decision. Memory care offers specialized support for seniors with Alzheimer's or other forms of dementia. The environment is designed to be calming, soothing, and structured to be appropriate for their unique needs. The care offered is also much more specific.
Residents receive help with personal care tasks and dining needs by employees who are specially trained to manage the unique requirements of dementia or Alzheimer's care. Programs, meals, and the environment are tailored to help residents feel secure, along with engaged activities that stimulate the brain. They also check in with residents more frequently and provide extra structure and support to help them navigate their day.
Memory Care: Dallas seniors find comfort at The Cottage
At The Avenues of Park Forest, our memory care neighborhood, The Cottage, is small and intimate for a reason. We intentionally keep our resident number low and our staff-to-resident ratios high so that your loved one has the attention they need. We focus on providing comprehensive, evidence-based care for seniors with Alzheimer's or other forms of dementia.
Our MINDful menus are specifically designed to abide by the latest nutritional guidelines in both physical and cognitive wellness.
Activities are crafted to engage the senses, stimulate the brain, and create opportunities for social interaction.
Residents of The Cottage live in their own, specialized, separate wing of the building. Well-appointed suites or private rooms are accessible and easy to navigate and cozy living areas offer a chance to engage with others.
Residents are encouraged to make their living spaces their own by incorporating belongings that bring joy and create that sense of home. Decorating your new senior living home can be an exciting activity for seniors and their families.
Seniors in the Dallas area can find comfort in knowing that help with daily living or specialized dementia care is here.
A passion for senior living
Whether your loved one's needs are best served by assisted living, or specialized Alzheimer's and dementia care, we are passionate about helping seniors find their next home. Our passion for their well-being is evident in everything we do. Come tour our community today and see the difference.
Find out more about the lifestyle that meets your loved one's needs today.
Assisted Living in Park Forest Or Memory Care? Dallas area seniors' needs met at The Avenues of Park Forest. We can help you navigate the complex world of senior living. Contact us to find that perfect balance of comfort and care for your loved one.