Dubraska Smith just passed her citizenship exam, and her place of employment, StoneCreek of Edmond Senior Living, celebrated with her. Dubraska, originally from Venezuela, is a crowd-favorite employee who always goes above and beyond her usual duties at the senior living community.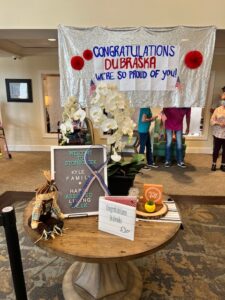 StoneCreek of Edmond threw a surprise celebration party for Dubraska on Sept. 15 with residents and staff alike cheering her on and congratulating her. Dubraska had passed her exam the day before!
Dubraska is an evening and weekend receptionist and also does activities on the weekend with the residents. She has been with StoneCreek since January 2022.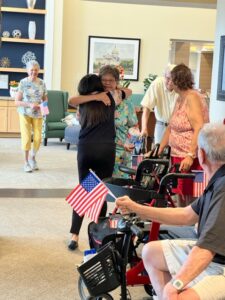 Families and residents alike love her. "She is literally the kindest person I think I have ever met," shares Executive Director, Kourtney Hamilton. "She runs/speed walks to answer the door or phone every time!"
One time, there was a resident that wanted to read a book and wasn't able to see it. Dubraska sat and read him a chapter before he went to bed.
"She's definitely a StoneCreek favorite among residents, families, and coworkers," adds Kourtney.
Meet Dubraska and the rest of our welcoming team today!
Our team and community will welcome you with open arms. Contact us today to get started.