At The Avenues of Park Forest Assisted Living and Memory Care, residents are thriving. It's easy to live a long, happy life when you have passionate care, great friends, and a welcoming community to call home.
Signature programs
The Avenues of Park Forest offers top-tier care with our signature Passion Program. The holistic approach to care ensures personalized service in everything we do. From assessing and keeping track of wellness goals to ensuring meals are nutritious and customized to each resident's liking, The Avenues of Park Forest puts the resident experience first.
A Focus on Wellness
There are many keys to a long and healthy life, including a healthy diet, plenty of exercise, and staying socially active. Research has shown that social interaction is key to maintaining good mental health and lowering the risk of cognitive decline associated with Alzheimer's and dementia. It seems that having close relationships and an active social network have a positive impact on memory and cognitive function as we age.
Our Fit For You is one of our special programs that enable residents to stay active mentally and physically while having fun together. In addition, a robust social calendar affords residents plenty of opportunities to engage in clubs, events, outings, hobbies, worship services, and special events.
Celebrating Our Residents' Long, Happy Lives
Making health, wellness, and social interaction a priority leads to longevity and our residents are living proof. We recently celebrated two milestone birthdays at our community. Ms. Nita A. turned 100-years-old in November 2021 and Ms. Martha G. celebrated her 98th birthday in December 2021.
About Nita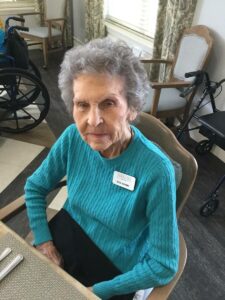 Juanita "Nita" A. was born November 25, 1921, in Winters, Texas. Nita and Lester Morton got married on March 14, 1943. They were married for 32 years until Mr. Morton passed away in 1975. They have two children, one boy, and one girl.
Nita joined The Avenues of Park Forest community in July 2019. Nita enjoys playing the piano in her room with headphones that connect to the keyboard so no one else is disturbed while she plays.
When asked her opinion on the key to longevity, Nita had this to say: "I read recently of the result of such a study: that those who had reached old age had a connection with being a part of a church. My mother took me to the church nursery on Sundays. One Sunday, when church service was over, she forgot to go back for me because she had me for such a short time. I still watch my church service online, and members from my church come to visit me at The Avenues of Park Forest community."
About Martha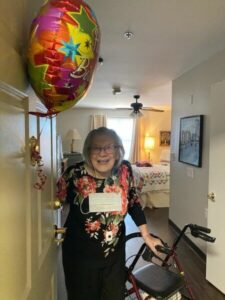 Martha G. was born on December 6, 1923, in Meriden, Kansas. She became a resident at The Avenues of Park Forest in October 2021.
Martha's husband's name was Glen; they were married for so many years that Martha lost count! They married when Glen returned home from the service in Fort Knox. The couple has two sons, Tracy and Jay, one granddaughter, and two great-grandchildren.
Martha still owns a summer home where her family visits every Sunday. There's a big pool in the backyard, one for the adults and one for the children that is only 3ft. deep with a waterfall attached to it. "We have fun as a family there every summer, and my great grands love it!" says Martha.
Martha loves to read; she has the Dallas Morning News delivered daily for her enjoyment. Before she moved to The Avenues of Park Forest, she enjoyed cooking a lot as well. "And it worked out, because my husband, Glen, enjoyed eating," she said.
Martha feels her secret to longevity has something to do with her good genes. She says she comes from a long line of longevity. Her mother lived to be 100 and so did her grandmother!
Both ladies enjoyed being catered to by the community on their birthdays with cake, music, and friends. Nita and Martha love the same activities and services available at The Avenues of Park Forest as well: crossword puzzles, bingo, women's social events, movie night, and communal dining in the community.
So, what are the keys to longevity?
The keys to living a long, happy life are to focus on your wellness, cultivate your interests, and remain active socially. It's easy to live a healthy lifestyle with freshly prepared dining, fitness classes, walking groups, and plenty of friends and neighbors to spend your time with.
At The Avenues of Park Forest, seniors can live long and prosper.
Call us today at (972) 433-0569 to learn more about how our passionate program and services can help give your loved one the passionate care and comfort that they deserve.