Now more than ever, staying socially engaged is important for seniors to maintain their emotional health. Loneliness and isolation lead to adverse health effects, including poor cardiovascular health, depression, and increased cognitive decline. The good news? Technological advances make it easy to stay connected.
Are you wondering how to stay in touch with family members who live far away?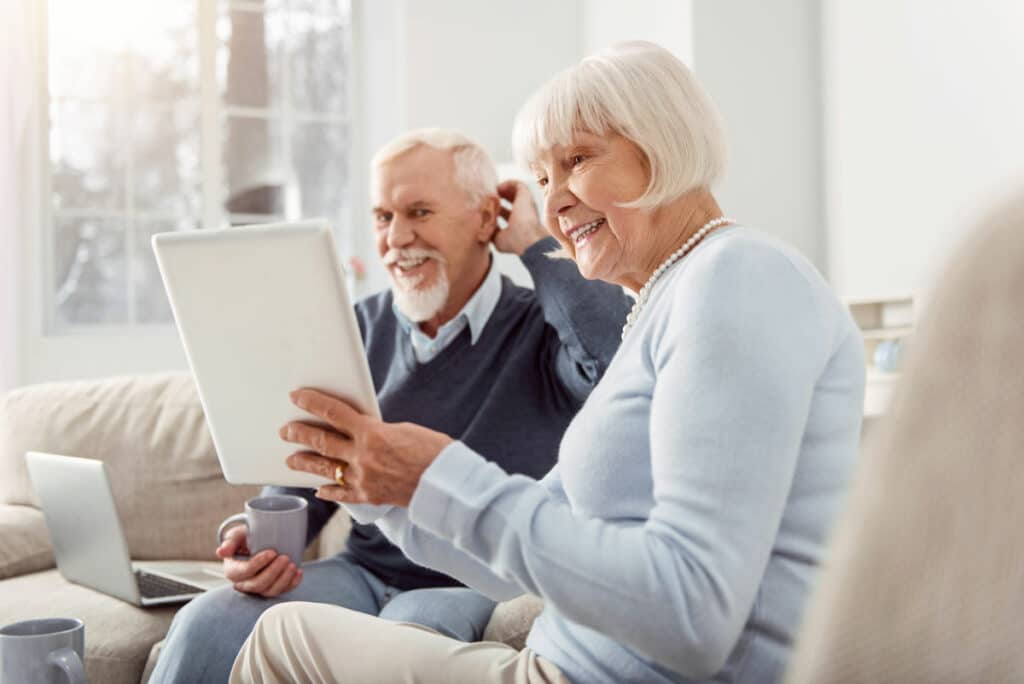 Whether you want to share a bedtime story or enjoy a new movie with your friends and family, the following tips will help you stay present in life's moments, big and small.
Utilize Video Chat Platforms and Apps
Online video platforms and chat apps are some of the most effective ways to communicate face-to-face. FaceTime is one of the most commonly-used apps. iOS devices such as iPhone, iPad, iPod touch, and Mac allow seniors to video chat over FaceTime. Check in on your granddaughter's first day of school or Group FaceTime for larger gatherings like holidays. Other apps and online platforms that will help you stay connected include:
Zoom
Skype
Marco Polo
Google Hangouts
Google Duo
Stay Connected Through Social Media
One of the simplest ways to share the joys of day-to-day life is through social media. Facebook is the most popular social media platform, with 69 percent of Americans utilizing its services. According to the Pew Research Center, the number of seniors on Facebook increased by 11 percent from 2018 to 2019. The research group attributes this popularity to the platform's versatility and ease of use. You can chat, expand your social network by adding new friends, and share photos and videos. Other social media platforms to consider include:
Instagram
Nextdoor
ThirdAGE
Schedule a Virtual Game Night
Playing board games with friends and family may be one of your best memories of childhood, and the fun doesn't have to stop if you are separated by distance. Many board games – including classics like Scrabble, Clue, and Monopoly – are available online, or you can consider hosting an interactive trivia night with virtual host sites JackBox Games.
Invite Loved Ones to Community Events
From art projects to walking clubs, a vibrant senior community will support many hobbies and events to engage their residents. Reach out to your loved one if there's any activity you'd enjoy doing together. A technologically-savvy assisted living community will have options for your loved ones to stay informed about upcoming events. Ask a staff member about the best way to keep in touch with your loved ones.
Throw a Virtual Movie Screening Party
Cozying up with a bucket of popcorn and a movie is a wonderful way to have engaging, free-flowing conversation with friends or family. New online screening platforms like Scener allow you to sync up streaming services and watch movies virtually with loved ones. Share one of your favorite classics or experience the latest blockbuster together.
Host a Virtual Storytime
One of the most memorable bonding experiences for family is sharing the joy of reading. Reado allows you to video chat and share stories with the children in your life, even if you're physically apart. They currently offer over 100 book options, so you have ample opportunity to bond over imagination and great adventures with your little one.
At Civitas Living, we make it easier than ever to connect with loved ones. Check out our many programs that empower seniors to have a thriving social life full of family, friends, and new memories. Have any questions? Contact us today!