When you get older, it might take a little longer to remember a name or date, and words may not come to mind as quickly as they once did.
As you and your brain age, what can you do? How can your memory be improved? Luckily, the top activities and habits for seniors to improve cognition are surprisingly easy and lots of fun! Grab a pen and take notes on the top ways to boost brain function and memory.
Create Healthy Eating Habits
Good nutritional habits can contribute to your physical health, but did you know it can also help enhance memory power? According to Harvard Health Publishing, improved brain health can translate to better brain function. Foods that are rich in antioxidants, B vitamins, and omega-3 fatty acids are linked to a healthier brain. Consider incorporating the following nutrient-rich superfoods into your diet to support your memory:
Walnuts
Leafy greens such as collards, kale, spinach, and broccoli
Green tea and coffee
Berries
Fatty fishes such as pollack, salmon, and cod
Maintain Physical Exercise
Do you ever wonder why you feel so great after a workout? An increased heart rate promotes blood circulation throughout the body and releases chemicals that protect the brain and act as a mood booster. Not only is regular exercise great for your body, your mind will thank you for it, too. Try incorporating 30 to 60 minutes of exercise into your routine. It's a wonderful way to stay sharp, focused and support your cognitive skills.
Mental Brain Exercises
You loved playing games as a child, right? Games nurtured your imagination and served as brain food for your cognitive functions. Mental activities, like games provide hours of fun while honing your cognition skills and improving memory. Exercising the mind helps you stay nimble and sharp. Try incorporating one or more of the following activities into your daily routine:
Board Games
Monopoly, Risk, Yahtzee, and Connect Four are a few board games for seniors that boost happiness and sharpen thinking and strategy skills. For extra fun, arrange a game group with your community, or challenge friends and family to a virtual game night online.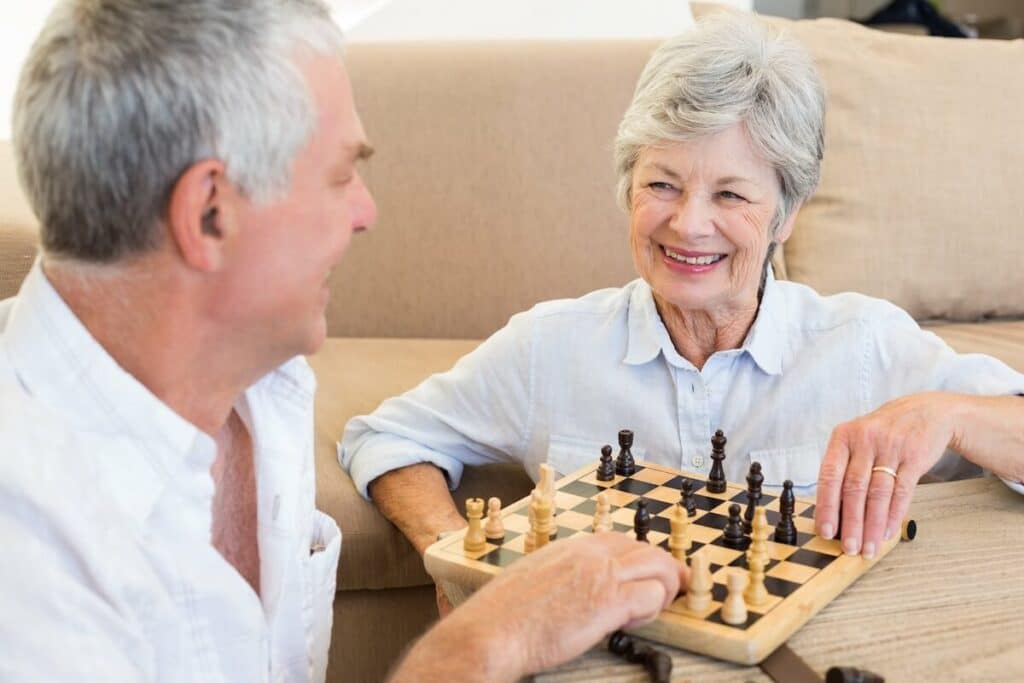 Brain Games
Games like Sudoku, Left vs. Right, and KenKen hone your concentration skills and enhance recall functions. Brain games for seniors are an excellent way to stay mentally engaged when you have some downtime.
Memory Worksheets
Doing the daily crossword with your morning coffee strengthens memory and teaches new vocabulary, improves spelling, and keeps the mind active. This enjoyable and simple activity has been shown to slow mental decline and lower the risk of cognitive diseases like dementia and Alzheimer's.
Memory worksheets for adults are also available for download online or for purchase in workbook form.
Stay Socially Engaged
Those years of regaling your best friends with your latest shenanigans benefitted your mental functions. Social interactions boost your mood and also keep us mentally healthy as we age. Staying socially engaged enhances mental health and improves cognitive functioning. Attending a community event, joining a club, or simply chatting on the phone for 10 minutes can boost your brainpower in the long run.
Learn a New Skill
Setting new goals is a wonderful way to stay busy and encourage mental functions. Set small goals as you work toward overcoming each challenge and becoming a master in your craft. Whether you'd like to learn a new language, draw, learn an instrument, or even write a book, these daily exercises are beneficial for the brain's health and will boost your overall happiness and self-esteem.
Boosting brain function and memory isn't a chore for seniors — it's a blast! Playing games, staying connected with friends and family, and tackling the daily crossword all help keep your brain sharp and active.
At Civitas Living, our innovative memory care programs help seniors live a fulfilled, stimulating life with round-the-clock access to care services. Check out our living options that empower seniors with dementia and Alzheimer's to improve cognitive function. Have any questions? Contact us today!