Civitas Senior Living community, Élan Westpointe, located at 2140 Independence Dr, New Braunfels, TX 78132, is home to a unique resident who happens to have feathers.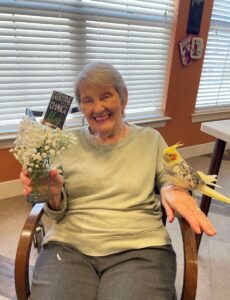 4-year-old Rascal the bird is Ms. Bobbie's pet and companion. He attends every activity with her that doesn't involve food.
A family friend of Bobbie's, who lives in Corpus Christi, came across a bird breeder and asked Bobbie if she would be interested in one of the birds.
"The rest is history," laughs Robyn Henry, Activities Director at the community. "Who knew years later, Rascal would grow into an unofficial feathered pet ambassador?"
"Rascal is a pet favorite in our building," she adds.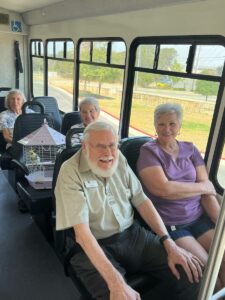 He loves the activity room since it is on the third floor, where it has mostly windows and beautiful sunny views. You can usually hear him chirping away in the mornings during activities. He can even do an adorable cat-call whistle for the ladies!
On a daily basis, he attends morning exercise, most of the afternoon activities like Bingo, Green Thumb Club, (the community's gardening group), and even went on his first adventure outing last week for a scenic drive. In general, Rascal is usually with Bobbie in his travel cage if she's able to take him with her.
Rascal loves people, enjoys music, and Bobbie loves to introduce him to new people. The staff tells Bobbie that Rascal is welcome to attend any activity with her.
Meet Rascal and other new friends at Élan Westpointe.
Friends and fun are waiting. Sign up for a tour today to find your next home.