Alzheimer's and dementia care in New Braunfels, TX is available in The Cottage at Élan Westpointe. Our specialized team provides a personalized approach for those with dementia or Alzheimer's.
Whether you are interested in long-term residential care for your loved one or need extra support as a family caregiver, our memory care community is here to help.
Why are New Braunfels Alzheimer's care homes so important?
Dementia affects more than six million Americans. Over 400,000 live in the Lone Star State, says the San Antonio & South Texas Chapter of the Alzheimer's Association. The statistic is expected to double by 2050.
Memory care programs in Texas are needed to support the millions of family members who care for aging loved ones. This form of long-term senior care is helping South Texas families create stronger bonds and higher quality of life.
Let's discuss why memory care is a significant resource for all forms of dementia.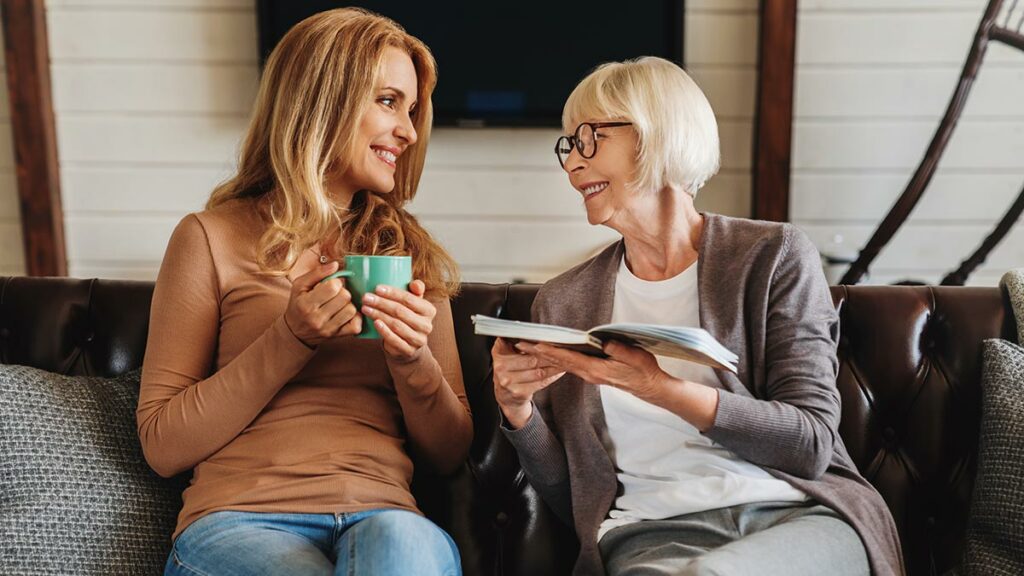 What is Dementia?
Dementia is an umbrella term used to describe the symptoms of a large group of neurological disorders that cause a decline in cognitive functioning. These forms of memory loss can be caused by medical conditions such as:
Alzheimer's
Parkinson's
Stroke
Traumatic brain injury (TBI)
Signs & Symptoms
The signs and symptoms of dementia vary depending on the type and severity but generally include memory loss that affects daily functioning. Most forms of dementia do not have a cure, but treatments can provide higher-quality lifestyles. Additional effects include:
Difficulty with problem-solving
Language difficulties
Confusion
Impaired judgment
Behavioral changes, irritability, or agitation
Difficulty with coordination
Incontinence
Mood swings
Paranoia, delusions, and hallucinations
Social withdrawal
It is important to note that not everyone will experience all these symptoms—the severity may vary from person to person.
Types of Dementia
The most common type of dementia is Alzheimer's disease. It affects almost half of all people over age 80 and causes memory loss, confusion, difficulty communicating, and changes in behavior. Frontotemporal dementia, Huntington's disease, and Creutzfeldt-Jakob disease (CJD) are rarer forms of dementia, each with its own symptoms and progression rates.
The other two most common types of memory loss include Lewy body dementia and vascular dementia.
Alzheimer's
Alzheimer's accounts for 60-80% of all cases of dementia. It causes memory loss, confusion, and difficulty speaking or understanding language. Problems with complex tasks like cooking or managing finances make living independently nearly impossible. Changes in behavior, such as aggression or agitation, and a decline in motor skills are not uncommon.
Symptoms worsen over time and usually progress through the early, middle, and late stages. Eventually, the person loses their ability to communicate or recognize loved ones and requires 24-hour care.
Vascular Dementia
Vascular dementia occurs when there is damage to the blood vessels in the brain due to a stroke or other cardiovascular event. Symptoms may include difficulty concentrating or completing tasks that require multiple steps. Memory problems result in changes in personality, such as irritability or depression. Other symptoms include:
Difficulty interpreting visual information
Slurred speech
Confusion
Dizziness and balance issues
Treatment typically involves medications to control blood pressure and cholesterol levels and lifestyle changes like exercise and healthy eating habits.
Lewy Body Dementia
Lewy body dementia is caused by deposits of a protein called alpha-synuclein in parts of the brain that are responsible for thinking and movement.
Its symptoms vary widely from person to person but can include the difficulties of Alzheimer's. Additional indicators include:
Slowed movements
Tremors or stiffness in arms/legs/face/neck muscles
Sleep disturbances or frequent napping
Depression and anxiety
Apathy and agitation
Treatment typically involves medications like antidepressants and antipsychotics and therapy sessions with a mental health professional.
Diagnosis & Treatment
A diagnosis of dementia requires an evaluation from a physician, which includes a physical examination. Mental and laboratory tests can also help identify the type of memory loss. Imaging studies such as MRI or CT scan to rule out other medical conditions that could be causing the same symptoms.
Once a diagnosis is made, treatment options may include medication to help slow the condition's progression and lifestyle modifications.
Over one million Texans provide home care to a loved one with Alzheimer's. Countless others support family members with other types of dementia. While an honorable duty, caregiving can quickly become lonely, stressful, and emotionally draining.
Memory care programs do the heavy lifting so families can enjoy better days together again.
What is memory care?
Memory care is a specialized form of assisted living that focuses on providing effective support to seniors with the cognitive changes associated with dementia.
Dementia care communities take into account the unique needs of residents. Care facilities use evidence-based therapies backed by scientific research to ensure individuals' comfort and quality of life. These practices include:
Creating a secure and structured environment
Providing timely reminders and cues about daily routines
Offering skill training to increase independence
Promoting social activities
Maintaining a sense of purpose
Providing individualized therapy to assist with communication
Memory care offers health care designed to improve the lives of individuals with all types of dementia. Scientific evidence and advances in neuroscience allow teams of trained nurses and specialized caregivers to create environments that provide comfort, secure movement, and improved quality of life.
Cognitive health is boosted by strategies such as:
Reminiscence therapy
Pet therapy
Musical therapy
Creative projects
Brain puzzles
All of these support memory care residents while helping them maintain their independence and dignity. Memory care also makes it a point to preserve relationships by connecting family members with their aging loved ones.
Memory care is an innovative approach to loving and caring for those who need it the most.
Memory Care Programs for South Texas Seniors
At Élan Westpointe, we understand that every individual has different needs and preferences regarding their care. Our team of experienced professionals works closely with family members to design a personalized plan tailored to loved ones' unique needs and goals.
Our memory care services include:
24/7 monitoring
Assistance with daily activities such as bathing, dressing, and grooming
Medication management
On-site physical therapy
Signature socialization and fitness programs
Specialized nutrition
Housekeeping and sanitation services
We know that providing quality dementia care can be challenging for families. That's why our team is dedicated to providing passionate support throughout the entire process. Dementia Live is one program we use to bring families closer together.
The Cottage at Élan Westpointe is designed to help individuals maintain independence while ensuring their well-being through beneficial activities and social mixers.
We provide an environment where they can feel comfortable and secure and an atmosphere that feels like home. Team members are passionate about maintaining our high standards of service, cleanliness, and care. Residents deserve to feel respected, supported, enriched, and engaged.
Our memory care brings residents and families together through experience and evidence-based practices. What we do is essential to helping New Braunfels families remain connected.
Visit Our New Braunfels Memory Care Location
Discover passionate dementia care in New Braunfels, Texas at Élan Westpointe. Our community is 30 miles from downtown San Antonio. Contact us to get started.