Are you a family caregiver looking for memory care in Edmond, OK? It can be challenging to navigate the journey of caring for a family member with Alzheimer's or dementia on your own. At StoneCreek of Edmond, we're here to be a resource for families on this journey.
But before we get into what makes our memory care community unique, let's take a closer look at what memory care is and what to look for in a community.
What is Memory Care?
Memory care is a specialized type of senior living designed for individuals with Alzheimer's or dementia. Unlike traditional assisted living, memory care communities provide a higher level of care and supervision to support residents' dynamic needs.
Alzheimer's care facilities or dementia support are other names you may have heard of referring to memory care communities. This form of senior housing focuses on providing purpose and meaning to over 6.2 million Americans and 67,000 Oklahomans with Alzheimer's.
How To Find Edmond Memory Care
When looking for memory care in Edmond, Oklahoma, one of the most common first steps is a Google search. While this can be a helpful starting point, digging deeper to find the right community for your loved one is essential.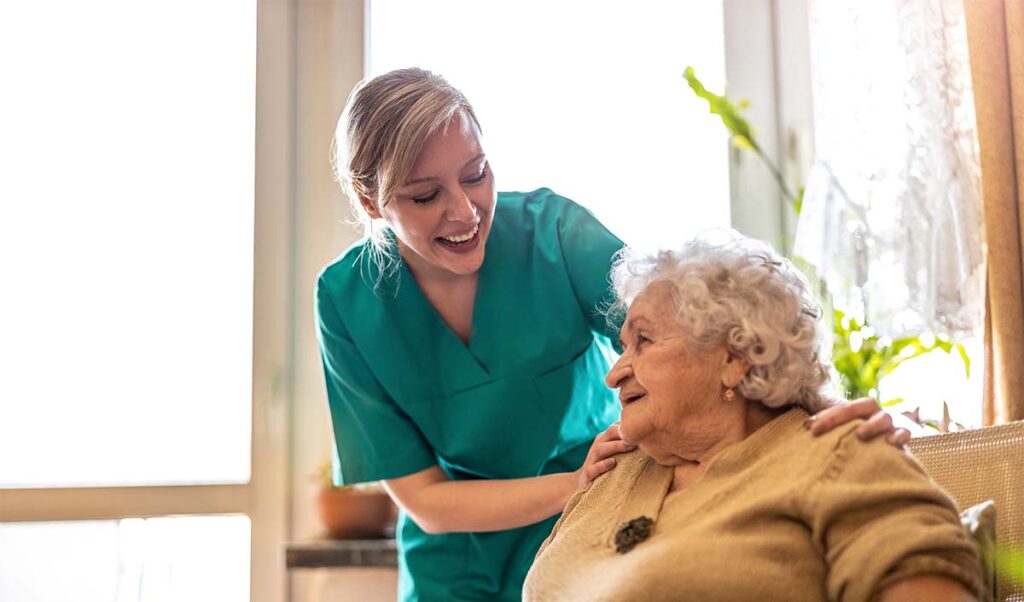 One way to do this is by attending a support group. OKCares and the Oklahoma Chapter of the Alzheimer's Association provide support groups for those caring for loved ones with Alzheimer's or dementia. Local church groups can also offer support and suggestions for visiting memory care communities.
Another way to find memory care is by asking for recommendations from medical professionals such as doctors, social workers, and nurses who work with those with dementia. They may have further insights that you may not find online.
Once you have a list of potential memory care communities, you can narrow your search by visiting the communities, asking questions, and researching online reviews.
Memory Care Checklist: What to Look For in a Community
As a family caregiver, it's natural to want to provide the best possible care for your loved one with Alzheimer's or dementia. However, caregiving can be a full-time job, leaving little time to focus on finding the right memory care community.
Know what to look for before taking a tour. Focusing on these key factors can save time and ensure you find the right support for your loved one. Here's what to look for in a memory care community in Edmond, OK.
Training: Make sure the staff is trained in dementia care and is available 24/7. Ask what ongoing instruction staff members receive.
Security: A secured community with alarms on all doors and windows helps prevent wandering and accidents.
Daily rituals: A structured daily routine includes social, cognitive, and physical activities. Ask to sit in or observe an activity.
Food and dining: Nutritious meals and snacks that accommodate specialized diets are critical for brain health. Ask to try a mind-healthy meal.
Support and assistance: Personalized care plans focus on each resident's needs. Ask about the unique needs your loved one has.
Arriving Prepared: Questions to Ask
When touring memory care communities, arrive with a list of questions to ensure you make an informed decision. Here are a few questions to ask:
Can you walk me through a typical day for a resident?
How does the community handle residents who may become agitated or confused?
What training does the staff receive to care for residents with dementia?
How often are care plans reviewed and adjusted?
What kind of support do you offer families of residents?
The Cost of Memory Care in Oklahoma
It's important to note that the average cost of memory care in Oklahoma is $4,819 per month. However, prices may vary depending on the community's location, with larger cities generally having higher prices than rural areas.
The cost of Alzheimer's or dementia care can be surprising. Keep in mind there is a lot of value in dedicated senior living.
Why StoneCreek of Edmond
At StoneCreek of Edmond, we pride ourselves on the signature memory care services we provide residents within The Cottage. Residents can find joy and purpose each day through established routines and specialized programming.
The Cottage is designed to be a warm and welcoming environment where residents can feel at home. We are highly trained in dementia care and have team members available 24/7 to provide personalized care.
Our dementia care program has a passion for providing high-quality senior care services. Our team is made up of dedicated dementia care experts who receive ongoing training in the latest scientific research and technology to keep our residents engaged and comfortable.
One thing that sets us apart from other memory care facilities in Edmond is our high-staff-to-resident ratio. Team members are always available to provide personalized care, assistance, and support. This level of care is essential in ensuring our residents' well-being.
Another unique aspect of our memory care community is the Dementia Live program. This program allows family members to experience what it's like to live with dementia. It's an immersive experience that helps family members better understand the challenges their loved ones face every day, and it helps us provide even more personalized care to our residents.
Our goal is to make every resident feel seen and heard. This is possible through established routines, specialized programming, and a focus on building personal relationships with residents and their families.
At StoneCreek of Edmond, we understand that Alzheimer's or dementia can be a difficult journey for families. We are here to provide support and guidance every step of the way. From personalized care plans to a supportive and welcoming environment, we're committed to making a difference in the lives of our residents and their families.
Request a Personalized Tour of Memory Care in Edmond, OK
If a loved one needs memory care in Edmond, OK, please contact us. Let's schedule a tour to answer your personal questions.