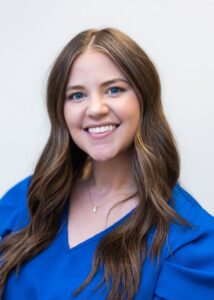 Hi, my name is Kaylie Steele. I grew up in a small town in West Texas before moving to Burleson to join the Civitas Senior Living family six years ago. My career path has taught me so much about senior living in Texas, but I couldn't be happier to return as a leader where it all began. 
I started my journey with Civitas as a caregiver at Elk Creek Senior Living in Burleson, TX. I worked as a caregiver/med aide for a couple of years before becoming the Memory Care Coordinator. 
A year after becoming the Memory Care Coordinator, I got the opportunity to move to another Civitas community to learn more about the wellness aspect of senior living. I became the Assistant Wellness Director. Eventually, I became the Wellness Director and managed the wellness department at a Fort Worth community.
In December of 2021, I graduated from Tarleton State University with a bachelor's degree in Kinesiology. After graduating, I decided my heart was in senior living, and I could not imagine doing anything else. I wanted to continue growing with Civitas and wake up daily doing what I love. I became part of the Civitas Executive Director in Training program, where I was privileged to train with inspiring leaders. I got the opportunity to return to Elk Creek, which I consider home, and I could not be happier leading this incredible Assisted Living and Memory Care community.
Sincerely,
Kaylie Steele  
Executive Director of Elk Creek
Get to Know The Rest of Our Team!