Are you or a loved one considering senior living near Fort Worth? Welcome to Harvest of Aledo. Located just 25 miles west of downtown Fort Worth, our senior apartments offer luxury living and top-notch care for seniors.
What are the features of senior living apartments in Fort Worth?
When it comes to senior living apartments in Fort Worth, there are several common features to expect. Most apartments provide housekeeping and maintenance services and 24-hour emergency response systems. Many also offer recreational activities, transportation services, and meal plans.
Senior living apartments can come in different styles and sizes, but they often share standard features to promote comfort and independence for older adults. Here are five features you may find in Fort Worth senior living apartments:
1. Full kitchen for independent living
Some senior independent living apartments may have a full kitchen equipped with standard appliances like a stove, oven, refrigerator, and dishwasher. This feature lets residents cook and prepare meals without relying on communal dining services. A full kitchen can also make it easier for family and friends to visit and share meals.
2. Kitchenette for assisted living
Senior apartments designed for assisted living residents may have a smaller kitchenette that typically includes a mini-fridge, microwave, sink, and cabinets. This setup can help residents who need assistance with cooking and cleaning. Communal dining services prepare most meals. Kitchenettes can also be easier to maintain and navigate for people with mobility or cognitive challenges.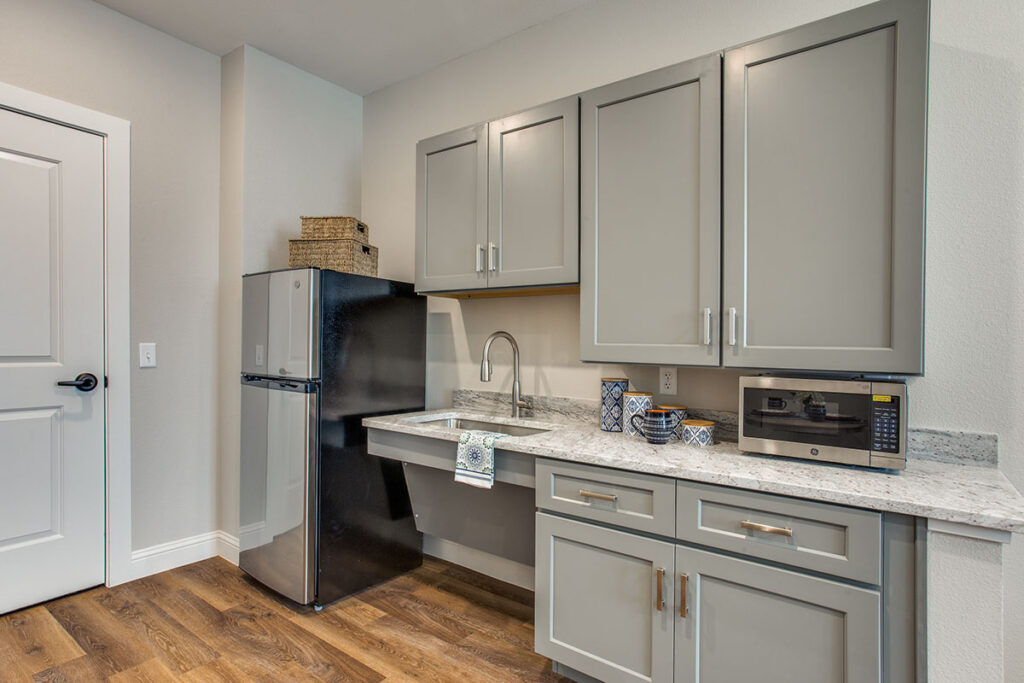 3. Walk-in showers and grab bars
Bathrooms are a critical area for accessibility in senior living spaces. Many apartments have walk-in showers with grab bars to help prevent falls and allow for easier bathing. Some may also have raised toilet seats, non-slip flooring, and handheld showerheads to accommodate different needs. Qualified staff members can assist residents with activities of daily living (ADLs), such as showering and toileting.
4. Accessible features
Other accessible features in senior living apartments include wider doorways, lever handles, low-pile carpeting, and adjustable lighting. These features can make it easier for residents with mobility, vision, or hearing impairments to move around and control their environment.
5. Emergency call systems
Most senior living apartments have emergency call systems that allow residents to summon help quickly in case of a medical or safety emergency. These systems may consist of pull cords, buttons, or wearable pendants that activate an alert system and notify staff or emergency services. Having a reliable and responsive emergency call system can give residents and their families peace of mind and reduce response times in critical situations.
Senior living apartments can offer a range of features and amenities that cater to different levels of independence and support. Research and compare options to find the one that best fits your needs and preferences.
New Senior Independent Living Near Fort Worth
At Harvest of Aledo, we take things to the next level with our luxury amenities and exceptional care.
Our community amenities include:
Fitness center
Beauty salon
Movie theater
Outdoor courtyard
Walking paths
Dining room
Private dining room
Game room and lounge
Art studio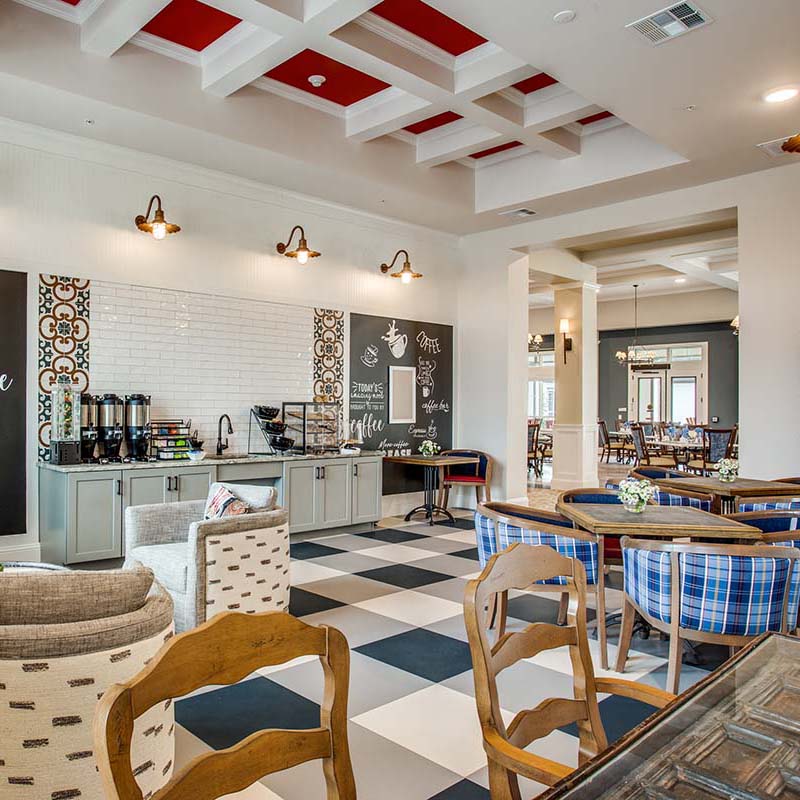 Independent residents are encouraged to stay active and social to extend their autonomy and well-being.
All residents of our senior living community can relax. A number of our services make life hassle-free:
Housekeeping
Home maintenance
Utilities included
Community Wi-Fi
Chef-prepared meals
Scheduled transportation
Assisted Living and Memory Care Near Fort Worth
Our team at Harvest of Aledo also offers luxurious apartments for assisted living and memory care residents. Our community is deficiency-free, meaning we consistently provide residents with the highest level of care.
Both senior care services focus on providing personalized care and ADLs support. Residents can relax and look forward to continuing their independence with our passionate service.
The Cottage is our signature environment for residents with Alzheimer's and dementia. This secure area is calming and features specially trained dementia care experts.
What is the average cost of senior living in Texas?
According to Genworth's 2021 Cost of Care Survey, the average cost of senior living in Texas is $3,998 per month. However, the price can vary depending on the location and level of care needed. The average cost of assisted living in the Dallas-Fort Worth area is $4,195 per month.
While cost is an essential factor to consider, it's crucial to prioritize the quality of care and amenities when choosing a senior living community. At Harvest of Aledo, we strive to provide the best of both worlds with our luxury amenities and exceptional care.
Welcome to High-Quality Senior Care in North Texas!
If you're looking for senior living near Fort Worth, look no further than Harvest of Aledo. Our community offers luxury living and top-notch care for seniors. Don't forget we are a short drive from downtown Fort Worth.
Contact us today to learn more and schedule a tour!