What are senior apartments?
Living spaces that are perfect for the needs of seniors!
The Grand Senior Living provides bright and spacious, pet-friendly apartments in Prospect, KY, specifically for retirees.
These charming housing options are finished with granite countertops and stainless steel appliances, just like you'd see in any modern apartment. The main difference is the welcoming and passionate community you get to be a part of every day.
What added benefits does a senior apartment include?
Senior apartments include everything you need to simplify and add luxury to your life:
Housekeeping
Laundry
Maintenance service
Cable, Wi-Fi, and phone services
Access to all the amenities available at The Grand
At The Grand Senior Living, seniors are invited to say goodbye to chores and hello to maintenance-free living. If you're searching for senior living in a desirable location, you'll find it in Prospect, just outside Louisville.
How are senior apartments designed?
The Grand offers a variety of floorplans to fit every lifestyle: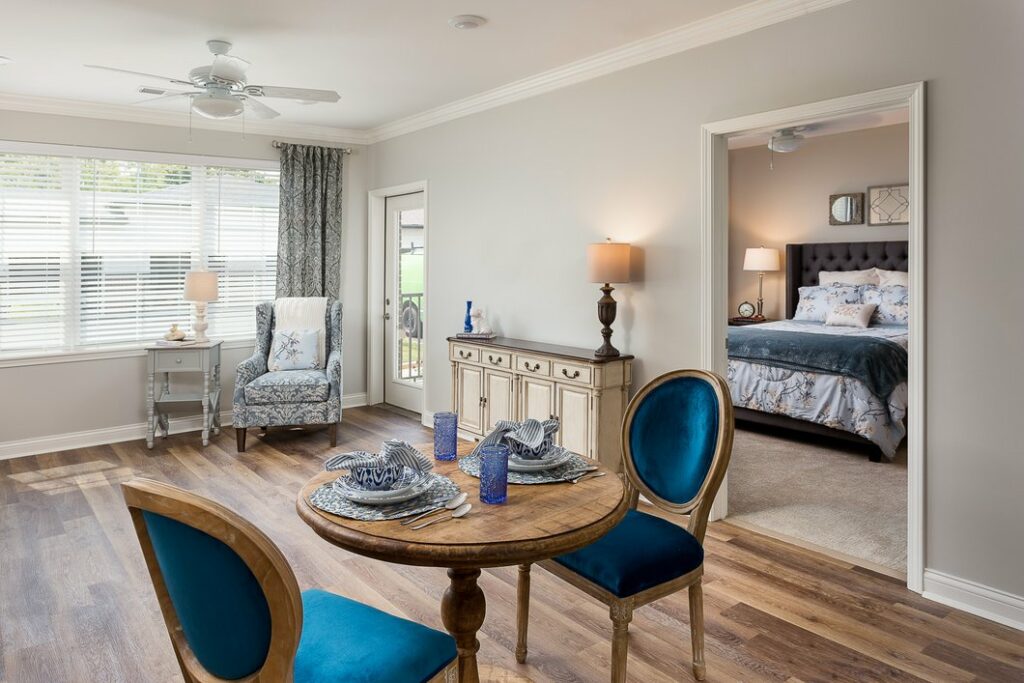 Independent Living Senior Apartments
Louisville, KY is where seniors can find freedom in Independent Living. While living independently, you'll never be lonely, thanks to all of the fun daily activities and events available throughout the community.
The first option for Independent Living apartments includes:
An open floor plan
Full kitchen and island for extra counter space
Dishwasher
Washer and dryer
Two bedrooms
Two bathrooms
You'll have extra space for an office or guests with the additional room. The master bedroom features a master bathroom, a walk-in closet, and a large window looking out onto your private patio. There is no need to say goodbye to all your stuff; these apartments come equipped with plenty of storage space.
The second option for Independent Living features:
An open floor plan
Full kitchen and island for extra counter space
Dishwasher
Washer and dryer
One bedroom
One bath
This large one-bedroom apartment is perfect for seniors who wish to cook meals and entertain guests on the patio. Spacious closets and ample lighting make these living spaces feel huge.
Personal Care Senior Apartments
Seniors who wish to live independently with the assistance of our passionate team members can live freely in one of two personal care options as well.
Personal care option one includes:
Kitchenette
Ample cupboard space
Spacious studio-style living area
Master bathroom
Accessible storage options
Personal care option two includes:
Kitchenette with extra counter space
One bedroom
One bath
Walk-in closets
The first personal care option makes life easy for seniors. It offers 24/7 access to care services and includes sturdy pull-bars for added confidence in the restroom. Option two is perfect for seniors who may prefer a more traditional apartment but could benefit from added accessibility for care.
Surrounded by Passion
It's such a treat to live in a community where you can meet with friends for a movie in the theater or grab a casual bite to eat in the bistro before escaping back to your sanctuary to rest up before exploring more.
More to explore at The Grand Senior Living:
Indoor swimming pool
Fitness center
Massage room
Dining room
Activity room
Art studio
Multiple relaxing lounges
Game room
Beauty salon
Dog spa
Multiple outdoor areas
Passionate team members are here to make your home complete with the care or services you need. Check-in with the concierge to arrange transportation, order chef-prepared meals, or request the assistance of a friendly face.
Where can I find The Grand Senior Living?
In Prospect, KY. Our community is less than a twenty-minute drive from downtown Louisville. You'll find us conveniently located near the Norton Brownsboro Hospital and Cabela's. Contact us to arrange a personalized tour of the perfect senior apartment for your lifestyle.
Discover more Civitas Senior Living communities.