Red Oak Tops the List
Looking for senior living communities outside of big cities like Dallas can be a helpful strategy when trying to find an affordable, convenient location to retire. There may be many options for senior living communities near Dallas, but what is the quality of life in these locations? Consider Red Oak, TX as a better alternative to cities like Austin and Dallas, but just as convenient.
Is Red Oak a good place to live?
According to niche.com, Red Oak earns high marks for affordable cost of living as well as diversity, jobs, outdoor activities, weather, and nightlife. If you're looking for a charming, quiet town with interesting people, put Red Oak at the top of your list. At Arabella of Red Oak, seniors have the best of both worlds with access to the city and comfortable suburban living.
Senior living, Red Oak style
Looking for that small-town feeling and sense of community that's hard to find in a big city? Red Oak doesn't disappoint here. You can appreciate being close to the options in the city and doing without the traffic, higher prices, and crowds. No wonder seniors choose Red Oak over Dallas. You'll also enjoy local parks, restaurants and the convenience of several nearby hospitals and pharmacies including Methodist Hospital of Dallas and Charlton Hospital.
Where is Red Oak located?
Red Oak is about a 20-minute drive from the bustling city of Dallas, TX, in the heart of Northern Ellis County. Known as the town where "city and suburb meet," Red Oak's easy access to Dallas and Fort Worth makes it ideal for traveling into the city when you want to. Imagine affordable retirement without the headaches associated with city life. Family and friends coming for a visit? Arabella of Red Oak offers seniors the serenity of a community with access to the culture and excitement of the nearby city.
What can seniors do in Red Oak?
Try out local wineries
Enjoy a glass of Albarino, Cabernet, Sangiovese, or Montepulciano made from Texas-grown grapes at the Cassaro Winery in Ovilla.
Grab a group of friends and head out to Sugar Ridge Winery in Bristol where you can stay for karaoke and live music.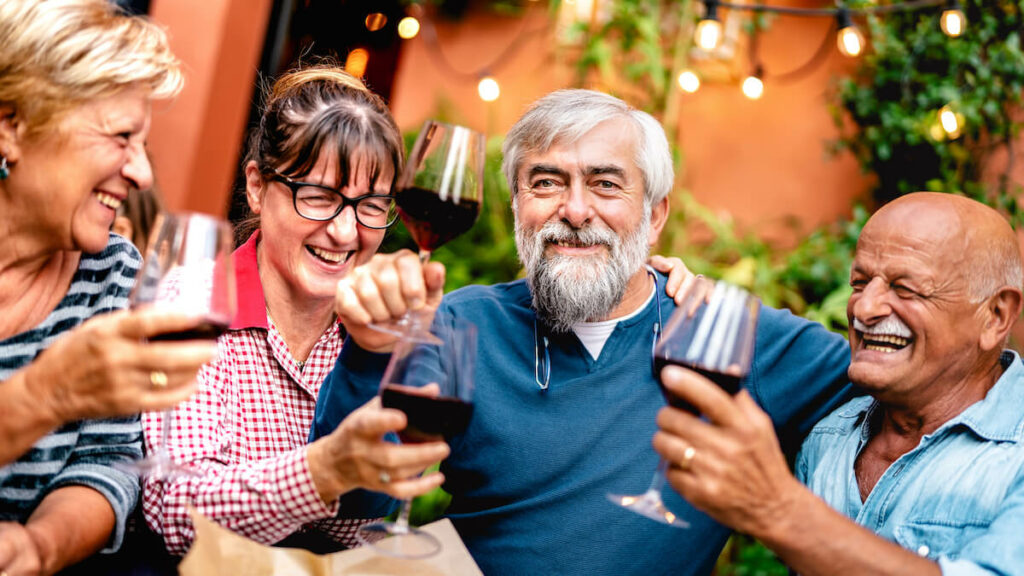 Have fun in nature
Relax for the day and commune with nature at Cedar Ridge Preserve. You can even volunteer your time to help keep the area beautiful by removing non-native plants, restoring trails, and working in the butterfly garden.
Take part in Tulipolooza this spring at Poston Gardens and have the best photos to share with family and friends.The 10-day festival in March brings thousands of tulips from Holland to the gardens. You can even pick your own bouquet to take home and brighten up your apartment.
Dine well
Mamacitas is a popular spot for great Mexican food in the area. Enjoy some brisket tacos for lunch or grab dinner with friends.
Fill your plate with some of the best Texas BBQ you can find at Junior's Barbeque. Locals rave about the food and the service.
The Lonestar Burger Bar also serves the best scratch-made burgers around and is a great place to stop by for lunch.
What is life like at Arabella of Red Oak?
Life is great for the active senior who wants to find a community to call home. Lifestyle options include Independent Living, Assisted Living, and Memory Care. Seniors who want to remain as independent as possible can age in place at Arabella of Red Oak, knowing that 24-7 compassionate care services are available.
Seniors can truly live their best lives with resort-style amenities, signature programs, and activities that keep days fresh and exciting. Residents are always having fun pursuing their own hobbies and interests. This is a community where you can make new friends, explore new interests, and focus on your wellness.
From your food preferences to preserving your memories, our passion is creating the best retirement lifestyle for you or your loved one. Residents can rest easy knowing that life is more enjoyable without having to worry about housekeeping, home maintenance, meals or needing help with daily activities.
What care services can I expect?
Assisted living residents experience life on their terms with the helpful addition of care where it's needed. Our skilled and compassionate staff are onsite 24/7. Additional services include:
Housekeeping and personal laundry service
Medication management
Personal medical alert system
As-needed, personalized assistance with bathing, dressing, grooming, transferring, and incontinence
On-site physical therapy
Scheduled transportation
Memory Care at The Cottage offers a secure, customized care experience for seniors with Alzheimer's or other forms of dementia. Our intimate environment provides stability and structure while our evidence-based programs and activities engage residents and promote brain health. Our MINDful menu incorporates the best nutrition to combat the effects of dementia and enhance wellness.
No matter their lifestyle preference or level of care, seniors in the Dallas area choose to live at Arabella of Red Oak for the location, sense of community, plentiful amenities, and focus on wellness and fun.
Skip the stress of the city and find your new senior lifestyle today.
Arabella of Red Oak offers seniors a community that's close to the city, but far away from the negatives of city life. Enjoy a community where you can engage your interests and age in place. Contact us to find out more about affordable and convenient senior living. Red Oak is the perfect place to call home. Come by for a visit!