Are you looking for senior living in Roanoke, TX? Or are you searching for senior-friendly fun in the DFW area? Searching for a vibrant, caring community that offers many social opportunities can be daunting. However, Roanoke and the surrounding northern Dallas/Fort Worth area offer a plethora of attractions perfect for older adults of all interests and abilities.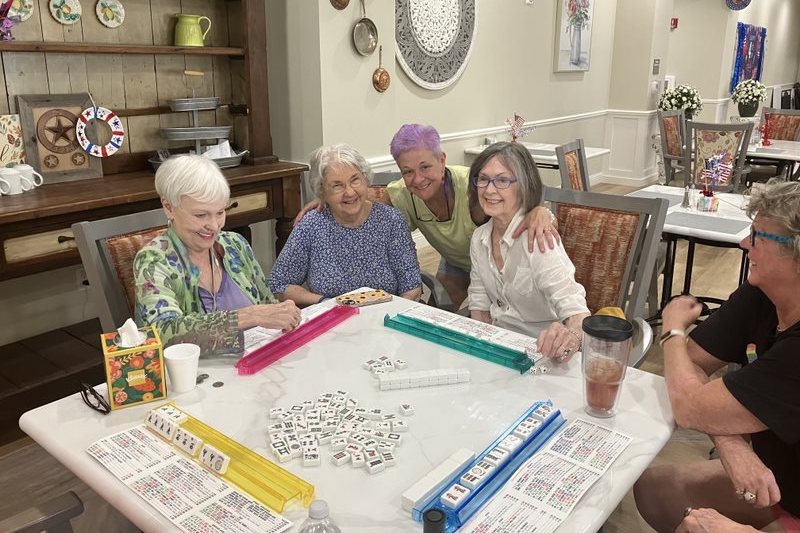 Let the Harvest of Roanoke senior living community be your tour guide to fun. While we love a good loop around the Trophy Lakes, there is much more to explore.
Continue reading for eight senior-friendly activities near Roanoke, Texas. Let's go!
1. Start Your Journey at Roanoke Visitor Center and Museum
Begin your day at the Roanoke Visitor Center and Museum. Here, you'll find a gateway to the rich history and cultural heritage of Roanoke, Texas. As you step inside, you'll be greeted by friendly staff ready to share stories about the town's past and present.
The museum's collection of artifacts, photographs, and personal accounts will transport you back in time, creating a truly immersive experience.
Embark on a leisurely stroll or roll through historic downtown Roanoke. Feel the cobblestones beneath your feet as you stroll down the streets lined with beautifully preserved buildings, each with its unique story.
Here, the past blends seamlessly with the present, creating a nostalgic and exciting atmosphere.
The downtown area has unique shops and boutiques, each offering a distinctive shopping experience. Don't hesitate to talk with the shop owners – they're often full of local knowledge and tips!
After a morning of exploration, settle down for a meal at one of the local eateries:
Enjoy the friendly service and savor the flavors of Roanoke as you reminisce about your day's discoveries.
2. Enjoy the Beauty of Arbor Hills Nature Preserve
The Arbor Hills Nature Preserve is a short drive away. It offers a serene place for seniors to connect with nature. Enjoy scenic walks while keeping an eye out for local birds.
3. Step Back in Time in Historic Downtown Carrollton
The historic downtown Carrollton area provides a nostalgic journey with quaint shops, eateries, and antique stores, making it a delightful outing for seniors. It offers a change of scenery to the Roanoke community but still provides a small-town feel.
4. Connect with Nature at Bob Jones Nature Center and Preserve
The Bob Jones Nature Center and Preserve offers over 20 miles of walking trails through woodlands and other nature habitats for those who love the outdoors. Have fun identifying the more than 1,100 species of flora that populate the land donated by the family of Bob Jones.
5. Participate in Activities at Roanoke Community Center
The Roanoke Community Center hosts a variety of events and activities designed specifically for seniors. Excellent social and physical fitness opportunities are available.
6. Travel Back in Time on the Grapevine Vintage Railroad
Experience a fun-filled ride on the Grapevine Vintage Railroad. It's a perfect trip to enjoy with grandkids. While the ride is vintage, it does feature air conditioning for the warmer months.
7. Explore the Unusual at Meow Wolf Grapevine
For the adventurous, the Meow Wolf Grapevine offers an immersive, interactive art experience that will captivate seniors and their families. Find this colorful trip inside the Grapevine Mills Mall.
8. Experience the Joy of Senior Living at Harvest of Roanoke
Lastly, but most importantly, experience the social benefits of living in our Harvest of Roanoke community.
More than just a senior living community, we offer a lifestyle filled with fun, camaraderie, and care. Residents enjoy a range of social activities, fitness classes, hobby clubs, and signature programs.
Our passionate team members are always on hand to assist with any needs. We provide personalized care plans that address the individual needs of residents:
Bathing, dressing, and grooming support
Medication management
On-site physical therapy
Eating and mobility support
Certified dementia-friendly community
At Harvest of Roanoke, we believe every senior deserves to live their golden years to the fullest. We provide assisted living and memory care services in a welcoming, vibrant community.
Discover Fun and Make Harvest of Roanoke Home!
Visit us and see why residents say they have more fun here than elsewhere. Experience the difference a genuinely caring and active senior living community can make. Come home to Harvest of Roanoke.
Contact us today for a tour!