When it comes to memory care, there are a lot of terms thrown around that can be confusing for those trying to navigate the landscape. Two of the most common terms you'll hear are "dementia care" and "Alzheimer's care." But what do these terms mean, and how do they differ from one another? Let's first compare Alzheimer's and dementia, then the similarities and distinctions with the type of care each requires.
How are dementia and Alzheimer's different?
Alzheimer's disease is a distinct form of dementia that affects older adults. According to the Alzheimer's Association, it is the most common form of dementia, making up 60-80 percent of all cases. Alzheimer's typically progresses slowly and can worsen over time. Symptoms may include memory loss, changes in mood or behavior, and difficulty communicating or completing basic tasks.
Dementia, on the other hand, is not a single disease but an umbrella term that includes a variety of different conditions that cause changes in thinking, behavior, and memory. Dementia can be caused by a number of different things, including stroke, head injury, and Parkinson's disease.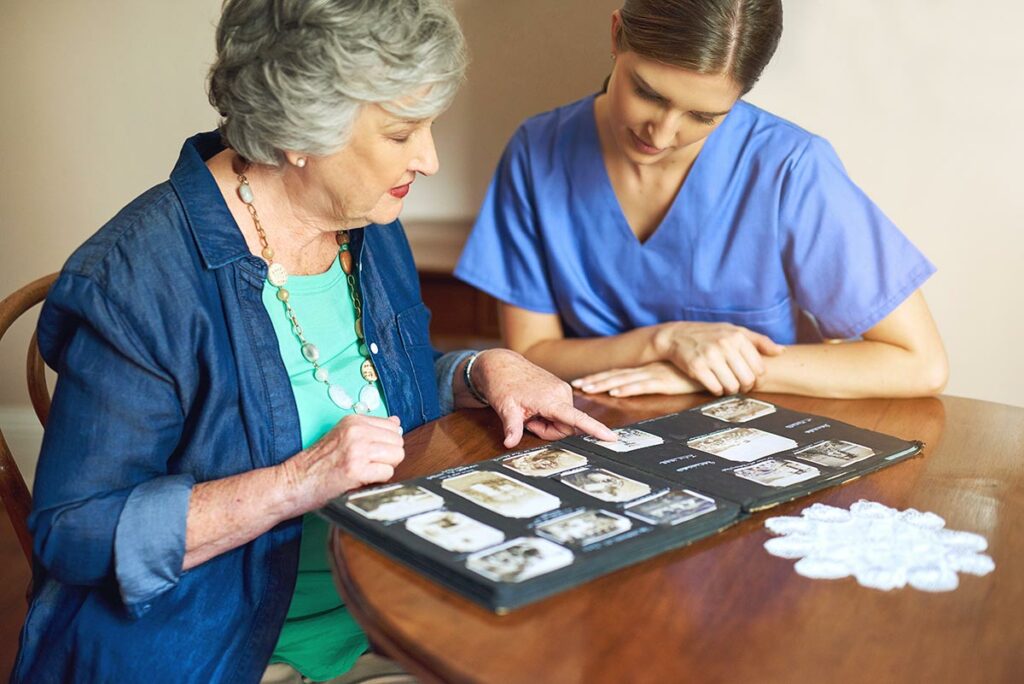 Similarities and Distinctions Between Alzheimer's and Dementia Care
Dementia care and Alzheimer's care fall under the blanket of memory care and are often confused because they are so similar. Both types of care can involve support with daily living tasks and engaging programs that stimulate the mind and body. However, Alzheimer's care is specifically for seniors diagnosed with Alzheimer's disease, while dementia care can be for any individual diagnosed with any type of dementia. Many memory care communities offer levels of care to help residents as their memory loss progresses, allowing them to receive different assistance based on their stage or type of dementia.
Benefits of Memory Care
Memory care offers many benefits. For seniors, memory care provides a secure and supportive environment where they can receive the attention and care they need. Families can experience peace of mind and much-needed respite from the challenges of caring for a loved one with cognitive decline or memory loss.
However, there are different types of memory care, too. You can find in-home dementia care, where a caregiver visits your or your loved one's home to provide care; adult day care centers, where you can take your loved one to stay for a few hours or a full day; and full-service memory care communities that offer housing and care associates often available 24/7.
Is there dementia and Alzheimer's care in Houston?
Yes. StoneCreek of Copperfield is a senior living community located in Northwestern Houston. Dementia care and Alzheimer's care are both available, as well as other levels of care like independent living and assisted living.
We provide an evidence-based approach to memory care in The Cottage. Residents enjoy a small, home-like environment where they can socialize with others on a similar life journey and truly get to know their caregivers because of our high associate-per-resident ratios. Part of what helps us stand out from other Northwestern Houston Alzheimer's care centers is our attention to programming. StoneCreek of Copperfield provides:
Specially designed, personalized My Legacy program
Intellectually engaging activities
Signature themed sensory boxes
Interactive life and work stations
Music therapy
Alzheimer's and Dementia Support Group meetings for residents and loved ones
My Miracle Moment
If you're considering memory care for a loved one, it helps to understand the difference between Alzheimer's care and dementia care. While both fall under the umbrella of memory care, there are nuances. No matter the care your loved one needs, StoneCreek of Copperfield is here to help you during this transition. Contact us to find out more about our comprehensive memory care services.