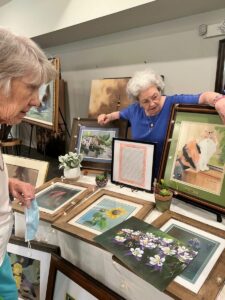 Ledgestone Senior Living had an unforgettable art and craft show in remembrance of one of its residents, Sue M., on July 21.
To honor Sue's life, Ledgestone staff hosted an art show that had various residents' crafts displayed; it was a great turnout to celebrate Sue. Fifteen residents displayed their artwork or craftsmanship. Some residents showed off their woodworking skills, others displayed beautiful flower bouquets and arrangements or quilts, and others, like Sue, were artists who presented their pieces.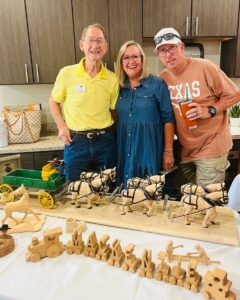 Sue's husband, Jerry, lives at Ledgestone and enjoyed the show. Sue and Jerry's daughter and granddaughters attended as well and were moved by all of the residents' hard work to make this day an unforgettable one in honor of Sue.
"Sue was a beloved member of our community," says Laura Sullivan, Activities Director at Ledgestone. "She was such an amazing woman and artist."
Ledgestone plans on making the Sue M. Art Show an annual event to showcase residents' talents, works, and passions. The talent that is in the community among the residents is certainly worthy of celebration and recognition.

Celebrate your talents with friends at Ledgestone.
Learn more about how we honor residents each and every day by signing up for a tour.