When most of us think about retirement, we picture a life of leisure — puttering around the house, traveling the world, or spending time with grandkids. However, many of us often don't foresee experiencing health issues as we age, and these age-related health issues can make day-to-day tasks difficult or living alone isolating. That's when it's time to consider Assisted Living. South Austin, TX Assisted Living communities provide seniors with the support they need to continue living independently, while also offering social and recreational opportunities.
Let's explore Assisted Living in Austin, Texas — from what it is to how much it costs to what to look for when choosing an Assisted Living community.
What is Assisted Living?
South Austin, TX Assisted Living is one type of long-term care that provides housing and personal care services like help with mobility and managing medications. Associates are often available 24/7 for seniors needing support with activities of daily living (ADLs) but do not require the level of care offered by a nursing home. Most Assisted Living communities also offer social and recreational programs to help residents stay engaged and connected.
What are the costs associated with senior apartments? South Austin Assisted Living communities offer a premiere experience.
Senior apartments can vary in cost depending on the location and size of the unit. When you add Assisted Living services, such as support with ADLs and community amenities and programming, the price can go up. In Austin, Texas, the monthly costs for Assisted Living can come in at $5,345, which is slightly higher than the national average of $4,500.
Assisted Living is more expensive in Austin because of the attractiveness of the area. Southwest Austin, in particular, provides plenty of attractions for retirees, from tennis clubs and golf clubs to dance halls and concert halls. Seniors won't grow bored when they call this area of Austin home.
What should families look for in an Assisted Living community?
When you're considering different Assisted Living communities, either for yourself or for your loved one, there are several factors you'll want to keep in mind, including cost, location, amenities, and care services offered.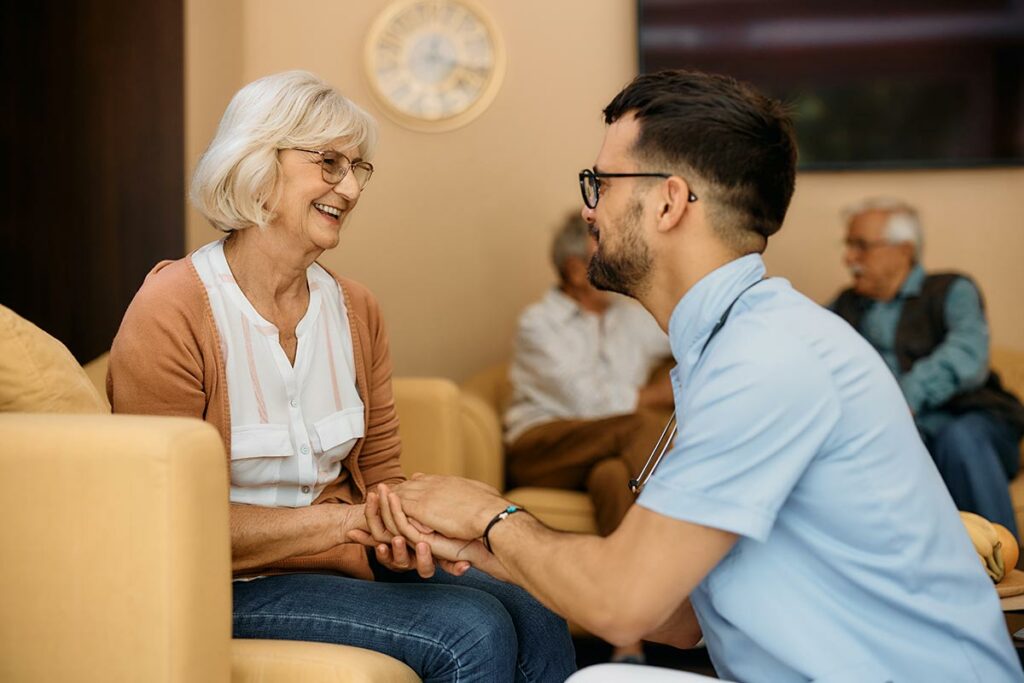 Costs
As mentioned earlier, the cost of Assisted Living can vary widely depending on the community's location and offerings. Some communities offer all-inclusive rates, while others can ask you to pay extra for amenities and programming. It's important to find a community that fits your needs without breaking your budget.
Location
Do you want to be close to friends and family? Would you prefer to be near the excitement of downtown Austin to take advantage of all the city has to offer? Or how about a more quiet experience in the suburbs? Regardless of where you live, you'll also want to find out if there is parking available on-site, and if not, if there are scheduled transportation services.
Amenities
Is the community pet-friendly? Does it have a fitness center or outdoor areas for exercise? A beauty salon? Make sure to ask about all the amenities available so you can find a community that's the right fit for your lifestyle.
Care Services
One of the most important factors to consider when choosing a South Austin Assisted Living community is the care services provided. Does the community have care partners on-site 24/7? What personal care services are available? Are there any additional fees for these services? Be sure to ask plenty of questions about care services so you can be confident you will receive the level of care you need.
What makes Ledgestone the ideal choice for South Austin Assisted Living?
In addition to our cost-effective pricing, coming in lower than the average for the city, Ledgestone offers seniors a full, vibrant, active, and happy lifestyle in senior apartments. South Austin, TX in Austin Hill Country, near the historic town of Dripping Springs, provides easy access to quality health care and offers plenty of shopping and dining options. We're right across from Belterra Village Shopping Center and about 20 minutes from the Shops at Arbor Trails. For food, you can stay on campus and enjoy chef-prepared meals, or venture off to enjoy everything from Pho, tacos, and barbecue.
When you're not busy exploring, you can get pampered in our on-site salon, relax in the library or lounge, and socialize with neighbors in one of our many clubs or themed events. Plus, our associates are available to assist with ADLs, housekeeping and laundry, and medication management. At Ledgestone, we're all about helping you enjoy a worry-free retirement.
There is no one-size-fits-all solution to senior living. What matters most is finding a place that feels like home and meets your needs. When you're ready to start touring communities in person, we invite you to come see us at Ledgestone in Southwest Austin!