When it comes to finding the best place for your loved one with dementia, you want to ensure they get the best possible care. That's why Ledgestone Senior Living in South Austin is dedicated to providing high-quality memory care to seniors in the area of Bear Creek and Cedar Valley.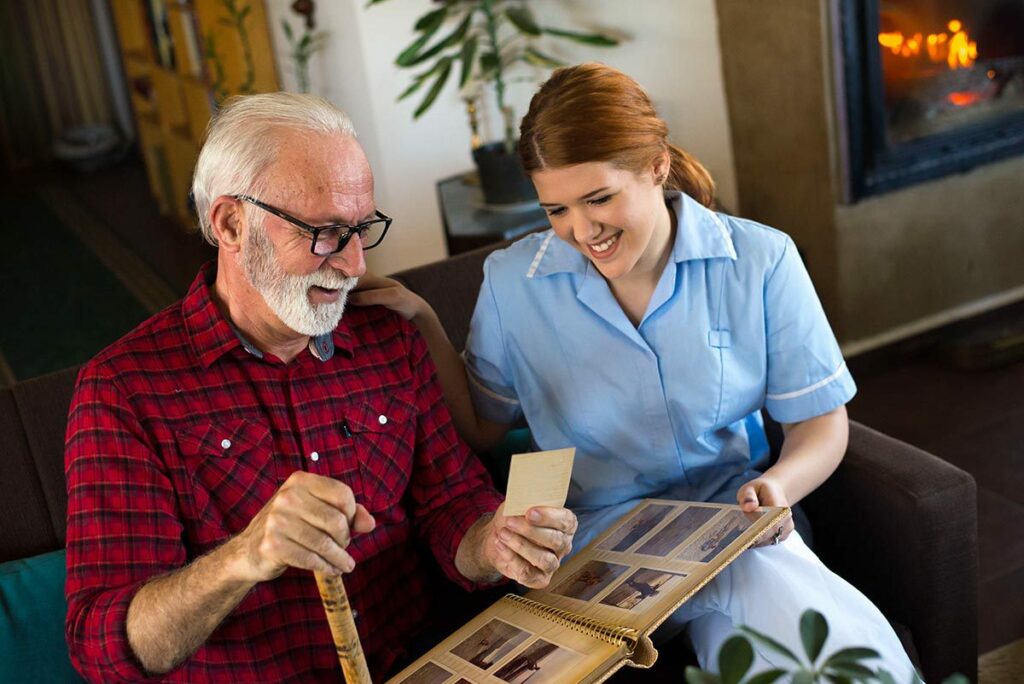 Our community is proud to offer a variety of services and amenities that are designed to promote a healthy and engaged lifestyle for residents receiving memory care in Austin. Keep reading to learn more about:
Memory care in South Austin, TX
How to pay for memory care in Texas
The best environments for people with dementia
What is Memory Care?
Memory care in Austin (dementia care) is a type of long-term care specifically designed for seniors with Alzheimer's, dementia, and other cognitive impairments. Memory care facilities are staffed with trained professionals who can provide around-the-clock assistance and support.
Ledgestone Senior Living provides state-of-the-art memory care in Austin that offers a variety of amenities and services, including:
24/7 supervision and security
Engaging activities and programs
Medication management
Nutritious meals and snacks
Assistance with bathing, dressing, and grooming
Housekeeping and laundry services
For seniors and their family members, memory loss is difficult to accept and manage. Our goal is to provide our residents with the best possible quality of life. We want residents to feel like our Austin dementia care community is their home away from home.
The Cottage is our secure and soothing neighborhood designed exclusively for people with Alzheimer's and dementia. This area focuses on giving people with dementia a clean environment to focus on living in the moment and finding meaning.
Our dementia care experts provide a variety of individualized and group activities that bring residents comfort and relief. Socialization and data-based programming help residents overcome:
Boredom
Loneliness
Depression and anxiety
Wandering
Combative behavior
Dementia care in Austin is elevated in our community by involving family members. Programs like Dementia Live and the Sagely app make staying in contact with loved ones' care easier.
In addition to our on-site services, we also offer transportation for medical appointments and supervised outings. Families can struggle to juggle work, life, and caring for a loved one with dementia. Our services are here to assist and take the hassles out of life.
How do you pay for memory care in Austin, Texas?
The average cost of memory care in Texas is $4,688 per month. That figure is slightly lower than the national average of $5,064 per month. Memory care communities in big cities are typically more expensive than rural locations.
According to data from SeniorAdvice.com, the average cost of a memory care facility in Austin is $6,744. Prices at Ledgestone Senior Living start well below that price. Read more about the cost of senior living in our helpful guide.
There are a few different ways to pay for memory care in Texas. One option is private pay or paying for care out of pocket. Another option is to use long-term care insurance. Some policies will cover memory care, but it's important to check the policy from individual insurers.
Medicaid and Medicare may provide some coverage for memory care in Texas, but eligibility requirements vary by policy. This type of insurance can cover medical services, but monthly rent is not.
Often older adults and their family members get creative when paying for senior care. Alternatives to paying out of pocket include:
VA benefits
Reverse mortgage
Bridge loans
Home Equity Line of Credit
Life insurance policies
Where is the best place for someone with dementia?
Home care and assisted living may not offer a high enough level of care for someone with dementia. Specialized Alzheimer's and dementia care work to ensure the best quality of life through a number of support services.
Memory care programs, like The Cottage, provide:
Higher staff-per-resident ratios
Wandering prevention
Social activities and events
Home-like atmosphere
Life skills stations
Chef-prepared brain-healthy meals
The Cottage offers dedicated Austin dementia care near Dripping Springs from experienced experts who understand not only the physical needs of the patient but also their overall well-being. Memory care specialists plan activities with sensory experiences in mind so patients can interact positively with their environment while stimulating critical thinking skills.
Our memory care program provides an ideal home for someone with dementia. Home care services provided by professional home health aides can help with daily tasks such as hygiene, meals, and housekeeping. However, the services in our community are available round-the-clock.
Family caregivers and home health aides may not be able to provide constant supervision, socialization, and health care found in a memory care community. Round-the-clock home nursing can cost nearly $20,000 per month in Austin.
Independent living, assisted living, and memory care communities like Ledgestone exist to elevate the lives of seniors and their families. Our community provides a lot of value and peace of mind.
Welcome to Memory Care in South Austin
At Ledgestone Senior Living, we are committed to providing high-quality memory care. We offer a wide range of services and amenities that are designed to promote a healthy and engaging lifestyle in South Austin dementia care.
Contact us today to learn more about elevated care for a loved one with Alzheimer's or dementia.