An Alzheimer's diagnosis is a challenging time for a family. Providing care for someone with dementia can become overwhelming. Over one million home caregivers in Texas struggle to provide sufficient support.
So where is the best place for Alzheimer's patients? Common support options typically include nursing homes and memory care communities.
But which option is the best for Alzheimer's care in Austin, TX? And when should a person with Alzheimer's go to a nursing home?
Fortunately, many resources are available to help educate family members. There are also senior living communities dedicated to providing options for Austin Alzheimer's care.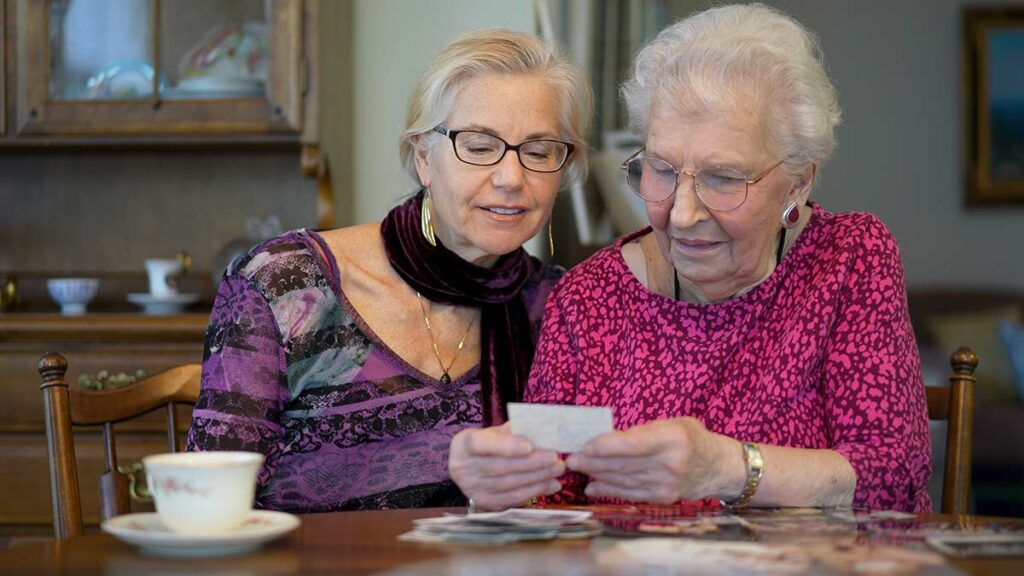 Explore the benefits of receiving dementia care in a southwestern Austin community. Use this guide to weigh the pros and cons of memory care or nursing homes.
What's the difference between memory care and nursing homes?
Memory care refers to specialized care and support provided to individuals with memory impairments, such as Alzheimer's disease or dementia. This type of care typically occurs in a dedicated wing or unit within a senior living community.
The dedicated wing or unit typically refers to the area being secure to prevent wandering.
This form of senior living is also known as Alzheimer's or dementia care. It is explicitly designed to meet the unique needs of individuals with memory loss. Memory care facilities may offer:
Assistance with activities of daily living
Medication management
Specialized programs and activities that focus on cognitive stimulation and socialization
In contrast, nursing homes are generally short-term care facilities that provide medical and personal care to individuals who require 24-hour supervision and assistance with daily living activities.
Nursing homes are often used for individuals who have chronic medical conditions or disabilities that require ongoing medical attention and care. Skilled nursing facilities typically provide a higher level of medical care than memory care, such as:
24-hour skilled nursing
Intravenous therapy
Palliative care
Feeding tubes
Wound care
Rehabilitation services
Regarding the environment, memory care is generally more active and social than a nursing home. Dementia care communities often include resort-style amenities, services, and meals.
Memory care communities are designed to be calming and secure. Their benefit is providing opportunities for socialization and engagement with others. Activities and programs are often tailored to ignite cognitive stimulation and emotional support. Private apartments or shared suites encourage residents' independence.
In contrast, nursing homes may feel more clinical and hospital-like in their environment. While nursing homes provide a medical level of care, they offer a different level of socialization and engagement than memory care communities.
Individuals in nursing homes may feel more isolated and disconnected from others. Loneliness can negatively impact a senior's overall well-being.
Skilled nurses provide care in nursing homes. Memory care communities employ dementia care specialists. These are often certified staff members or experts trained to meet residents' dynamic needs.
Both memory care and nursing homes provide essential care and support to older adults. Memory care is generally more social and activity-focused. Skilled nursing care helps seniors return to an active and independent lifestyle.
Southwest Austin Alzheimer's Care
Welcome to the southwestern Austin senior living community, Ledgestone. We offer a unique opportunity for family caregivers in the areas of Cedar Valley, Driftwood, Dripping Springs, and Mountain City. Our team provides full-service senior living and dedicated Alzheimer's and dementia care.
The Cottage is our signature environment that supports people with Alzheimer's and their family members. We focus on community engagement and enrichment. Resident numbers are kept low, so our dementia care team can provide individualized care and attention. Seniors can also develop close bonds with a new circle of friends.
Our focus on socialization is essential for individuals with Alzheimer's and dementia. High activity levels can help slow memory loss and improve the overall quality of life. Cognitive impairments may affect part of the brain, but staying active can encourage new neural connections.
The high level of personalization is one of the biggest advantages of receiving memory care in The Cottage. Dementia care provides many of the same individualized services as an assisted living community:
Bathing and grooming
Meal preparation and eating assistance
Pharmacy coordination
Mobility assistance
Supervised transportation for medical appointments
Round-the-clock response
Dementia Living and the Sagely app are two of our features that benefit family members. These signature programs offer support and valuable information.
While memory care at Ledgestone may be the best option for some, there may come a time when a nursing home or hospice care is the best choice for an Alzheimer's patient. End-stage dementia will typically require a higher level of 24-hour medical supervision.
We're Here To Be Your Resource In Finding Memory Care In Austin, TX
Don't let Alzheimer's care overwhelm or intimidate you. Contact us to discuss care options for your loved ones' journey with dementia.