When it comes to passionate service, continuous improvement, and innovative strides in senior care, it is hard to beat Civitas Senior Living. To continue to provide the personalized care that seniors deserve, Civitas leaders stepped up to the plate to become nationally recognized dementia practitioners.
So, why be certified? It's no secret that caring for individuals with dementia requires specialized knowledge and skills. That's why Civitas has gone the extra mile to train and certify their department leaders via the National Council of Certified Dementia Practitioners, or NCCDP.
With this latest achievement and certification under their belts, Civitas Senior Living communities can continue to dedicate themselves to providing seniors with the highest quality of care. Let's dive into why being certified matters and why achieving this high standard of care is vital for families looking into proper senior housing.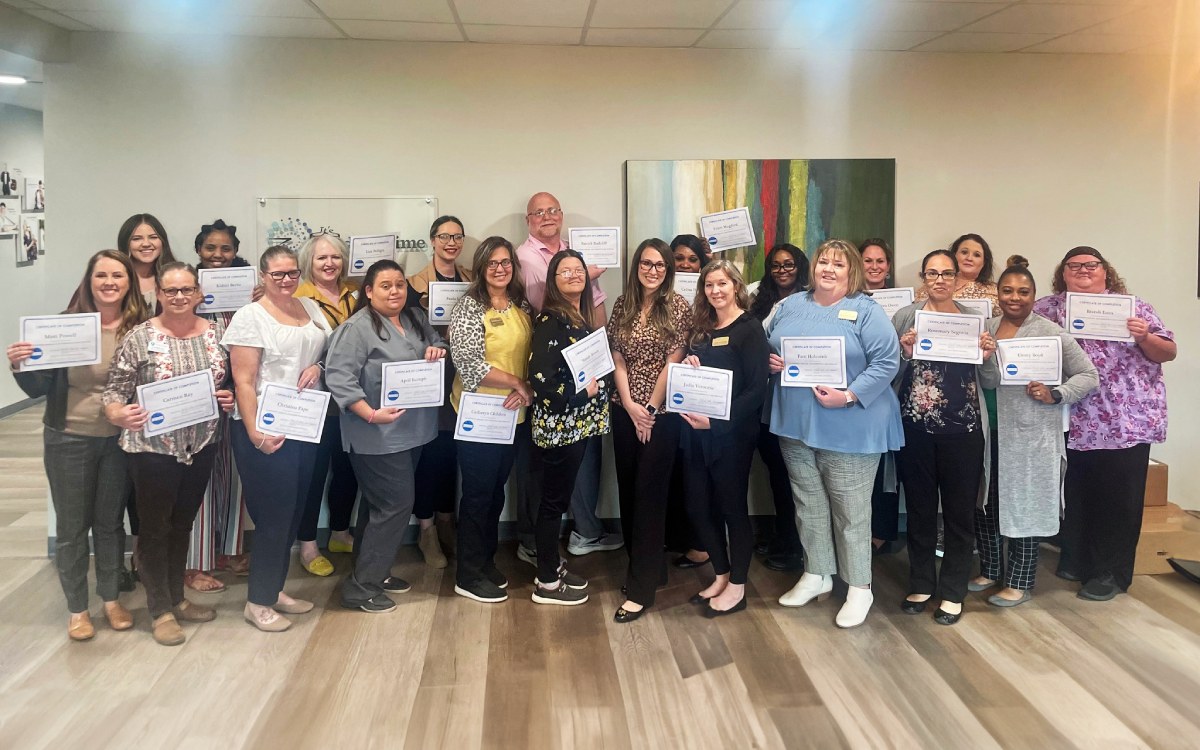 Certified Team Leaders
Civitas Senior Living is proud to announce that their department leaders became Nationally Recognized Certified Dementia Practitioners in November 2023. With over 20 years of experience, Civitas has become one of the nation's leading providers of senior living communities, and their latest certification is clear evidence of their dedication to providing cutting-edge care.
"Certifying our department leaders as Certified Dementia Practitioners, or CDPs, is a significant milestone in our ongoing commitment to dementia care," remarks Misti Powell, Co-Founder and Chief Program Officer of Civitas Senior Living.
"This certification empowers our leaders with the knowledge and skills to provide the best possible care for residents living with dementia, ultimately enhancing their quality of life."
Misti further added that she was proud and overwhelmed with gratitude for the people who stepped up to become CDPs. It further shows that a career in senior living is truly a calling, not just a job, for many Civitas employees.
A Higher Standard of Care
Civitas believes that their certification of department leaders adds a higher standard of care for seniors with dementia. Residents and their families can rest easy knowing their loved one is in the best hands possible.
In a Civitas memory care community, residents and families expect individualized service from compassionate team members with the goal of enhancing residents' well-being, health, and happiness. With the memory care team incorporating Teepa Snow's Positive Approach™ to Care (PAC), newly-certified knowledge, and various modern and comforting amenities available, residents in memory care live fun, full, and purposeful lives.
The Importance of Memory Care
Dementia is an unfortunate reality for many seniors. As their condition worsens, they may require specialized care that their families and loved ones may not be equipped to provide. Memory care is critical for seniors living with dementia. Proper support promotes the best quality of life possible for those affected. Civitas Senior Living understands this and has gone beyond the standard training, certifying their team leaders in their quest to provide the best memory care possible.
The Benefits of Certified Practitioners
Civitas believes that the benefits of having certified practitioners are clear. The team is equipped with a wide range of knowledge, from passionately handling complex behaviors to medication management to communication skills.
Civitas Senior Living's commitment to its residents and their families is evident in their continued efforts to provide the highest standard of care possible. Their latest announcement of certifying their department leaders as Certified Dementia Practitioners is proof of their dedication to their residents' well-being. By going beyond the standard of care, the team at Civitas is setting an example for the senior living community.
Senior residents and their families deserve only the best, and that's what Civitas intends to provide.
Explore a Civitas Senior Living Community Near You!
If you are searching for senior housing, whether independent living, assisted living, or memory care, please schedule a tour by contacting us online.