Our Pandemic Response to COVID-19
Why Senior Living matters, now more than ever. We know that caring for the safety of your loved one is your top concern. It's ours too. In fact, it's our only concern. Our ongoing mission is to provide our residents with the 24/7 care that they deserve as well as ensure that they are engaged socially, mentally, and physically. We are uniquely trained and ready to adapt to today's rapidly changing health climate at a moment's notice. It's this level of professional care that not only helps our senior residents thrive but provides you the peace of mind you deserve.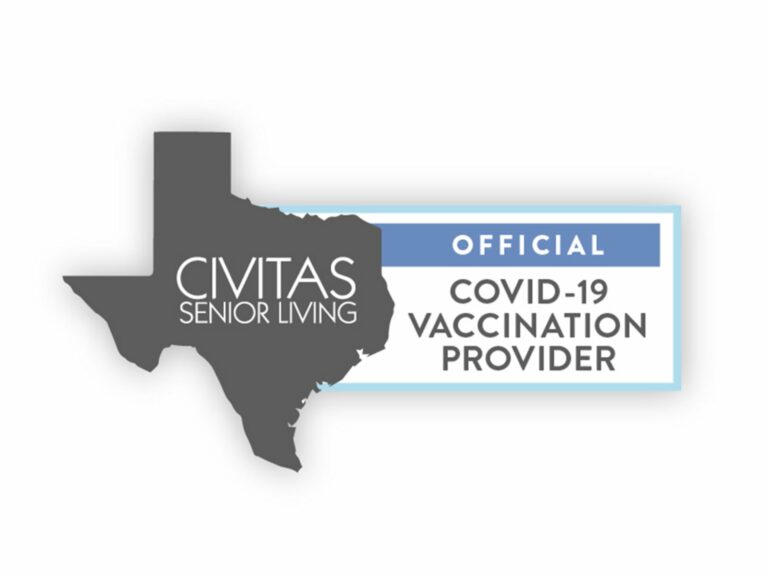 Civitas Now COVID-19 Vaccine Provider
March 8, 2021: Last week, we held our first vaccine clinics with our new designation as a COVID-19 Vaccine Provider. Clinics were held in Fort Worth at our corporate office and at two communities in Austin and East Texas. Once we have our next clinics scheduled, we will post clinic and contact information here.
February 2, 2021: Civitas Senior Living is proud to announce that we have been certified as a COVID-19 Vaccine Provider by the Texas Department of State Health Services. We will continue with the vaccine clinics for our residents and staff members under the current Federal Vaccine Program, but this new designation will allow us to continue with vaccinations for residents, staff members, and essential caregivers once the Federal Vaccination Program has ended. For more information regarding this program, please contact your community directly. To learn more about this designation, please click below to view our press release.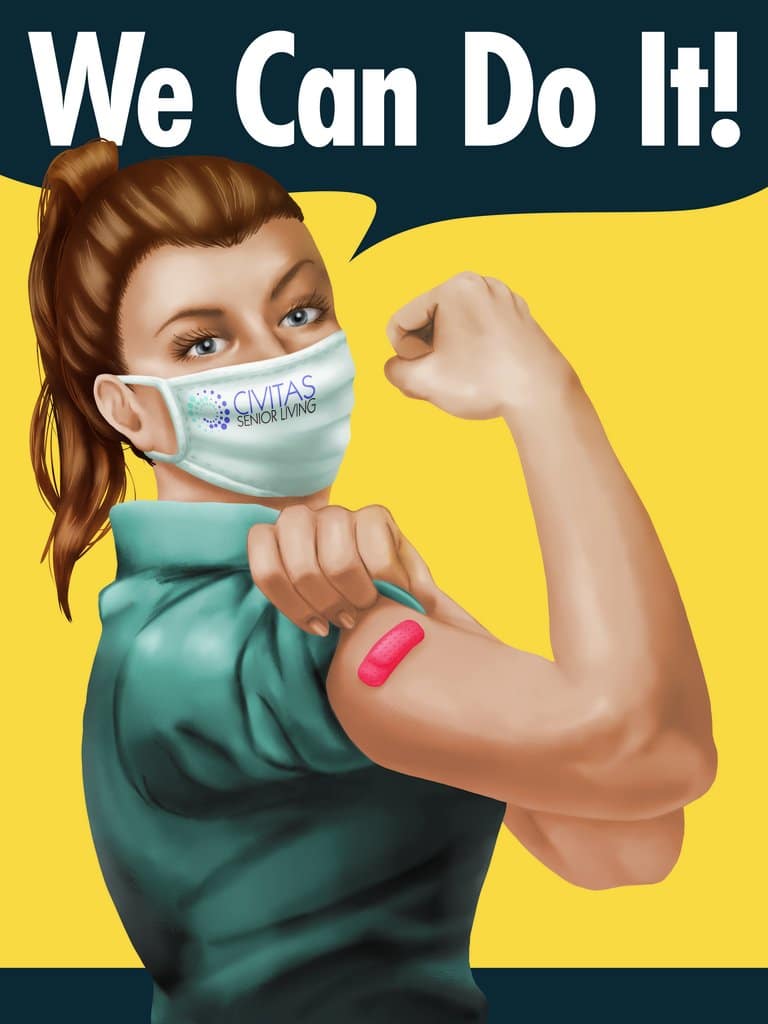 Civitas Senior Living Partnering with Walgreens for COVID-19 Vaccinations
Update January 25, 2021: Leading the Way! Civitas Senior Living is proud to announce that, as of today, all but one of our communities nationwide have completed their first-round vaccination clinics. The one community is in Colorado, and will host their first-round clinic this Thursday. Additionally, by January 29th 39% of all our communities nationwide will have completed their second-round vaccination clinics, and by February 5th this number jumps to 66% completion for second-round vaccination clinics. If you have questions regarding the vaccinations or our upcoming clinics, please call your Community directly.
December 23, 2020: Civitas Senior Living has signed up all of its communities nationwide to be on the priority list to receive the COVID-19 vaccine and is partnering with Walgreens for the administration of the vaccine in our Communities. In the coming weeks, Walgreens will be on-site in each of our Communities nationwide and will administer the vaccines to any residents or staff members choosing to get the vaccine.
Here are some important notes on the administration of the vaccines:
Walgreens pharmacy will come on-site to each community and administer the vaccine for all service levels of residents and all staff members choosing to get the vaccine.
At least three (3) clinics will be scheduled at each community through January to ensure that all residents and staff members are protected. These clinics will be set up between 21 to 28 days apart, as the two vaccines that have received Emergency Use Authorization require two doses with at least 21 or 28 days in between doses.
The vaccine will be voluntary for all residents and staff members at this time, and we continue to monitor state, and federal guidance and best practices.
The vaccine will be provided free of charge for all residents and staff members of the Community.
At this time, family members that live outside of the Community will not be eligible to receive the vaccine at our Community through the vaccination clinics.
For questions regarding the vaccines or the vaccination clinics, please call your Community directly. Here is a resource provided by the CDC regarding the benefits of getting a COVID-19 vaccine and resources for more information.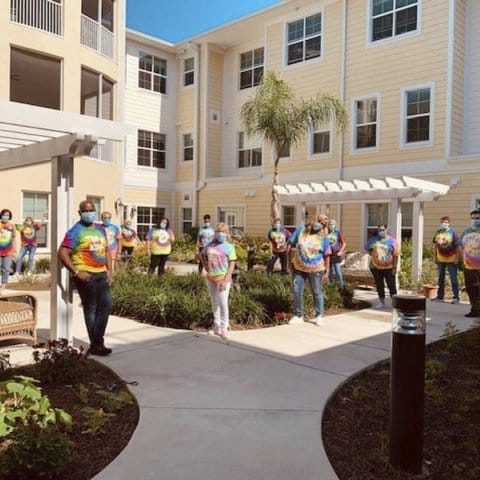 Our Safety Protocols and Guidelines
Since February, Civitas Senior Living has been monitoring the COVID-19 pandemic and has implemented standards and protocols to protect the safety of our residents. We understand that we protect the most vulnerable populations that are affected by this virus, and we immediately put in place safety protocols and necessary steps in all of our communities. Civitas Senior Living is committed to protecting our residents and staff during this time. We will continue to take all essential precautions with their health and safety in mind.
Passionate Service, Passionate Care and Passionate Cleanliness. At Civitas Senior living, this means caring for each other, and taking responsible actions to protect our residents and employees and to work to stop the spread of COVID-19. It also means to continue to offer a comforting community and an enjoyable experience to our residents and employees around the country.
Not all heroes wear capes, but we all come ready to serve. Thank you to everyone who is a part of each of our communities and for all that you are doing to protect our residents and each other during this time. We appreciate you!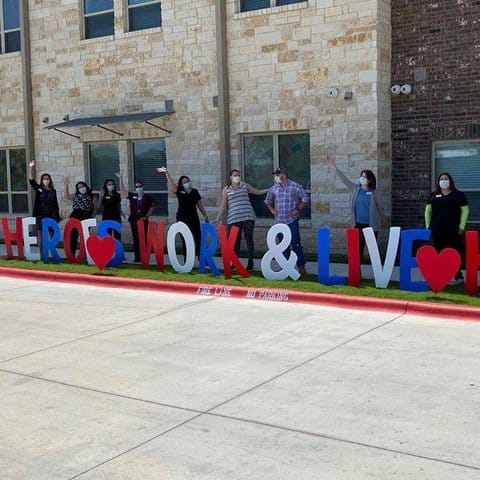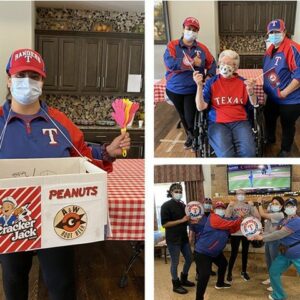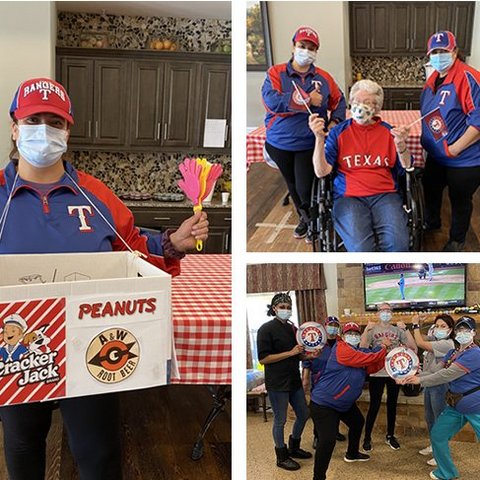 Happy Opening Day! Clear Fork Assisted Living and Memory Care residents and staff celebrated with all the mouthwatering baseball snacks of their childhood. #TexasRangers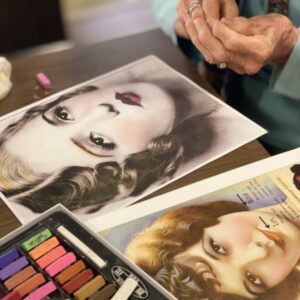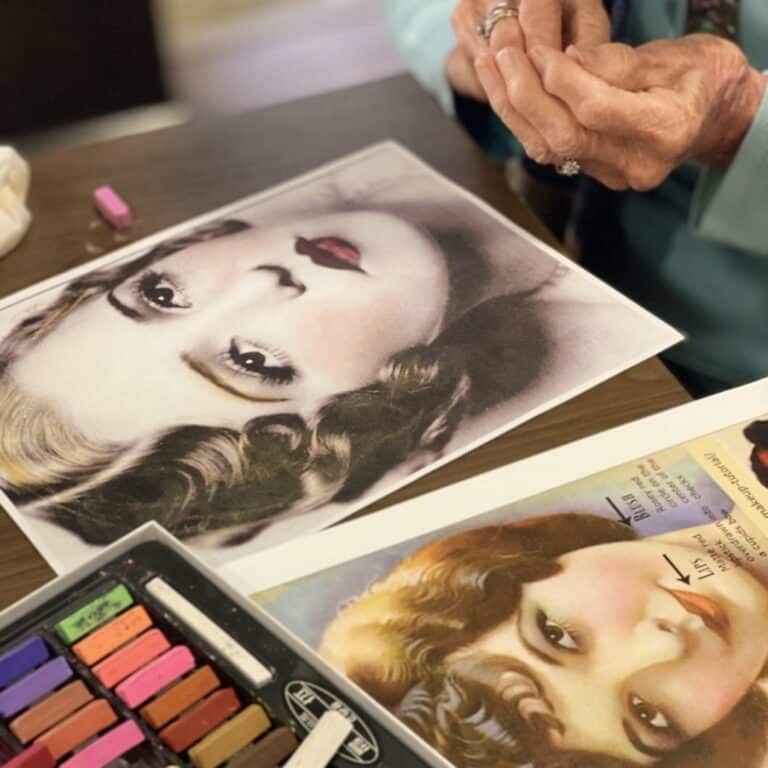 During 2021, all of our communities are participating in activities around our Diving into the Decades theme. Each month, our communities will be learning about a new decade including the following: fashion, music and dance, food, famous people, art, popular games and toys, and more!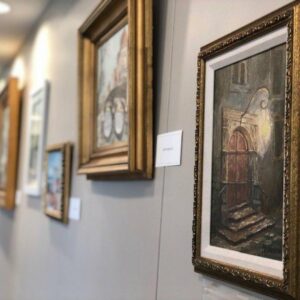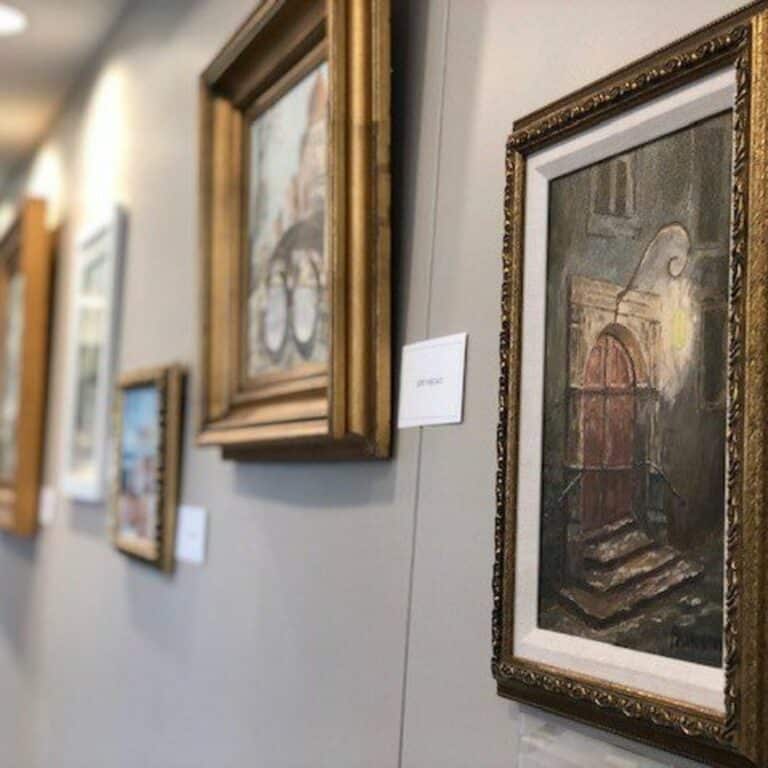 The Grand of Prospect Senior Living's Art Gallery features residents' original art. The amount of talent at The Grand is unbelievable! It's great to showcase many artists for all residents, staff, and visitors to enjoy. #Art Throbs Club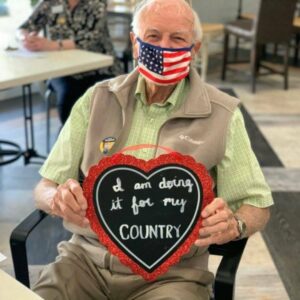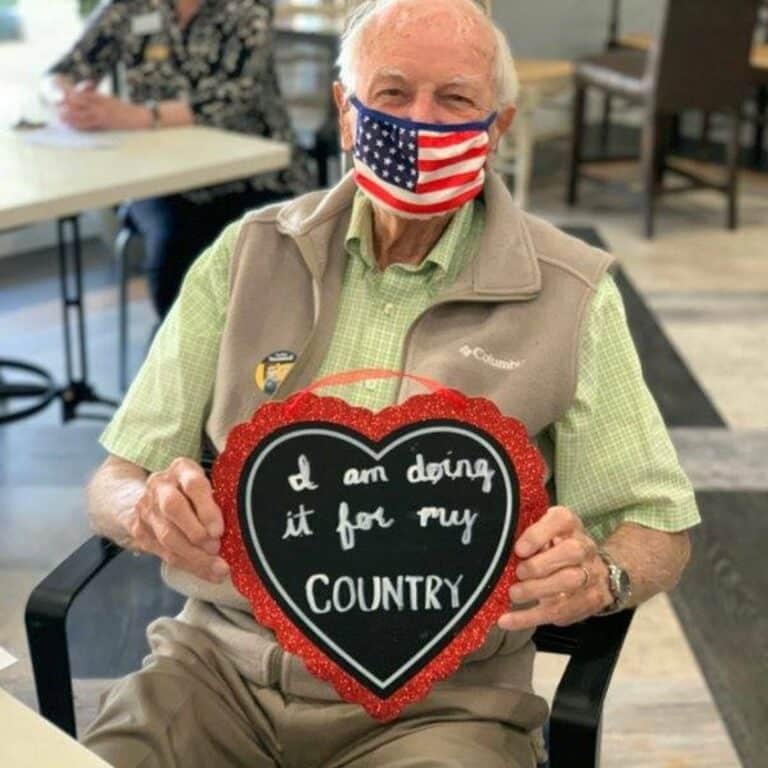 The team at Legacy Oaks of Azle captured some great photos from their recent vaccine clinic. Keep up the passion!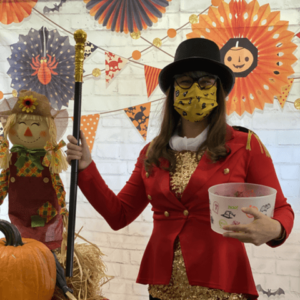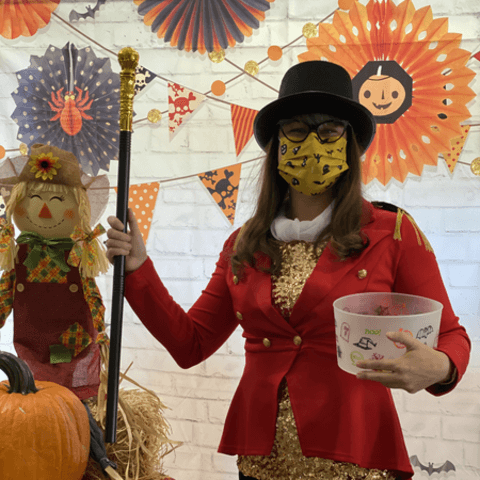 Élan Westpointe celebrated Halloween with a Circus Theme and paraded around in costumes through the community to hand out treats to their residents. It was truly a memorable day!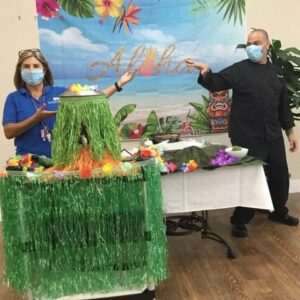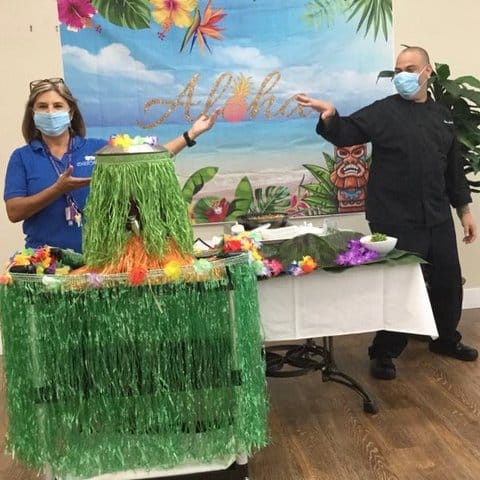 The residents at Ledgestone were so happy to have a cooking demo with Jose again. Jose made some delicious Shrimp Fried Rice and finished up the snack with some good cold Strawberry Fanta.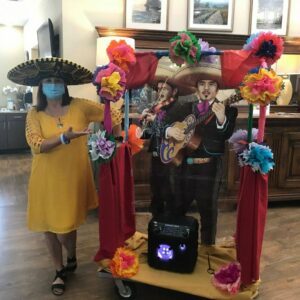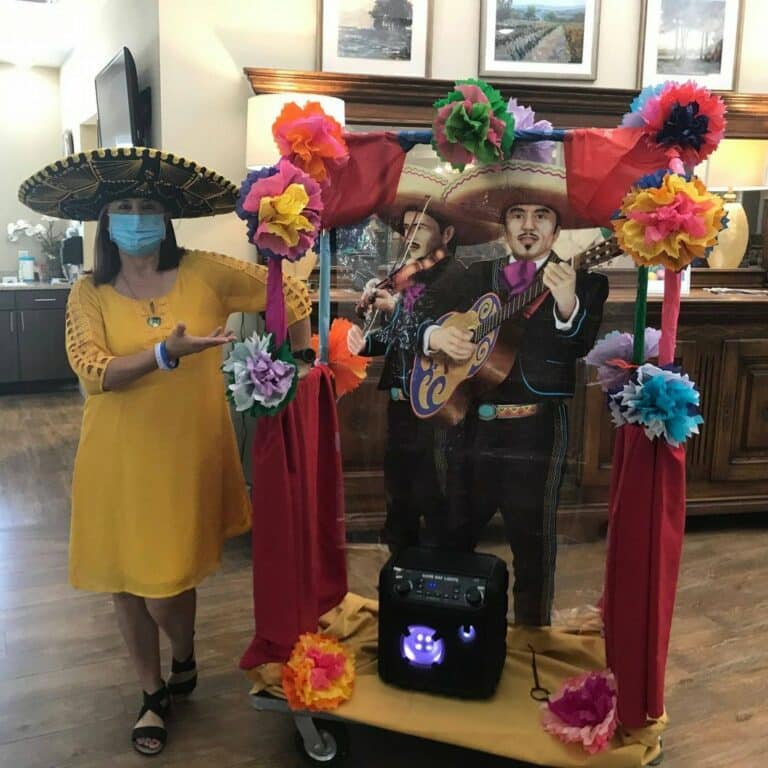 The residents at Ledgestone had fun celebrating with "live" music and special menu treats on Fiesta Day!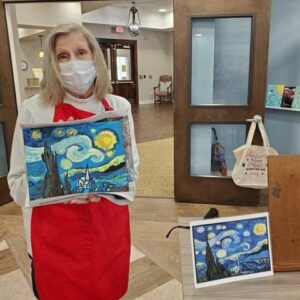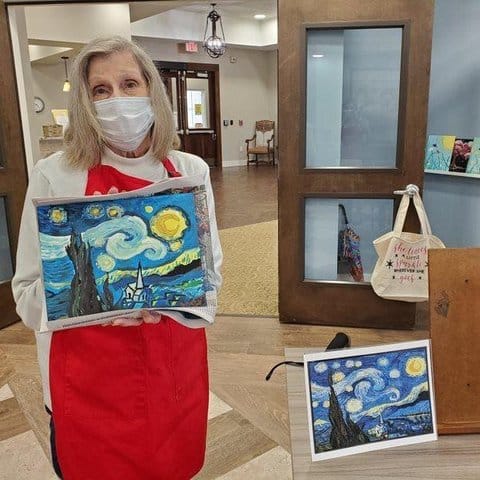 Bravo! The Alexis Pointe Art Throb Club painted the Vincent Van Gogh Starry Night! Bossa Nova was playing in the background and the residents were very happy with the final product.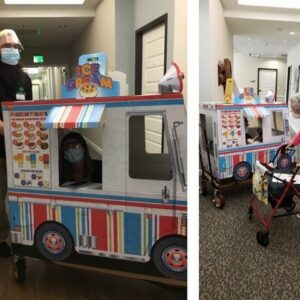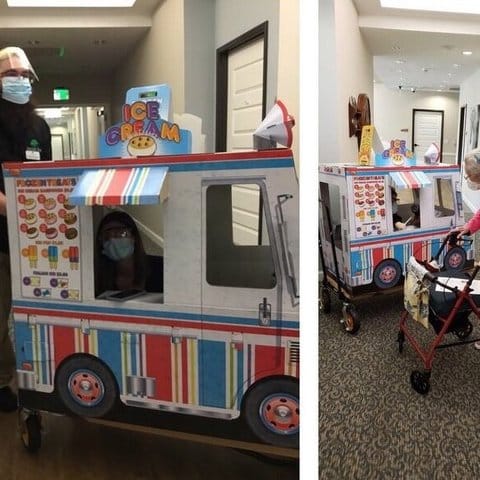 The halls of Legacy Oaks of South Austin were filled with laughter as Robert, the Maintenance Director, rolled his indoor ice cream truck door to door! Residents enjoyed the sweet treat on this hot Texas day.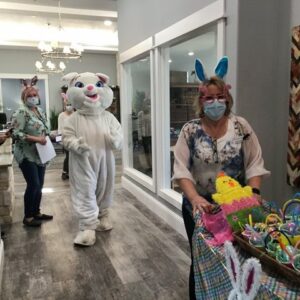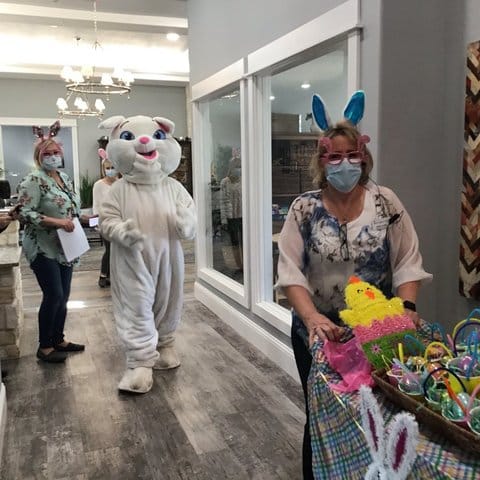 Such a fun day at Elk Creek! The Easter Bunny came to visit us, and started out the day by surprising residents in their windows and dancing outside, then came in with a load of Easter baskets full of goodies and Bibles for each resident! We caught him getting into a bit of mischief in between deliveries too! Residents LOVED both the bunny and their baskets.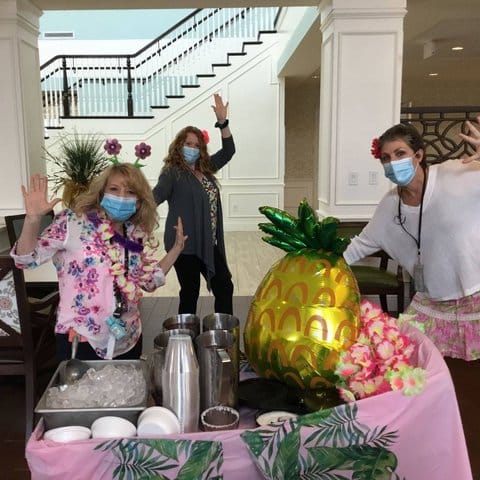 My Special Friend Program
It is essential that every resident feels connected daily during this time. As our residents' extended family, we want to ensure we are meeting the residents' psychosocial need of engagement along with providing updates to you, their loved ones. Each day, a community staff member will be paired with an Assisted Living and Memory Care resident and will provide daily visits to further engagement while forming relationships with community members. During these visits, staff members may provide the following engagement with your loved one: Providing assistance to residents, doing an activity with the resident, and answering questions.
Activities are personalized to residents based on their preferences and may include: Looking at family photos together, having coffee together, book club, assisting the resident with organizing or chores around their apartment, bible study, show and tell sessions, listening to audiobooks together, arts and crafts sessions, gardening with indoor plants, various online games and programming, pet therapy, and much more!
Virtual, Window, and In-Person Visits
Residents enjoy their FaceTime sessions with their loved ones from Civitas Senior Living communities across the country. Most are visiting virtually through FaceTime calls and a few are visiting with real face time through window visits. Their smiles when they get to see their families on FaceTime brings joy to our hearts.
We recently rolled out a new program that provides a dedicated area of the building where all families can enjoy scheduled window visits with their loved ones, with an added treat. We are introducing our pop-up soda shop. Although it will not be set up exactly like the 1920s and 1950s-era iconic soda fountains, window visits just got a little tastier!
Several states have approved limited visitation rules for Assisted Living and Memory Care long-term care facilities. Many of our communities in Colorado, Kentucky and Texas are now accepting visitor reservations and others are awaiting approval to begin allowing visitors.
To schedule your virtual or window visits, or to inquire about when in-person visitations will start at your community, please call the community directly and the Front Desk will assist you with making your reservation.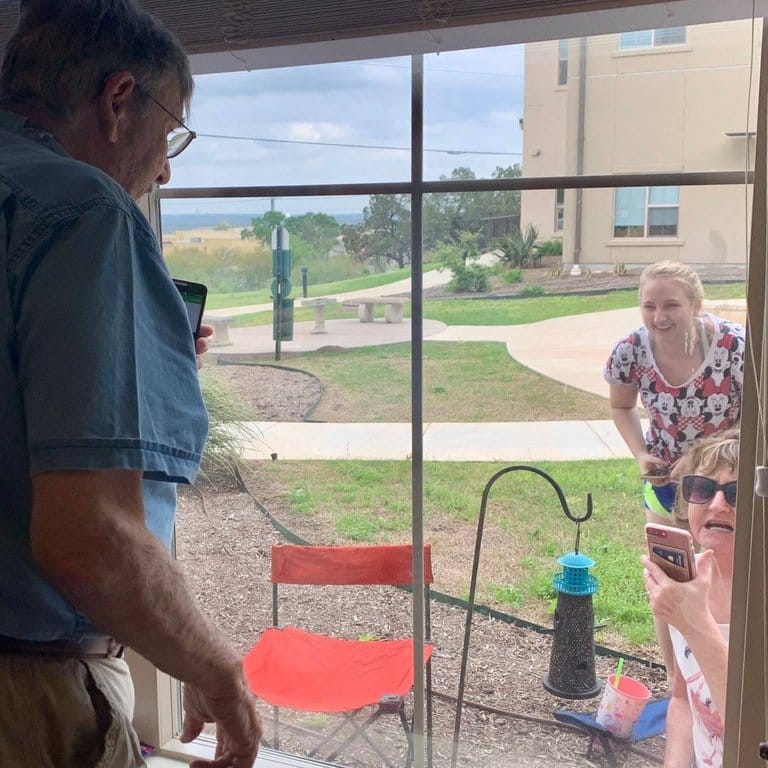 "The staff are caring, loving, and very concerned about my mom. I get phone calls telling me how she is doing. Right now with COVID, the communication is awesome. My mom says the food is good and they offer a variety. The staff are super friendly and I would give them a ten out of five if I could … I would absolutely recommend this community to other families."
Cambridge Court - Cindy F.
"This is a beautiful community and the staff members are wonderful! It was a very difficult decision to move my mom into memory care, especially during the current times. However, everyone at the Grandview has made this as easy as possible for us…All of the aides have been wonderful to my mom and make sure she is well taken care of and entertained…They've also gotten my mom dancing and having fun again."
The Grandview of Chisholm Trail - Leslie W.
"The caregivers are amazing; it is like a family there. They have done a good job of keeping the families involved during Covid-19 with Facetime and window visits." 
The Oaks at Flower Mound - Jeanie L.