Passionate Care, Personalized
Welcome to Memory Care in The Cottage
at Civitas Senior Living
At Civitas Senior Living, we believe that the good life for our Alzheimer's and dementia care residents is found in moments. Moments filled with happiness, kindness, purposefulness, and laughter. The kind of small, pleasurable moments that make life worth living. The ones that are best enjoyed in the present. That's why we offer a comprehensive, loving, evidence-based approach to memory care in The Cottage — because every moment makes a difference in the quality of life for our residents. We have also incorporated Teepa Snow's Positive Approach™ to Care (PAC) into our memory care programming in our communities to enhance our residents' lives and increase their quality of life.
We intentionally keep the number of available rooms in The Cottage low and our staff per resident ratios high so that all of our residents can enjoy warm, attentive, compassionate care in a small, homelike environment. We want our memory care residents to feel like they're part of a caring, close-knit community. We want them to be reminded every day of two things we feel strongly about: that they're important and that they matter.
Passionate service. Passionate cleanliness. Passionate care.
Positive Approach to Care
We believe that memory care should be positive, meaningful, person-centered, and focused on quality of life. That's why we incorporate Teepa Snow's Positive Approach™ to Care (PAC) into our communities.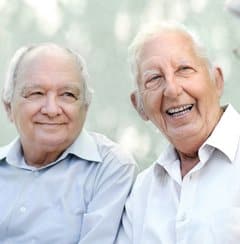 Residents enjoy a section of our Passion Program specially designed just for them. My Legacy engages those with Alzheimer's and other forms of dementia through a rich life full of purpose, memories, and fellowship.
Contact Us about Memory Care