Watching our loved ones age can be a challenging journey, especially when they face the diagnosis of Alzheimer's or other forms of dementia. Fortunately, there are many senior care facilities and communities, like Ledgestone Senior Living, that offer specialized Alzheimer's care in Austin.
Today, we'll look into what Ledgestone and other senior living communities have to offer, plus introduce you to the local Alzheimer's Association chapter in Austin and other helpful organizations.
Long-term Alzheimer's Care | Austin, TX Facilities and Communities
An Austin Alzheimer's care facility is a specialized living environment for health care assisting those with dementia. This type of facility has trained staff who ensure 24-hour monitoring, as well as memory care units, activities, and other programs tailored to their needs.
A community, on the other hand, offers these services within a home-like environment. It typically provides amenities such as supervised recreation rooms, garden walks, and art classes to all residents regardless of their dementia diagnosis.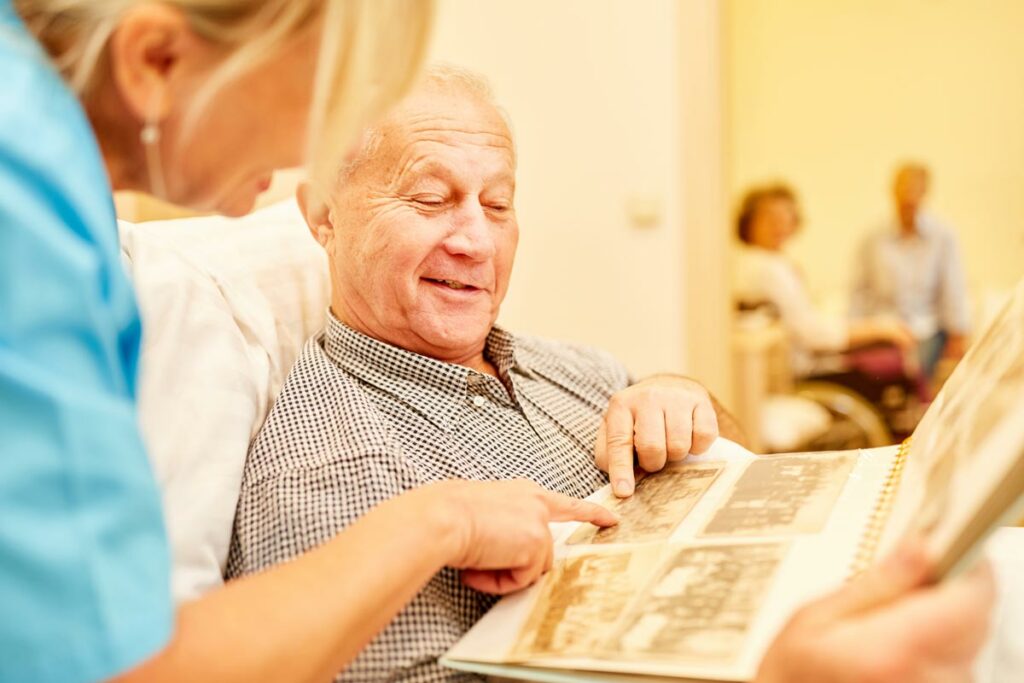 Ledgestone Senior Living is an inviting senior living community that offers a welcoming and secure environment for seniors with Alzheimer's. Our compassionate and extensively trained staff provides personalized care and support that accommodates the needs of each resident.
The community has its own specially designed neighborhood that caters exclusively to residents with Alzheimer's and other memory-related conditions. Each resident can have their own living space, which is thoughtfully designed and supported by around-the-clock care services for any medical, emotional, and physical needs. This is an incredible living option for seniors who need around-the-clock attention, but also want to maintain a sense of purpose and self-reliance.
At Ledgestone, seniors with Alzheimer's get access to a wide array of benefits, such as personalized support, medication management, and memory-enhancing activities. They also offer a community stimulating environment that incorporates physical fitness programs and interactive social events, which helps seniors feel more connected, maintain mental acuity, and build stronger relationships with other residents.
The Alzheimer's Association | Austin, TX Senior Information, Resources
Additionally, the Alzheimer's Association — a non-profit organization — provides support, education, and resources for families dealing with Alzheimer's. Its Capital of Texas Chapter has various services to aid seniors and their families in their Alzheimer's treatment journey.
One of the services the association provides is support group meetings, which offer a friendly environment for families to share their experiences, receive emotional support, and learn from others who are going through the same challenges. Additionally, the chapter also offers educational programs to help local communities understand Alzheimer's, the many ways it can manifest, and how to handle the condition effectively.
The Alzheimer's Association — Austin chapter is actively making a positive impact in the community. They're seeking to raise awareness about Alzheimer's and dementia, remove the stigma surrounding the condition, and explore research pathways to find a cure. They work closely with individuals and organizations to achieve these goals, integrating feedback from both caregivers and seniors.
Where else can I find local resources to help with memory loss?
Similarly, Alzheimer's Texas offers free guidance, assistance, and support groups to individuals living with Alzheimer's and associated dementias, as well as their families.
AGE of Central Texas is another educational organization holding classes and other events for seniors with memory loss and their caregivers. It also offers unique services such as health equipment lending and peer-based computer classes for seniors.
Find Insightful Resources and Alzheimer's Care in Austin at Ledgestone Senior Living
Ledgestone Senior Living offers personalized care, specialized memory care therapies, and engaging activities that facilitate a positive life for seniors with Alzheimer's. Families receive even more support from our knowledgeable associates, senior wellness blog, and trusted partners as they navigate the complexities of this condition.
Ledgestone and other Alzheimer's specialists in the area are working towards a common goal of improving the standards of care for people with memory loss. Together, they offer hope to all people affected by Alzheimer's and will continue to do so in the years to come.
If someone you know is living with Alzheimer's or dementia and needs help finding resources, contact Ledgestone Senior Living today. We'll provide everything you need to start your journey in one place.