Expertly Balanced Nutrition and Taste
At Cambridge Court, we believe that dining should be an enjoyable and elevated experience for older adults. We've crafted a dining program that is truly something special. From delicious and nutritious meals to engaging sampling activities, our senior living dining services are second to none.
We don't just make food. Our team does not simply deliver meals. We serve experiences and wellness through balanced nutrition options. Get a taste of premium senior living in Mesquite, TX by joining us for lunch.
Experience Elevated Senior Living Dining
Our chef-prepared meals are made with the freshest ingredients and are tailored to meet each resident's dietary needs. Our approach to dining begins with the highest-quality ingredients and ends with a beautifully presented plate of food. All of our meals are served in our stunning assisted living dining rooms, where residents can socialize and enjoy each other's company. Room service is another available option.
Our culinary team is here to serve and facilitate meals that inspire community spirit and fuel residents' days.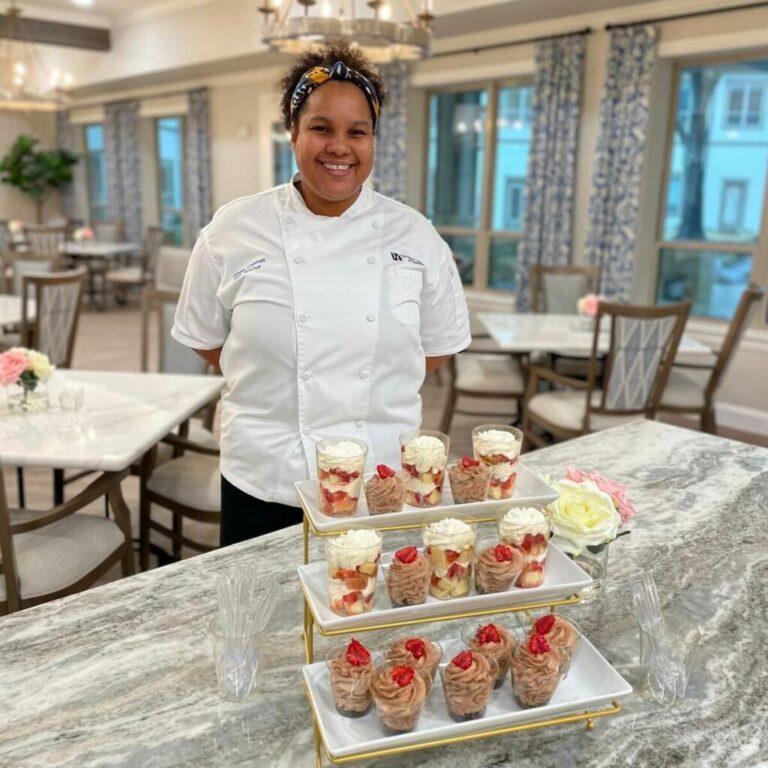 Curious about what our menus look like? Click here to view our assisted living monthly dinner menu.
We continuously update our menu to ensure that we offer the best assisted living food menus.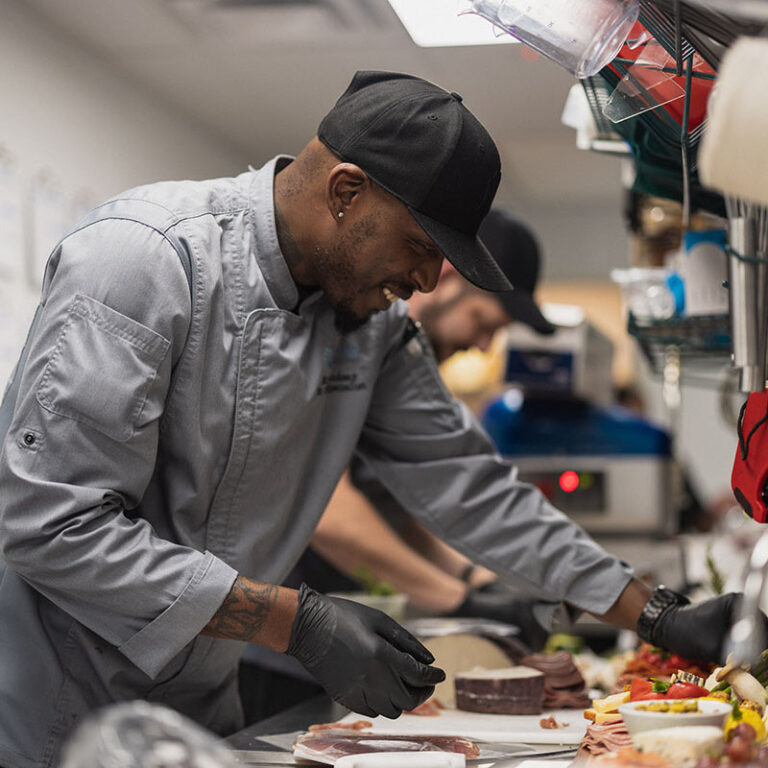 As part of our signature Passion Program, 'My Food' elevates our residents' dining experience by empowering them to make choices that reflect their unique preferences, traditions, and family recipes.
Features of 'My Food' include:
My Recipe: Share your family's cherished recipes with us, and our chefs will make them come to life on your plate.
My Community Signature Dish: You are in charge! Residents vote for their favorite meals, which becomes a regular feature on our menu.
My Birthday Meal: Residents can tell us their favorite meal, and we will make it for their special day.
Themed Dinner: Celebrate special occasions with our themed dinners, from summer BBQs to holiday feasts.
Cooking Demonstration: Our chefs love to show off! Follow along and learn how to make some of our favorite recipes.
Weekly Chef Features: Our creative culinary team always comes up with new and exciting dishes, so there's always something fresh to taste.
Seasonal Sips: Our refreshing beverage creations are made with the best ingredients for the season and can be enjoyed with any meal throughout the day.
MINDful Menu: Our selections are thoughtfully chosen for brain health and essential for memory care dining.
Chef Selections: These tried and true meals are always available on our assisted living menu, made to order.
See Our Chefs Prepare the Resident Dinner Menu
We take pride in our dining program operating on the same level as a fine dining restaurant in Mesquite, TX . Our experienced chefs prepare the resident dinner menu with fresh ingredients sourced from local suppliers. Join us for a memorable dining experience in our elegant assisted living dining rooms.
At our community, we offer independent living with meals and specialized memory care dining services. Contact us to learn more about our assisted living dietary program and assisted living dining in Mesquite.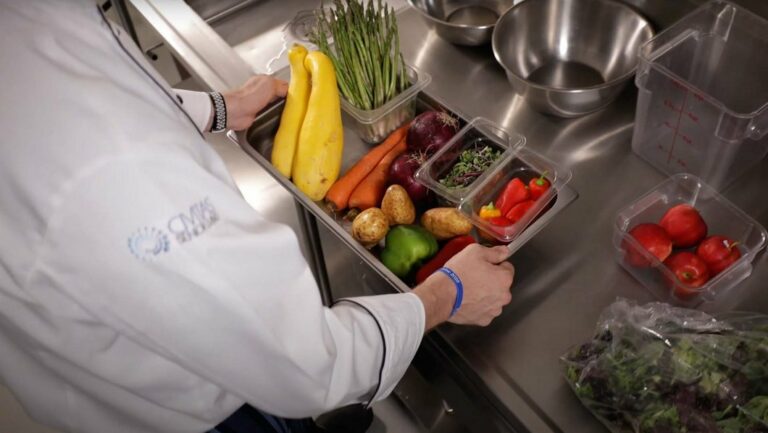 Serving What Seniors Want!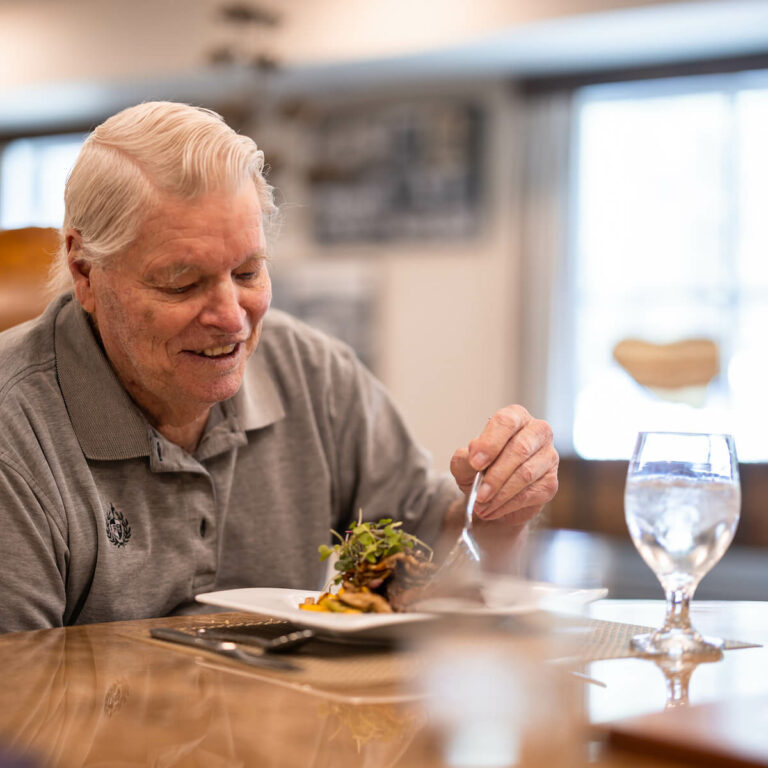 Independence and choice are essential to the well-being of seniors. That's why we offer a dining program with a variety of high-quality options instead of serving the same meal to everyone. Allowing residents to choose what they want to eat is another way we help them maintain their independence.
Our chefs are passionate about creating culinary masterpieces that appeal to various tastes and dietary needs. Whether you require gluten-free, low-sodium, vegetarian, or other specialized meals, we've got you covered. Our menu reflects our residents' diversity and helps make dining an enjoyable and personalized experience.
There's nothing quite like the taste of food prepared with passion. Visit us for a memorable dining experience and discover why we're committed to serving what seniors want.
Fill out the form below to schedule a lunch tour.