Senior fitness is essential to stay happy and healthy. An active lifestyle has bountiful health benefits, including improved mental health, an elevated sense of purpose, and increased cognitive wellbeing. Incorporating a workout routine into your life will help you continue to shine bright into your golden years.
The following exercises offer a range of strengthening and core skills for improved mobility and a positive state of mind.
Stretching Exercises for Seniors
Physical activity doesn't have to be strenuous to improve mobility. Stretching is one effective exercise that keeps you in tip-top shape without breaking a sweat. Additionally, for unwanted aches and pains, stretching is among one of the best tips for coping with arthritis. You can do the following simple stretches while seated safely in a chair.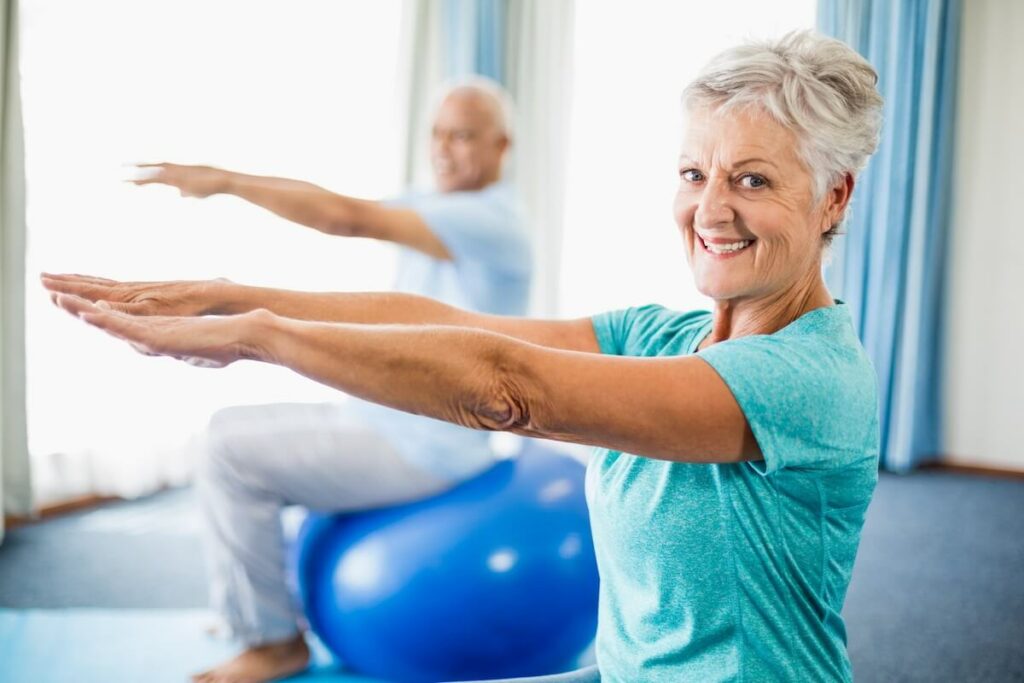 Knee to Chest Stretch
This stretch is effective for stretching your glutes and entire back.
With your feet planted on the floor, sit tall in a chair. Your hips, knees, and toes should face forward. Breathe in deeply, and, as you exhale, draw your left knee toward your chest until all air has emptied from your lungs.
On the next inhale, lower your leg back to the starting position. Alternate to lift your right leg using the same breathing technique. Continue this pattern for three to five cycles on each side.
Body Twist
While seated in a chair, open your knees wide. Place your arms and hands on your thighs to twist your torso from side to side.
Exercise Programs for Seniors
Civitas senior living communities offer a variety of programs to maintain mobility in a fun social setting. Ask a community staff member for their list of physical well-being activities.
Walking
Walking is a simple exercise that provides ample opportunity to get outside and explore your community. Pick your favorite walking trail or neighborhood route and you're all set. You can choose your own pace and adjust your goals to your liking. A regular walking regimen improves balance by strengthening muscles and supporting joints, ensuring that you stay energized for many adventures to come.
Gardening for Physical Health
Getting your hands dirty has benefits for the planet as well as your physical health. According to the Center for Disease Control, you can burn approximately 300 calories by doing yard work for 30-45 minutes. Performing activities like raking, digging, and carrying soil provide numerous physical benefits like increasing your heart rate and toning muscle.
Check out your senior living community's gardening program to stay limber and cultivate a little corner of green.
Pilates for Seniors
You don't need an expensive gym membership to reap the benefits of pilates. A simple mat is the only resource you'll need for many of the essential movements. What sets Pilates apart from other exercises is its focus on the core, which is especially beneficial for maintaining an independent lifestyle. Pilates is an excellent exercise to improve coordination, strength, and stability for seniors. Set a goal of completing a pilates workout routine three times a week for best results.
Exercises to Improve Balance
If avoiding a fall is one of your primary health concerns, you're not alone. According to the Center for Disease Control, taking a spill is the number one cause of injury among older adults. As such, it is wise to strengthen stabilizing muscles and work on your balance. Balance movements can be done braced against a chair, and you can adjust the level of difficulty as you continue to build muscle strength. If you've experienced a fall, seek counsel from your doctor before starting a balance workout routine.
At Civitas Senior Living, we are passionate about improving your balance and overall health so you can live every day to its fullest. Check with one of your loving staff members for a complete list of our clubs and activities.