Senior living should be an experience that inspires friendships and joy. Double Creek Assisted Living and Memory Care is where miracles happen every day.
Our senior living community in Round Rock, TX provides an elevated lifestyle that lets residents live with confidence and enjoyment. Our senior living amenities and signature programs create a fulfilling experience for retirees.
Round Rock Senior Living Miracles
Miracle Moments stir up a lot of excitement in our community. Once a quarter, we organize special events that honor and celebrate our residents' accomplishments, hobbies, and passions.
We honor the veterans, teachers, survivors, parents, and many more who choose to live at Double Creek with parties, reunions, and moments that make everyone feel celebrated.
Past Miracle Moments at Double Creek Assisted Living and Memory Care include:
Despite the pandemic, we celebrated our resident Wanda by planting a Yellow Rose of Texas garden to honor her dedication to the students she taught as a teacher.
Ms. Linda owned a longhorn ranch in Florence, Texas with her husband for many years. Her Miracle Moment came when she was surprised with a trip to a cattle ranch.
Ms. Marilyn has a passion for painting. Despite experiencing a stroke, her creative spirit has never stopped, and she enjoyed a trip with her friends to a local painting studio.
The Passion Program
Our signature Passion Program is a holistic promise to senior care. Passion is what drives every community member at Double Creek. Picture how five aspects of our community can add purpose to your life or the life of a loved one.
1. My Wellness
To live with exuberance, our seniors receive a commitment to wellness. The wellness program in our Round Rock community outlines a personal approach to care. An initial assessment and service agreement will determine:
What assistance with activities of daily living are needed
Medication administration schedule
Wellness goals and ability levels
Social needs and wants
Nutrition preferences
Medical history
My Care Conferences are regularly scheduled meetings between residents, their families, and our team to determine if care needs should change. We look at our detailed medical records and, most importantly, residents' concerns to offer the passionate services they need.
2. My Food
Our culinary team creates incredible meals to give our residents a chance to bond with their neighbors every day. The My Food program allows residents to help design the menu and contribute their signature recipes.
Our chefs put on cooking demonstrations and plan elegant themed dinners that residents can't wait to join. Signature meals are created for every resident's birthday, and favorite weekly specials are added to our menu based on votes by the community.
Nutrition is one more aspect of care in our community. With an estimated 50 percent of seniors in the nation not receiving proper meals, Double Creek residents can live with peace of mind knowing they are eating well.
3. My Passion Pathway
Moving to Assisted Living can be an intimidating thought. There are so many new people to meet, and the My Passion Pathway makes meeting friends and learning the ropes of the community an easy process.
A welcome meal with a community ambassador is a new resident's first look into the community. New people in our community can also choose to have a welcoming party to get to know even more people.
Your new home will include a signature scent of your choice to make your living space a personalized sanctuary. A calendar of activities will keep seniors busier than ever outside the home.
4. My Activities
Add passion to your life with activities like:
Fit For You group exercise
Green Thumb Club
Art Throb Club
Cooking and baking activities
Card and board games
Live entertainment
Scenic drives and museum visits
Volunteer opportunities
The biggest threats to seniors' health are inactivity and isolation. Older adults who don't participate in physical or social activity can have a higher risk of heart disease, hypertension, and dementia.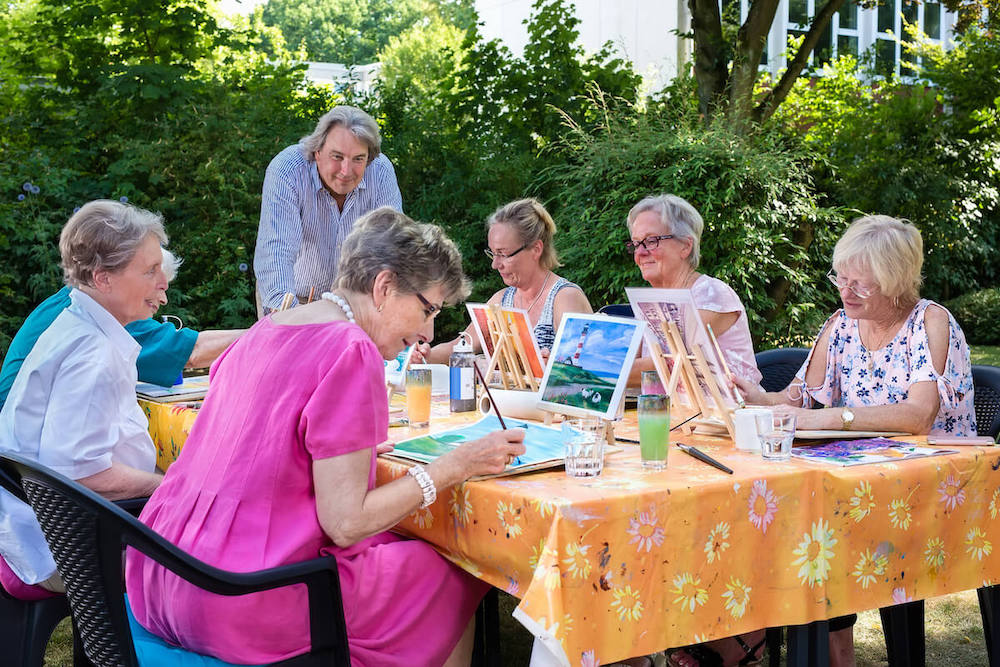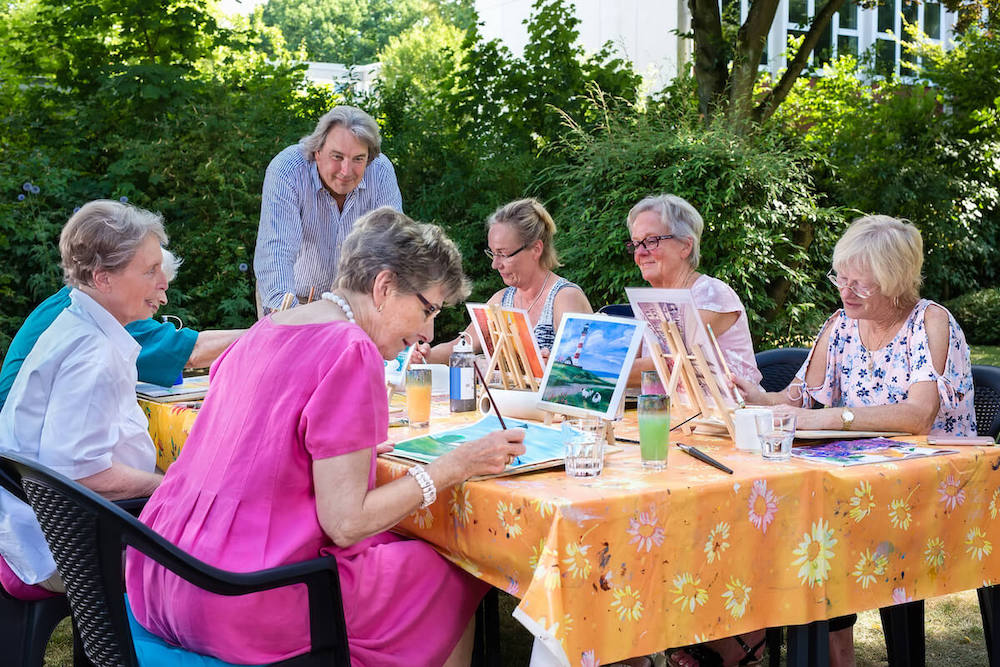 Senior living in Round Rock is active. Residents encourage each other to live with passion and accomplish wellness goals. Our activity calendar includes many events. Community members can pick and choose what they want to attend.
5. My Legacy
Seniors living with dementia can find purpose and comfort in The Cottage. Our dedicated Memory Care is a secure environment that encourages people with Alzheimer's and other forms of dementia to be social and active community members.
The My Legacy program includes activities just for these residents. These creative and evidence-based practices fulfill seniors' needs to feel welcomed and accomplished.
Activities like making legacy boxes and photo albums give people with dementia a chance to recall memories and trigger emotions. Sensory experiences and aromatherapy offer soothing and calming opportunities.
Specialized caregivers understand the unique needs of seniors in The Cottage. They focus on living in the moment and letting these residents feel honored.
Embracing Technology in Senior Care
The Sagely App
We live in a world where everyone is more connected than ever. Seniors and their families can stay connected through the Sagely App. Think of it as a private social media platform.
The app makes senior living easy:
Seniors can view their activity calendar and set reminders for what they want to attend.
Families can check in on their loved ones and view what mom or dad is enjoying on a daily basis.
Team members have a more streamlined and data-based way to check on residents, upload administrative tasks, and spend more time tailoring senior experiences.
Dementia Live
Dementia Live raises awareness, empathy, compassion, and understanding of how cognitive impairments affect seniors by engaging family members and caregivers with sensory reduction.
The dementia simulator can give a unique insight into how difficult living with cognitive impairment is. Following the experience, participants attend an educational session that dives deeper into caregiving and conversing with a loved one who needs Memory Care.
Fit For You
Neuroplasticity is the brains' ability to change and adapt as we age. The easiest way for the brain to complete this process is through physical activity. People living with Alzheimer's and dementia can slow memory loss using these techniques.
Fit For You is a brain fitness class that encourages strategic planning, memory and recall, analytical thinking, creativity and imagination, and kinesthetic learning. The dementia-friendly movements are often set to music and more focused on having fun than rigorous exercise training.
Residents get to experience:
Better joint mobility and strength
Improved balance and flexibility
Right-left brain coordination
Foot and hand dexterity
Increased self-esteem and confidence
Senior Living Amenities in Round Rock, Texas
It's the experiences that make Double Creek Assisted Living and Memory Care so enjoyable for North Austin seniors. Our residents and their pets live a resort-style lifestyle thanks to all of the amenities available in our community.
Seniors can live every day like a vacation thanks to community amenities that include:
Art Studio
Game room
Piano lounge
Fitness center
Outdoor courtyard
Theater and library
Fireplace living room
Community transportation
Beauty salon and barbershop
Garden area and putting green
Our community offers multiple studio and one-bedroom floor plans to fit a variety of lifestyles. These pet-friendly senior apartments include:
Housekeeping and laundry services
Trash and recycling removal
Maintenance services
24-hour response
Utilities paid
Residents enjoy the convenience our modern apartments offer. Hassle-free living is easy when you choose Double Creek Assisted Living and Memory Care.
Find A Passionate Assisted Living Community in Round Rock
Contact Double Creek Assisted Living and Memory Care to learn more about Assisted Living and Memory Care services and options. Get to meet our passionate team and discover senior living tailored just for you or a loved one.