At Civitas Senior Living, we're not just passionate about providing the best in senior care and enjoyment. We seek to change how the world thinks about senior living by ensuring those who call us work or home have a life filled with love, fun, and fulfillment. Our days are spent making those we serve feel as important and loved as our own family.
We live by a higher standard of senior living that's not just our mission, it's personal.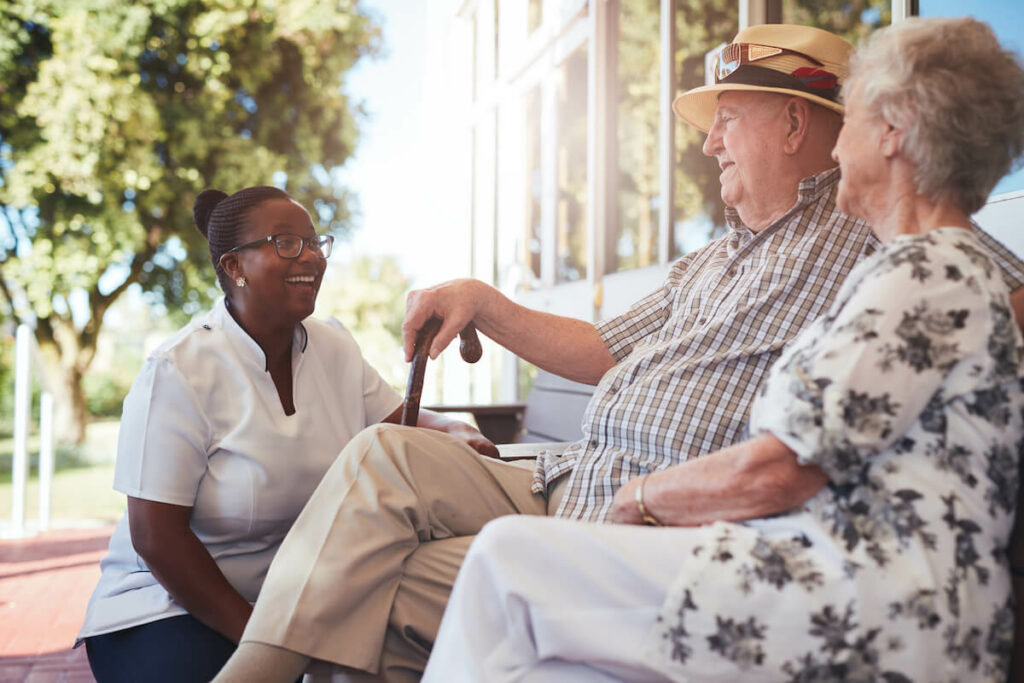 Our team members live this mission every day and we're excited to create an environment that encourages them to grow. So many have turned a job into a challenging, rewarding, and exciting career. Together, we can create an enjoyable experience full of life, love, and memories for everyone, from residents and their loved ones to community staff.
We'd like to recognize the many members of our passionate team who are growing with us.
Congratulations to Team Members Like:
Carrie Bell, Long Creek
Carrie started at Cambridge Court as the Business office manager. She was new to senior care but it quickly became her passion.
"In July of 2021, I got promoted to Executive Director of Long Creek, the change I got to bring into the building was the best feeling ever. Having families, staff, and residents tell me how much they love it here is the best feeling."
She shared that Civitas invests in its employees, and helps them to grow as individuals.
Daniel Evans, The Avenues of Park Forest
Daniel was brought into the Company as an EDIT (Executive Director in Training) and he is now Executive Director of the community.
"The program was in the early phases, and I was brought in to assist with the implementation and processes while also implementing new systems and programs. After about two months I was put into an Executive Director Role as a trial at The Avenues of Park Forest. In this role, I learned what senior living was all about and what it takes to provide the best experience for families and residents. The seniors have changed who I am as a person and I enjoy helping them. When some families, staff, or residents may have no other avenues to turn to except us and they see us provide passionate care that no one else in the industry does, it helps set us apart from the rest."
Darla Pate, Legacy Oaks of Azle
Darla started her journey as the Maitre D' in dining services in 2019 and she is now the Executive Director of the community.
Darla shares that she had the opportunity to learn about operations, worked hard, and moved from dining services to Independent Living Manager, then to Assistant Executive Director, before her final promotion. "When I started, I had no idea I would love it so much," said Darla. When asked what she enjoys about her job, she shared that residents always come first and she truly loves working with seniors. Darla also hopes her career path is inspiring to others.
"There is so much room for growth. I use my journey as an example of what other employees can do if they want to."
Chastity Miller, The Hamptons of Tyler
Chastity was hired as an Administrative Assistant and was promoted to Business Office Manager. When asked about the job she shared,
"What makes me love my job is the residents and the staff I get to serve and work side by side with. I truly enjoy operations. I love to help and figure out solutions.

I am a firm believer in never stopping learning in whatever position you are in. I know that I have so much more to learn, and I am ready for it. I am willing and ready to grow wherever Civitas wants to plant me."
Kris Cyprian, Civitas Senior Living Home Office
Kris started at The Brooks of Cibolo as Food & Beverage Director and he is now a Traveling Chef Specialist.
Kris loves getting to know the residents on a personal level and how every day is different in his new role. "I enjoy meeting new people and seeing all the communities and working with some amazing chefs within our company."
Kris' new responsibilities include covering communities if a chef is out, helping with openings of new communities, marketing events, financial and strategic oversight of a region.
"I believe in coming from a place of YES. No matter what I do to help communities, chefs, residents, wellness, marketing, whatever I can do to help this company grow." Kris believes that there is unbelievable growth within Civitas communities and in the '"absolutely endless possibility of this wonderful company."
Yasmine Santel, StoneCreek of North Richland Hills
Yasmine started as a caregiver at Stone Creek about a month after they opened. After about a year she was promoted Med Aide and then Lead Med Aide.
"I adored being there for their needs and their care knowing I'm making a difference in their life with the little things is huge to me!" she shared.

"Now, as a Memory Care Coordinator, I'm also able to engage them in fun, creative ways. And due to them having dementia, I live by normalization. So, I'm glad I get to do that for them."
Ebony Boyd, Arabella of Red Oak
Eboy started as a Med Aide and was promoted to Wellness Director. When asked why she loved her job she shared,
"I love it because not only is my staff wonderful, but the passion that I have for this job keeps me going daily. I am learning of so many different outreach places, home health and meeting some new people, and making connections within the community."

"I am also learning about the back end of things that run a facility," says Ebony. "Living out my passion is being the happiest with new experiences and having a bond with the residents that I care for. It gives me purpose"
Kat Owens, The Hamptons of Tyler
Kat started as a Med Aide and was promoted to Assistant Wellness Director. When asked what She loves about her role she said,
"I love it because now I can oversee the care of the residents and make sure they are getting the care they deserve. I have a lot of responsibilities that I didn't have before. I oversee staffing, medication audits, training in wellness, and making sure the staff have the proper tools to do their jobs daily."
Kat is able to live out her passion in this role daily.
"I'm a caregiver at heart. I love to give back to those that paved a way for the younger generations. They deserve the best service and treatment until the end of time. With Civitas I get to put a smile on their faces daily."
Erica Terry, Harvest of Roanoke
Erica started as a Caregiver and has been promoted to Assistant Wellness Director.
Erica loves making sure that residents and their families are happy. She ensures staff are available, medications and all services are available. She shared,
"My heart is in health care and making someone's day or having someone depending on me makes me feel great. Not only residents but staff as well."
Megan Flatt, StoneCreek of Flying Horse
Megan began with Civitas as a Caregiver and is now the Assistant Wellness Director. She is passionate about checking in on residents and making sure they have what they need every day.
When asked about what new opportunities she sees in her new position, Megan shared,
"First off, I never thought that I would be in the position that I am in now and it is amazing. It shows me that there is always room for growth and the ability to move up in the company. People in this company watch and when they see that someone is working hard to help others and themselves to make things better all around, they reward them."
Von Vu, Civitas Senior Living Home Office
Von was hired as the Executive Director and promoted to Operations Specialist. Von was excited to take on the challenge of a new role, sharing,
"As the Operation Specialist, I travel from communities to communities that need my assistance to fill in the role of an Executive Director. I love to train the new ED, especially when it comes to learning the Civitas way and new systems. I thrive on teaching and helping them understand what we do."
When asked about the passion she has for her role, Von shared,
"When I go into a community, I see our residents and see my grandparents. They all are very near and dear to my heart. Everything I do, I do with love and passion. I truly am enjoying being able to give to each community that I am helping."
We love seeing the growth in our communities. When you're a resident at Civitas Senior Living you'll know the people serving you are just as passionate about your care as you are.
Jacy Poe, Legacy Oaks of Azle
Jacy has always had a passion for caring for others. She worked in education for 18 years, when the opportunity to bring her passion to Senior Living presented itself.
"In January 2019, I was able to help open the new community of Legacy Oaks of Azle as the Director of Resident Engagement. As soon as the first residents moved in, I knew this was where I needed to be."
Jacy is now the Assistant Executive Director and knew this change would allow her career to grow.
McKaylynn Stephens, StoneCreek of Edmond
McKaylynn started working at Stone Creek during her first year of college. Her starting position was as a CNA in the cottages.
"I am now the administrative assistant," she shares. "I love It because I feel like there is always something to learn, I just love getting to soak in all the knowledge of the administrative side of senior living. Now that I am in this position I see opportunities like the EDIT program. This program is super beneficial and is an amazing opportunity for people who want to have a future as an executive director, like me."
Nichol Wesson, The Grandview of Chisholm Trail
Nichol moved to Texas from Illinois and started at The Ridglea as a CRD after about six months she transferred to The Grandview where four months later she was promoted to Executive Director.
"I have always loved helping people and in my new role, I feel I can help so many. It makes my day whenever a resident lets me know how happy they are or when their families reach out and let me know how much they appreciate all we do. But I'm also just as happy whenever my staff are happy. The caregivers, med techs, housekeepers, receptionists, cooks, and directors are all the heartbeat of the community and when they let me know how much they enjoy working at The Grandview and with me that is just as important. I'm so grateful to be able to help so many in many ways as an Executive Director."
Pricilla Duran, Civitas Senior Living Corporate Office
Pricilla started out at Civitas Senior Living as an Executive Director and was in that role for eight months before getting promoted to Operations Specialist.
"This was my dream job! My new responsibilities involve traveling to different communities which I love! I get the opportunity to serve and support different communities with systems and processes," she shared.
Pricilla feels that the sky's the limit with Civitas. "Working for a company that is this big but still somehow small enough that you are 'seen' is exciting. I love watching this company grow and I am grateful to be growing along with it."
Find your place with us
If you're interested in a career that you'll truly love, come grow with us. If you're looking for a senior living community to call home, learn more about our passionate team, care, and services.