Navigating the landscape of senior care can be challenging, particularly when seeking assisted living or memory care in Grapevine and Southlake, TX. You want to explore the costs of each level of care, as well as the location and activities you or your loved one could enjoy in these bustling Texas cities. Harvest of Roanoke, a senior living community in neighboring Roanoke that offers assisted living with memory care services, is dedicated to serving seniors in Grapevine and Southlake, TX.
How much does assisted living and memory care cost?
Nationally, assisted living can cost $4,500 per month on average, and memory care services tend to cost a bit more due to the extra care and attention required for individuals living with Alzheimer's or dementia. Harvest of Roanoke follows national standards with our assisted living rates starting at $4,660 and memory care at $5,560.
However, don't feel discouraged with these price tags because there are plenty of ways to finance senior living in Southlake and Grapevine, TX. Most senior living communities, like Harvest of Roanoke, are private pay, which means Medicaid and Medicare generally don't cover the costs. You'll want to look into VA benefits, home equity, long-term care insurance, and life settlements to help pay for senior living.
Cost Breakdown
With all this senior living finance talk, you may be wondering what you're actually paying for. Rather than piecing together all your bills, we make it easy and help tie your expenses into one monthly bill. At Harvest of Roanoke, you'll have access to quality care and services tailored to your needs, upscale apartments and amenities, restaurant-style dining, and a robust activities program. Some of these services include:
Knowledgeable, compassionate associates on-site 24/7
Specialized care in all phases of dementia
Licensed nurse available
Housekeeping and personal laundry service
Trash removal
Medication management
Personal assistance with daily needs such as bathing, dressing, grooming, transferring, and incontinence based on individualized care plans
Emergency call system
On-site physical therapy available
Scheduled transportation
All utilities included
Community Wi-Fi
We're even pet-friendly, so you can bring your four-legged friend along!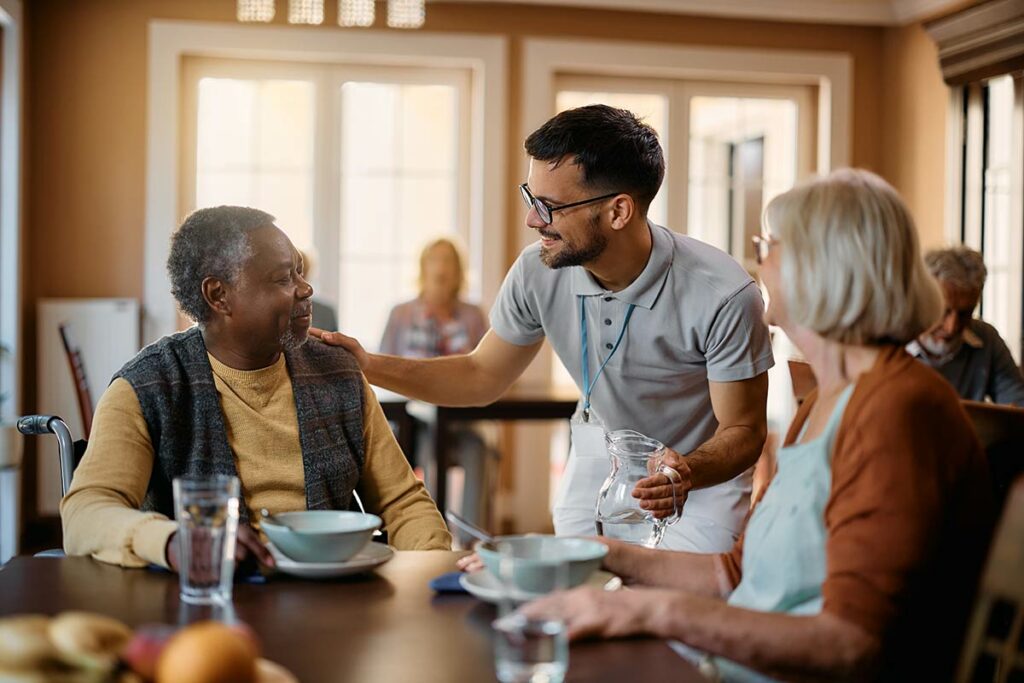 What activities can residents enjoy in senior living? Southlake, TX offers an escape from the busy Dallas/Fort Worth area.
Southlake is a quaint community not far from Roanoke that features plenty of parks and a lively Town Square with shopping, dining, and special events. Seniors can take a walk on the Bob Jones Nature Trail or enjoy an outdoor concert in the springtime at the Masterworks Music Series. Southlake is also home to many great medical centers like Texas Health Southlake and Methodist Southlake Medical Center should seniors need to make their appointments while out on the town.
Back on campus, seniors can explore Harvest of Roanoke's many amenities like our courtyard gardens, library, and full-service salon. We also have a variety of clubs and themed events and chair aerobics classes to help you stay active.
What activities can residents enjoy in assisted living with memory care? Grapevine, TX provides a vintage Texas feel.
Grapevine boasts a historic downtown, museums, art galleries, and local wineries. Assisted living residents can watch boats go by on Lake Grapevine while memory care residents can board the Grapevine Vintage Railroad. There's also Bear Creek Golf Course and Cowboys Golf Club for the more active bunch.
Inside our community we have a dedicated coordinator just for memory care who organizes intellectually stimulating activities such as brain teasers, puzzles, and word games. Plus, residents are able to engage with interactive life and work stations where they can feel happy, hopeful, helpful, and productive and enjoy meaningful and purposeful moments.
Harvest of Roanoke serves as an ideal choice for seniors and families looking for assisted living or memory care, offering security, independence, and a high quality of life. Contact us to schedule a tour, and you will find personalized support to help you or your loved one lead a happy and fulfilling retirement.