Caring for a loved one with memory loss can be physically and emotionally challenging. That's why it's essential to find the right memory care facilities in Dallas, TX that can provide the support and specialized care needed for those with memory loss.
Our community, Harvest of Roanoke, offers highly-rated memory care services for seniors. We are located in the beautiful town of Roanoke, Texas, just minutes from Dallas.
Passionate Memory Care Near Dallas
The Cottage represents our signature memory care program. Our dementia care specialists designed the secure area to provide a comfortable environment for seniors with Alzheimer's and dementia.
Our dementia care near Dallas is not only about providing a relaxing environment for seniors with memory loss. We also offer specialized care and support. The staff-to-resident ratio in The Cottage at Harvest of Roanoke is high. This benefit allows trained team members to provide personalized care and assistance:
Medication management
Activities of daily living
Therapy sessions
Engaging activities
Nutritious meals
Residents are allowed to live in the moment. People with Alzheimer's and dementia have dynamic needs that our team is equipped to adapt to and manage. We work to improve the quality of life for seniors with memory loss.
We are here to support family members on the journey of memory loss with a loved one. Special programs like Dementia Live and the Sagely application are part of our commitment to keeping family involved in care.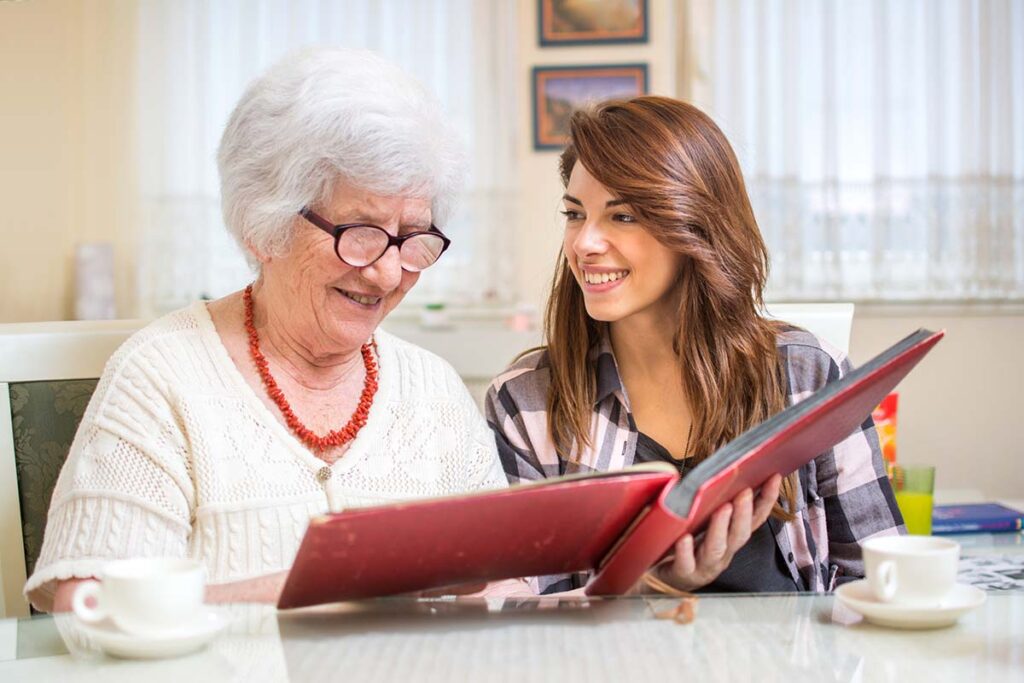 How to Pay for Memory Care in Texas
Paying for memory care facilities in Dallas, Texas can be daunting for many families. However, there are several options available that can help cover the cost of memory care near Dallas. Some of these options include:
Medicaid: Texas Medicaid covers the cost of some medical services received in memory care for eligible seniors. Medicaid programs typically do not pay for a residential care facility's room and board cost.
Long-term care insurance: If the senior has a long-term care insurance policy, it may cover the cost of memory care.
VA benefits: Veterans and their spouses may be eligible for VA benefits to help pay for memory care.
Private pay: Families can pay for memory care facilities using personal savings or other assets.
It's important to note that the cost of memory care in Texas can vary based on location, amenities, and level of care needed. Families should research and compare different memory care facilities to find the best option for their budget and their loved one's needs.
Consult our guide and connect with resources to help find appropriate senior care for your situation. Additional resources like BenefitsCheckUp can help offset the additional costs of caregiving.
Is there a difference between Alzheimer's and dementia?
Yes, there is a difference between Alzheimer's and dementia. Dementia is a broad term that refers to a decline in cognitive function that is severe enough to interfere with daily life activities. It can affect memory, thinking, and behavior. Changes in mood and personality often accompany cognitive decline.
Alzheimer's is a specific type of dementia that accounts for 60-80 percent of dementia cases.
Alzheimer's is characterized by the progressive deterioration of brain cells over time. Abnormal protein deposits build up in the brain, leading to the loss of connections between nerve cells.
While Alzheimer's is a type of dementia, not all dementia is caused by Alzheimer's disease.
Other common types of dementia include:
Vascular dementia
Lewy body dementia
Frontotemporal dementia
Mixed dementia
Specific changes in the brain characterize each type of dementia, and the symptoms may differ depending on the type. The progression of early, middle, or late-stage dementia will also be distinct.
The Cottage in our community is here to provide comprehensive memory care services to residents with different types and stages of dementia.
Visit Harvest of Roanoke for Memory Care Near Dallas, TX
Harvest of Roanoke is a premier, comprehensive assisted living and memory care community northwest of Dallas. Contact us to arrange a tour of our calming environment for dementia support.