StoneCreek of Flying Horse, a senior living community in Colorado Springs, is home to a special resident, Mr. Phill K., who has a local venue close to his heart. In fact, the venue owner and staff are like family to him.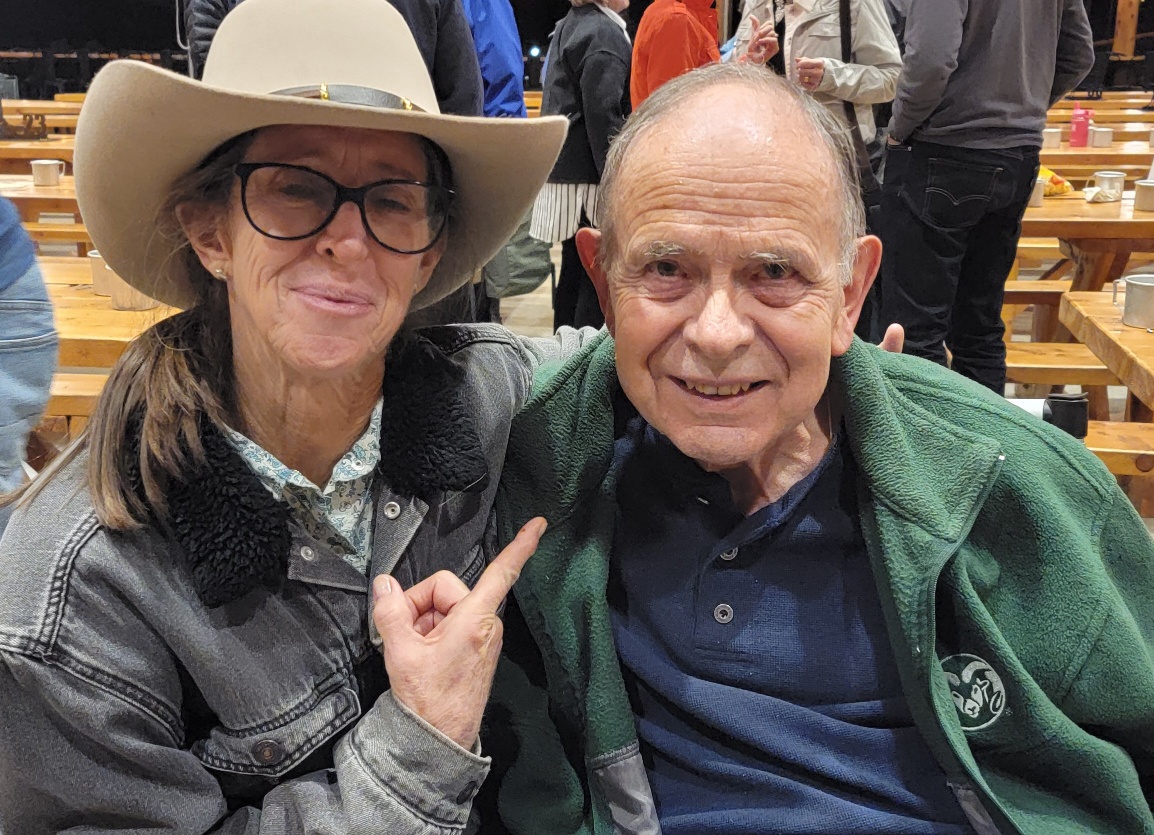 Phil and his late wife moved to Colorado Springs in 1969. When out-of-town guests would come to visit, they would always bring them to the Flying W Ranch and Chuckwagon Supper. They, and a few other couples, would visit the Flying W Ranch so much that they soon became part of the local crowd.
A Bit of History
This venue opened in 1953 and they serve a ranch-style BBQ dinner and host a musical show. This show is one of the most popular destinations in Colorado. The Flying W Wranglers are the second longest-running western performance band in the world.
The Flying W had a fire that destroyed the original place. It was closed for eight years while they rebuilt. The venue reopened in May 2020. In June 2020, Phil brought his then 12-year-old grandson, who has Down syndrome, to the dinner and show. When he heard the music, he began to dance near the stage. The Wranglers took notice and happily gave him center stage for a few songs. It meant the world to him and his family. The Wrangler guitar player made this young fellow feel like a rock star, and so did the rest of the audience!
When Phil's beloved wife passed away in August 2020, her Celebration of Life was held at the Flying W. It was quite a celebration – there were 500 guests in attendance. The Wranglers performed at the Celebration, too.
The owners and staff have become like family to Phil through the 55 years. His health and mobility have declined over the years. One of his favorite spots on earth is the Flying W Ranch and Chuckwagon Supper Show.
Celebrating Phil
StoneCreek of Flying Horse, his community, brought Phil and quite a few of his friends to a night of celebration at the Flying W Ranch on August 21. It was a night to remember!
"Phil is a graduate of the University of Northern Colorado," explains Debra Maddox, Community Relations Director of StoneCreek of Flying Horse. "He and his college friends used to come down to the Flying W to dance and go to the show. He and 10 of his college friends attended the function on August 21, including the brother of another resident in our community."
"All of the mobility challenges were forgotten and this group was transformed into a much younger version of themselves, if even just for the two-hour show," adds Debra. "StoneCreek of Flying Horse is in the business of collecting happy memories, and this night is no exception."
One of Phil's friends from the University of Northern Colorado (a friend of 55 years) is named Wayne. Wayne's stepdaughter Heather Skold is a news anchor on the local news station, KRDO!
Leighann Wolf, the owner of the Flying W Ranch, allowed the community and Phill to come in 30 minutes early on the day of his event so that Phil could record a video thanking some of the friends from 55 years ago that were unable to make it to the show as well as thanking his friends in attendance.
Celebrate your special moments at StoneCreek of Flying Horse.
Learn more about StoneCreek of Flying Horse by contacting us to sign up for a tour.