Alexis Pointe is the ideal choice if you're looking for Wimberley senior living. We offer luxurious, resort-style living with all the amenities and services you need to enjoy your retirement years.
Our social activities will keep you entertained, and our excellent care and service will make you feel right at home.
We offer Independent Living, Assisted Living, and Memory Care so you can experience what you need. Discover seven reasons you can't beat elder care in our Texas community. We can't wait to welcome you home!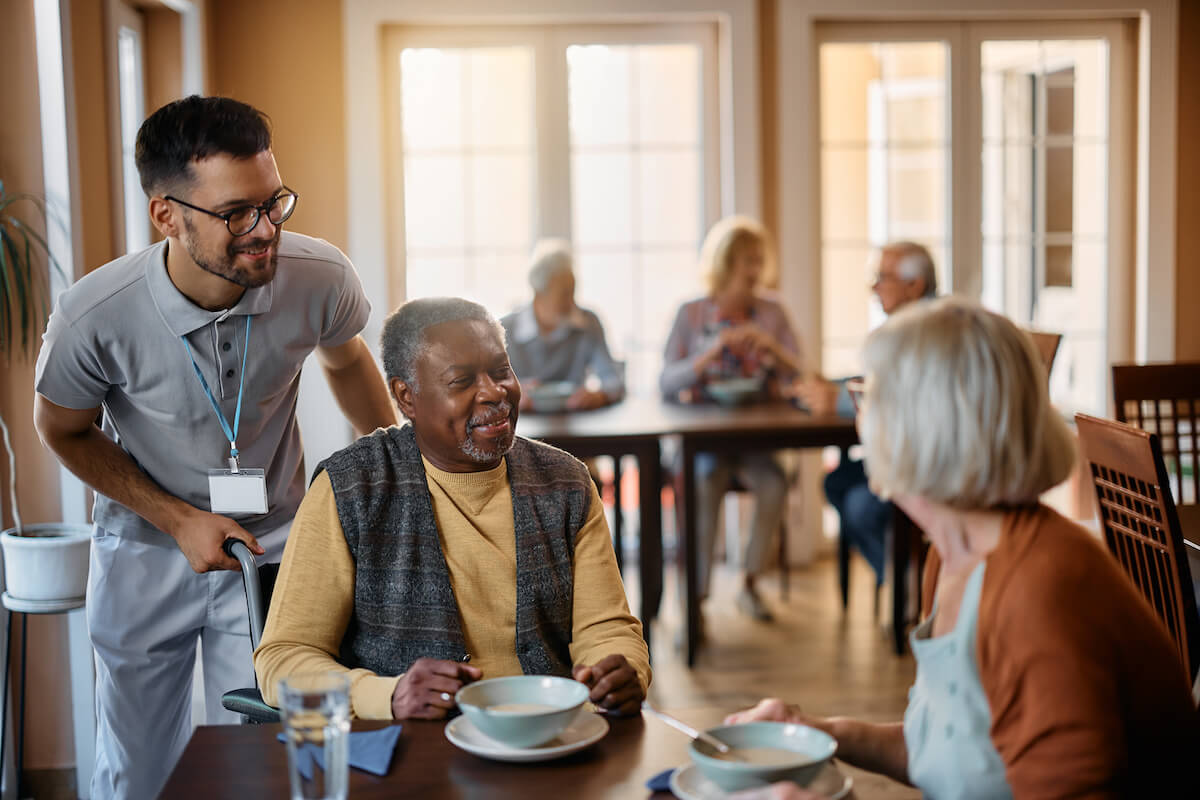 1. A Resort-Style Senior Living Community
Alexis Pointe provides residents with an unmatched retirement lifestyle. The well-manicured grounds and luxurious amenities make our community feel like a five-star resort.
Alexis Pointe is a vibrant, resort-style community that offers residents the best in senior living. Maintenance-free living is just one of the many benefits that Alexis Pointe has to offer.
Residents can enjoy weekly housekeeping service, dining on demand, and scheduled local transportation.
Beautifully appointed cottages are available for Independent Living. These offer spacious floor plans, stainless steel appliances, an in-unit washer and dryer, and granite countertops.
Assisted living community members enjoy pet-friendly apartments where they can receive personalized home health care.
Memory care takes place in The Cottage. This secure area is familiar, upscale, and encourages socialization.
The list of amenities goes on and on. Opulent community features include:
Community Wi-Fi
Fitness center
Salon
Dog park
Outdoor entertainment areas
Walking trails and so much more
Welcome home to a place that resembles a vacation spot for your retirement years. Alexis Pointe should be at the top of your list.
2. All-Inclusive
Alexis Pointe is an all-inclusive community. One bill per month for all community services eliminates a lot of hassles.
Texas seniors can forget about paying monthly utility costs from different providers. At Alexis Pointe, it's all included. So are:
Maintenance services
Weekly housekeeping
Chef-prepared meals
Transportation and laundry
Activities and special events
This style of living ensures that older adults can enjoy their retirement without worrying about the details. Alexis Pointe is the perfect choice for those who want to simplify their lives.
3. Physical and Social Activities
Alexis Pointe is an excellent place for seniors to make new friends and feel less lonely. Consider all the opportunities for socialization:
Green Thumb Club
Art Throb Club
Fit For You chair aerobics
Monthly Broadway themes
Special events and holiday celebrations
Happy hours
These activities provide a fun way for seniors to get to know each other and form new friendships. Alexis Pointe is also a welcoming community where residents feel accepted and appreciated. This supportive environment helps seniors feel less alone and more connected to their community.
4. Passionate Senior Care and Service
Our Wimberley, TX community is passionate about providing our resident's personalized care.
Our health care assessment before moving in allows us to create a tailored plan of services to each resident's needs. This individualized attention means that each resident receives the right amount of care, allowing them to focus on enjoying their day and nothing else.
Our passionate and dedicated care staff is available 24 hours a day, seven days a week. Support and assistance are never far away. We believe that this combination of individualized care and around-the-clock availability creates an excellent senior care experience.
5. Independent Living
Alexis Pointe is an excellent place to live if you want Independent Living. They have all the services you need to age in place and don't require you to move as your needs change.
Aging in place means you can stay in one location and get the necessary care and assistance if your needs change. Don't worry about a lot of interruptions to your lifestyle or leaving your friends behind.
6. Assisted Living
Alexis Pointe is an excellent option for continuing an independent lifestyle. Assisted living provides passionate care around the clock, every day of the week.
Our private, well-appointed apartments offer residents plenty of space and independence. Care services come to you. Our full range of personal care services ensures that our residents receive the assistance they need with:
Bathing
Dressing
Grooming
Transferring and mobility
Medication management
Our on-site physical therapy can help residents recover from injuries or illnesses. Services like these help keep seniors out of nursing homes and on a path of wellness.
7. Memory Care
Passionate Memory Care is available for residents with Alzheimer's and other forms of dementia. Our comprehensive, evidence-based approach to Memory Care is tailored to meet each resident's unique needs.
We also believe that creating a warm, home-like environment is key to providing excellent Alzheimer's and dementia care. Our small, intimate setting allows us to provide personalized attention and build strong bonds with our residents.
This sense of community is essential for those living with memory loss. It helps residents feel supported and connected.
Our dedicated team is trained in the latest care methods for people with cognitive impairment. We use a personalized approach to care that considers each resident's unique history, personality, and preferences.
This approach helps us create a supportive environment where residents can feel comfortable exploring their passions and emotions.
Residents can stay engaged mentally and socially thanks to our wide range of activities.
We tailor these programs to meet each resident's interests and abilities, including group activities and one-on-one interactions. Research has shown these activities benefit those with Alzheimer's disease or dementia.
At Alexis Pointe, we believe that every moment matters. Let your loved one experience honor and meaning.
Passionate Elder Care: Texas Style!
Consider upgrading to an all-inclusive community if you're considering a long-term care facility for you or a loved one in Texas. Our community is only 20 minutes from San Marcos. Contact us to arrange a tour.