The old saying goes that a dog is a man's best friend, but pets of all types can fill our hearts and fill our days with purpose and joy. If you consider adopting a pet as a senior, you can experience rich emotional rewards and multiple health benefits.
Mental Health Benefits of Owning a Dog
Opening your home to a dog or cat can lead to multiple mental health benefits leading to a happier disposition, stronger social bonds, and deeper enjoyment of life.
Social Interaction
The transition to an empty-nester can lead to loneliness and other unpleasant feelings. Adopting a pet boosts your social interaction in two distinct ways. You always have your furry friend close by to share life's joys and challenges. Plus, you can meet other pet owners while walking your pet, going to the vet, taking Bongo to the groomer, or simply heading to a dog park. You can build lasting bonds with fellow pet owners and find a supportive community.
Creating Purpose
There's no idly sitting in a chair and watching the day go by when Fifi needs consistent care. Pets help you create a routine and live each day with purpose. Pets help seniors build a daily schedule around feedings, walks, trips to the bathroom, playtime, and bedtime.
Constant Companionship
Life is always more rewarding when shared with others, and that adage is just as true about our canine and feline companions. A 2017 study published in the journal Acta Bio Medica concluded that interacting with a household pet increased the quality of life and reduced feelings of loneliness and apathy regarding pet therapy and the elderly, especially for patients with dementia or mental illness.
Physical Health Benefits of Owning a Pet
In addition to the companionship owning a pet offers, living with your favorite furry pal promotes tangible health benefits that can have a long-lasting impact on your physical well-being.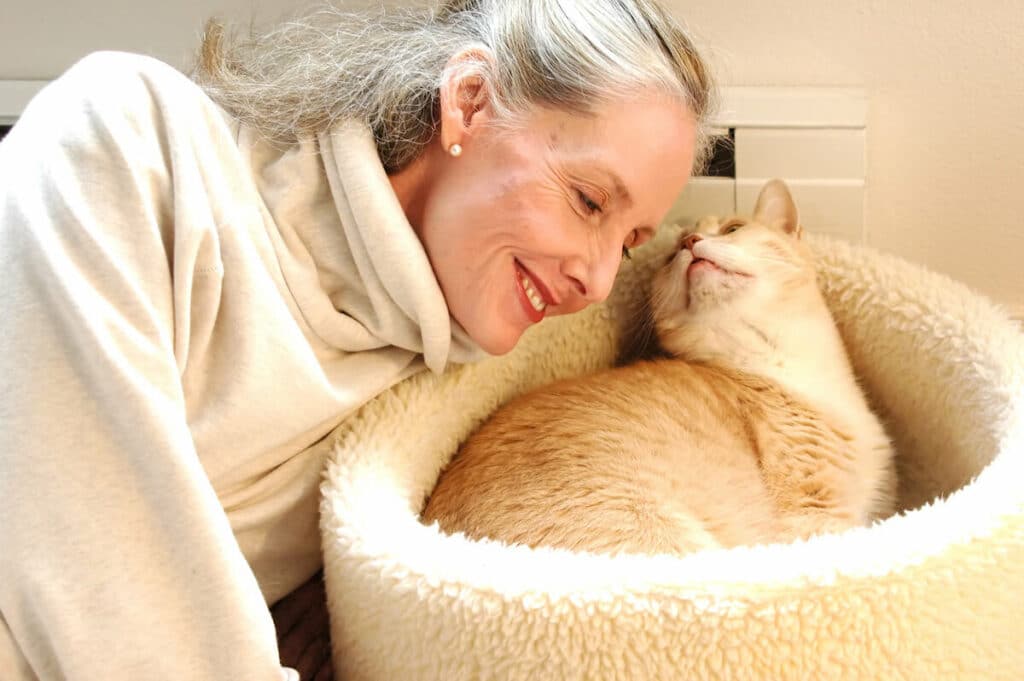 Encourages Daily Exercise
Most people can attest that it's easy to be a couch potato with the lure of the TV or browsing the internet, but owning a pet is a great motivation to get up and move. While Fido scratches at the door for a walk, you reap the benefits of sunshine, increasing your heart rate, and exercising your mobility. Incorporating a walk with your pup into your daily routine can improve your cardiovascular health and promote daily movement.
Boosts Motor Skills
Owning a pet is an interactive endeavor. While you're brushing your cat's hair or preparing her favorite breakfast treat, you'll also be working on bilateral integration and eye-hand movement. The little tasks that fill you with love – like nighttime head scratches – keep your joints lubricated and your coordination sharp.
Best Pets for Seniors
If you decide to adopt a pup, try to stick with smaller breeds that aren't as physically active. Ideal dogs for seniors are smaller breeds that are well-suited for apartment living. You might consider:
Maltese – Maltese are small but stalwart lap dogs. However, they do require regular grooming.
Shih Tzu – Shih Tzus are also lovable, pint-sized, and a good match for seniors. They also require consistent grooming.
Cavalier King Charles Spaniel – Cavaliers are typically quiet, affectionate, and, as a bonus, don't require as much grooming compared to other small breeds.
Short-haired cats are terrific companion pets for seniors who can't commit to daily walks. Cats clean themselves, are quieter than dogs, and are more independent. Consider adopting a cat if you want a companion with minimal maintenance.
Assisted Living that Allows Dogs and Cats
Some seniors who have four-legged best friends may hesitate to commit to Assisted Living. After all, in some senior retirement communities, pets aren't allowed on the premises.
At Civitas Senior Living, we follow your lead and unlock your passion for life in our programs, care, and accommodations. That's why we offer pet-friendly homes for Independent Living and Assisted Living.
Find a senior living community near you and discover a forever home for you and your pet.