It's hard to see our aging parents struggling. When they start to lose memory, it feels like a piece of them is gone forever. We want to do whatever we can to help them, but sometimes we just don't know where to start.
Double Creek Assisted Living and Memory Care in Round Rock, Texas offers support for caregivers of loved ones with dementia. Our Memory Care services provide the assistance and support you need. Loved ones can retain their independence and dignity.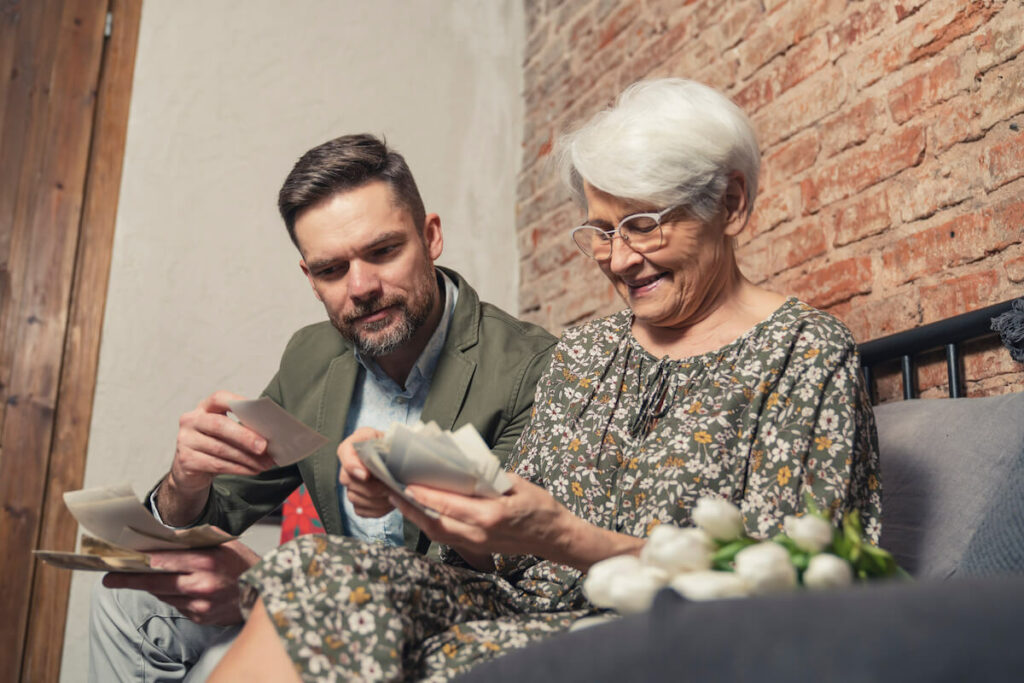 What is dementia?
Dementia is an umbrella term used to describe a decline in cognitive function. It is not a normal part of aging.
Most types of dementia can include memory loss, difficulties with problem-solving, and changes in mood or behavior. Dementia affects people of all ages but is most common in older adults.
There are many different types of dementia, each with its various symptoms. The most common type of dementia is Alzheimer's disease, which accounts for 60-80% of all cases. Other types of dementia include Lewy body, frontotemporal dementia, and vascular dementia.
Dementia with Lewy bodies (DLB)
Lewy body dementia is a type of dementia that specifically affects the cortex. This can lead to problems with thinking, making decisions, or paying attention.
People with Lewy body dementia may experience memory trouble and see things that aren't there (visual hallucinations). They may also become unusually sleepy during the day. This type of dementia can cause long blank stares and mobility issues.
Frontotemporal dementia (FTD)
Frontotemporal dementia is a type of dementia that damages the nerve cells in the front and sides of the brain. This can lead to:
Problems speaking or understanding speech
Recognizing sights and sounds that used to be familiar
Changes in personality and mood, and
Problems walking
Vascular dementia
Vascular dementia is a type of dementia caused by stroke. Symptoms include:
Memory problems that disrupt daily life
Trouble speaking or understanding speech
Problems recognizing sights and sounds that used to be familiar
Confusion and agitation
Changes in personality and mood
How to Help A Parent with Dementia: Care Options
The best way to care for someone with dementia will vary depending on the individual's needs and preferences.
You are in a unique position as a family member to help a parent with dementia. You know mom or dad better than anyone. You can be a crucial interpreter to the doctors or social workers who may be assisting you.
Consider keeping a journal of your parent's behavior patterns. Ask for other friends and family members to do the same. These notes can help experts make a more informed decision when it comes time for care.
Finding care during the early stages is critical to better outcomes. Signing up for caregiver support in your area is also an essential step. It can do wonders for your physical and mental health.
In some cases, home care may be the best option. This approach allows individuals to stay home and receive care from a loved one or professional caregiver. However, providing home care can be challenging.
It's vital to ensure you have the time, energy, and resources necessary to provide quality care.
Another option is Memory Care. Memory care facilities provide specialized care for people with dementia. These facilities are designed to meet the unique needs of dementia and Alzheimer's residents.
Memory care facilities offer various services, including 24-hour supervision, memory support groups, and activities promoting cognitive stimulation.
Memory Care Communities in Round Rock: Double Creek
We invite you to a community where miracles happen every day. Consider finding relief in Round Rock, TX at Double Creek Assisted Living and Memory Care.
Our dementia care community is designed specifically for people with memory impairments. We offer personalized services and amenities to meet the needs of our residents.
Our staff is specially trained in Memory Care. We provide 24-hour supervision to ensure your loved one is secure and comfortable.
Memory care takes place in The Cottage. This specially designed area focuses on socialization and familiarity.
We understand the challenges you're facing. Let us help you provide the best possible care for your loved one with dementia.
Discover A Personalized Memory Care Program
If you're struggling to find ways to support your parent with dementia, we can help. Contact us today to learn more about our Memory Care services.