The bathroom is an essential area in your house to facilitate your health and cleanliness, but it can double as a slipping hazard.
According to the National Council on Aging, one in four seniors experience a fall in the bathroom each year. With such a high risk, it's no wonder that many seniors worry about losing their bathroom independence. Fear not! There are multiple ways to safeguard your bathroom – from the floor to the walls – to solidify your assurance while you rub-a-dub-dub in the tub. Here are some of our favorite bathroom safety pro tips.
Remove Clutter and Keep Necessities Accessible
Loose bottles and toiletries that rest on the tub or sink's edge can fall and create a tripping hazard. Avoid this danger by making sure every object in your bathroom has a proper home. Consider a storage cabinet or a shower caddy if you don't have enough storage space in your bathroom.
Unnecessary items that clutter the floor, such as a loose rug or clothes discarded during a shower, can also create tripping hazards. Keep the floor clear and tidy, and reserve that space for items that enhance bathroom safety.
Floor Safety
The tub and shower floor can create the most significant slipping hazard in the bathroom. However, some smart safety features can help prevent falls for seniors.
No-Slip Bath Mat
A bath mat will create reliable traction so you can safely move about the tub. Some mats are even machine washable, so you don't have to worry about mildew growing on your tub floor.
Tub Grip Coating
An added benefit of this non-slip treatment is that it has a longer lifespan than traditional no-slip strips or tiles. This clear treatment will readily adhere to floor surfaces and doesn't have the risk of peeling.
Bathroom Floor Safety
The last thing you want is to sop up the floor with water when coming out of the shower, so invest in a few highly absorbent non-slip floor mats. These mats provide a firm place to plant your feet when drying off and reduce water spillage on the bathroom floor. Be sure to fully dry the floor if you do notice any wet spots.
Shower and Bathtub Safety
Here are some of our favorite essentials to enhance your stability in the shower.
Grab Bars and Toilet Rails
In addition to working on balance through exercise, grab bars are a great bathroom addition for a senior who has difficulty standing steady. Grab bars work most effectively when installed strategically in each-to-reach places to provide ease for shower and toilet use.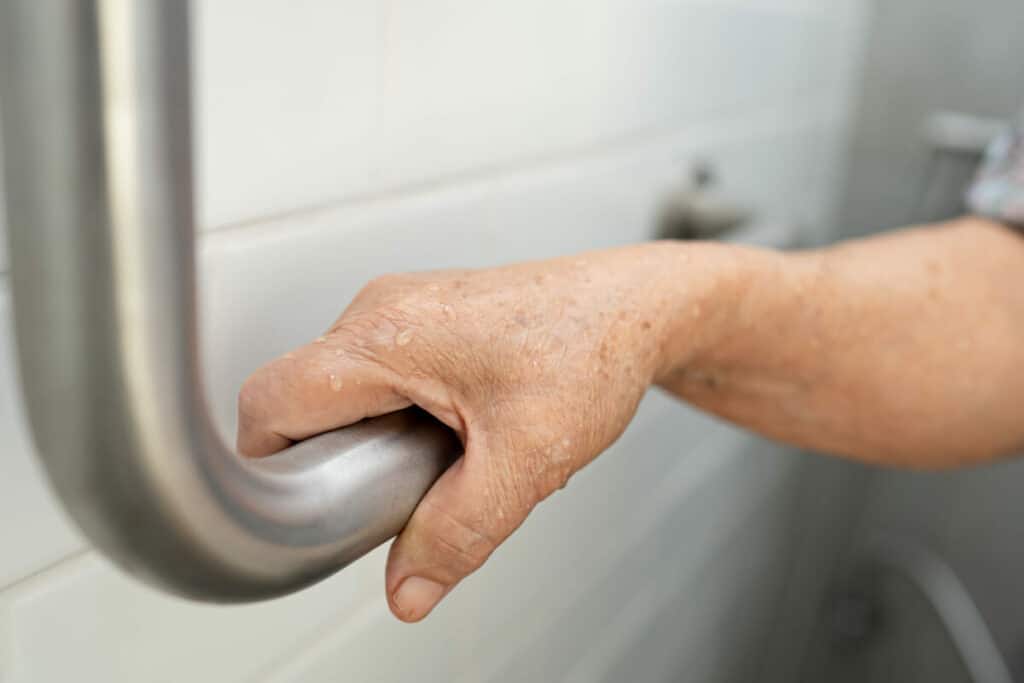 Bath Seating
A common challenge that many seniors face is difficulties with balance, but that doesn't mean seniors have to lose independence in the bathtub. A shower chair provides stability and a place to rest. For seniors who use a walker or wheelchair, a bathtub transfer bench is an excellent choice so you can get out of the tub with confidence.
Hand-held Showerhead
An effective way to maximize control in the shower is with a hand-held showerhead. This handy gadget minimizes movement and comes with various settings so you can customize your preferred water pressure.
Install a Toilet Seat Riser with Handles
Designed to fit over your standard toilet, toilet seat risers offer a simple safety solution for seniors with limited mobility. These handy risers empower you to sit and stand without the fear of losing balance. Convenient grip handles provide additional support to combat the risk of slipping.
Civitas Senior Living is passionate about ensuring your security in everything we do. Your happiness and confidence is our number one priority! Speak to a caring staff member for more information about how Civitas is your partner in enhancing senior safety.