A warm cup of joe isn't the only thing that should be on your radar this fall. As the leaves turn and the air gets crisp, now is the perfect time to inject a little warmth and spice into your life—and we're not just talking about your favorite pumpkin spice latte.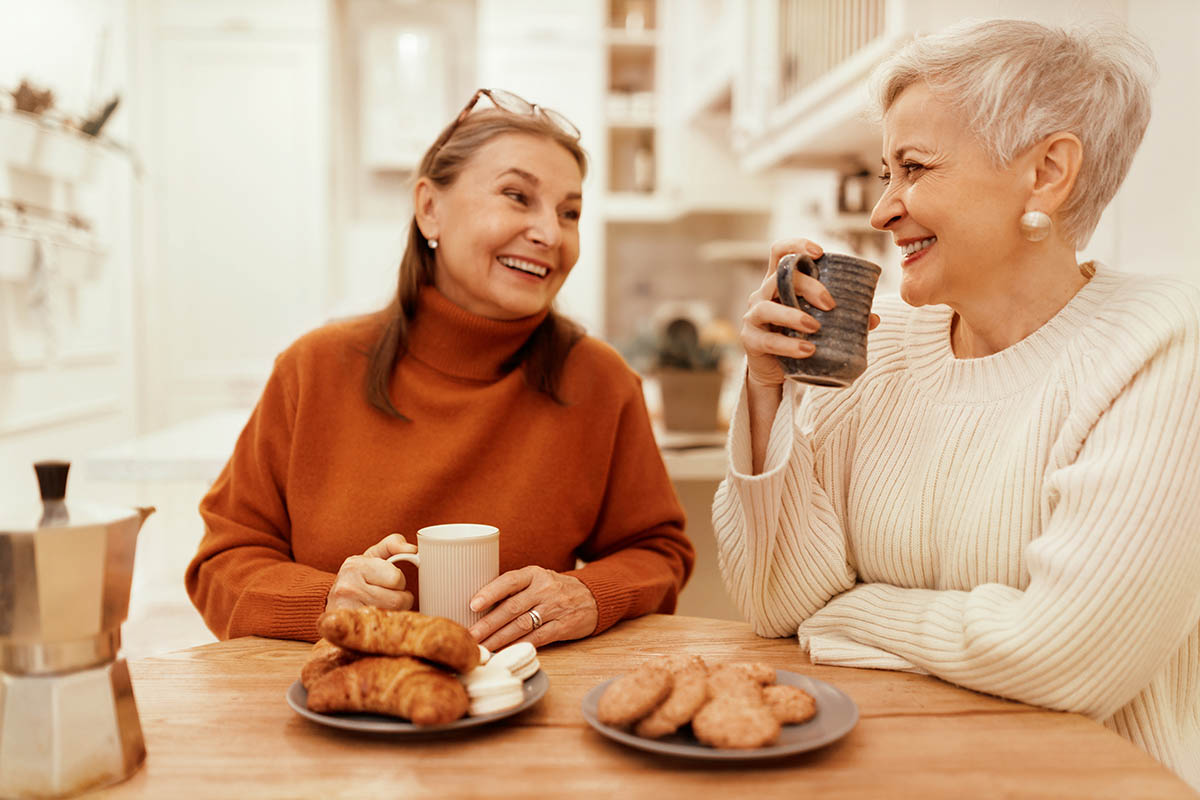 As the temperatures cool, turning up the heat doesn't have to mean turning up the hassle. Welcome to a cozy place to call home.
At Civitas Senior Living, we ensure seniors and their families can enjoy all the best things about autumn without any stress. From personalized care in assisted living to cozy amenities, we offer the perfect place to settle down this season.
Personalized Care
One of the best things about autumn is relaxing and taking a break from the hectic pace of the holidays or summer vacations. In our retirement community, we ensure seniors and their families can enjoy all the comforts of home without any worries.
We offer personalized care plans for each of our residents. Whether you need a little extra help with day-to-day tasks or are looking for assistance with your health and well-being, our team is here to make sure you get the care and support you need.
Civitas Senior Living provides quality care for seniors at all stages of life.
Our independent living communities offer a variety of amenities and services to help residents maintain their independence, including social events, transportation, and dining on demand.
For those who need a little extra assistance, our assisted living communities provide help with activities of daily living, such as bathing, dressing, and medication management.
We also offer memory care communities for those with Alzheimer's disease or other forms of dementia. Our caring staff provides around-the-clock supervision and support to help residents maintain their dignity and quality of life.
No matter what level of care is needed, Civitas Senior Living has a community that can meet the needs of any senior. Find one near you!
Cozy Amenities, Pumpkin Spice, and Everything Nice
As the weather starts to cool and the leaves begin to change color, pumpkin spice drinks and treats become a must-have commodity. However, you don't need to trek to your local coffee shop to get your pumpkin spice fix.
We have fall flavors covered in our senior communities. Our culinary teams use in-season produce to create menu items such as pumpkin spice cookies, muffins, and lattes. We've got you covered.
Assisted living amenities are a key selling point for many seniors looking for a comfortable, upscale place to live. Here are some of the most popular amenities our communities provide:
Spacious apartments with modern touches
Many assisted living communities offer spacious apartments with modern finishes and amenities like in-unit washers and dryers, granite countertops, and stainless steel appliances.
On-site dining
A delicious meal is always close at hand when you live in an assisted living community that offers on-site dining. Whether you're looking for a casual buffet or a more formal dining experience, you'll find it in an assisted living community.
Engaging activities and events
Socializing with fellow residents is easy when there are plenty of daily engaging activities and events. From arts and crafts to movie nights and group outings, assisted living communities offer various activities to keep residents engaged and active.
24/7 assistance
One of the most significant benefits of assisted living is having access to 24/7 assistance from trained staff members. Whether you need help with everyday tasks like bathing and dressing or someone to be available in case of an emergency, you'll have peace of mind knowing that assistance is always available.
Resort-style amenities
Nothing says autumn like curling up by a cozy fire with a good book. We want to ensure that seniors can enjoy all the best parts of fall without leaving their homes. That's why we offer a variety of amenities designed to make life more comfortable:
Fireside common rooms
Libraries
Fitness centers
Activity Rooms
Theaters
Find a community near you and discover the upscale amenities waiting for you!
A Passionate Team and Fall Activities for Seniors
Choosing a retirement community is an important decision. We have a team of passionate experts dedicated to helping seniors and their families find the perfect place to call home.
Passionate team members play a vital role in the community's day-to-day operations. They also provide residents with a sense of purpose and connection. For many seniors, being active and engaged in their community is vital to maintaining their quality of life.
Activity directors orchestrate a wide range of social, recreational, and educational activities for residents. That includes fall activities for seniors such as:
Pumpkin patch visits
Hayrides
Cider making
Veterans ceremonies
Holiday parties
Seasonal Sips happy hours
This position helps to create a vibrant and stimulating environment within the community, and it also provides seniors with an opportunity to socialize and interact with their peers.
Caregivers provide hands-on care, helping with activities of daily living such as bathing, dressing, and grooming. They also provide companionship and emotional support.
Administrative staff manage the community's day-to-day operations and provide support to caregivers and residents.
The culinary department, housekeepers, and transportation teams do the heavy lifting of life so you can sit back and relax. After all, you've earned it!
From finding the right location to selecting the right floor plan, our team will work with you every step to ensure you're comfortable and confident in your decision.
Whether you're looking for personalized care, cozy amenities, or a passionate team to help you settle in, our retirement communities have everything you need to enjoy autumn this year.
Get Cozy in A Civitas Senior Living Community Near You
Contact us today to learn more about what makes our community so unique. We can't wait to warm up a pumpkin spice latte and welcome you home!