Ask A Senior How Moving to Civitas Senior Living Changes Lives
Moving to assisted living or memory care can be exciting. It's also natural for seniors and family members to feel a sense of trepidation. It's a significant change, often brought on by circumstances that can leave you feeling isolated and apprehensive.
Beneath these initial fears are the transformative benefits of assisted living and memory care communities waiting to be discovered.
One Civitas Senior Living resident vividly captures this transformative journey in our latest "Ask A Senior" video series. Initially feeling "alone, lost, and without purpose," they were uncertain about what life in a new community would entail.
However, upon arriving at Civitas, they discovered a compassionate team and a supportive community that improved their lives.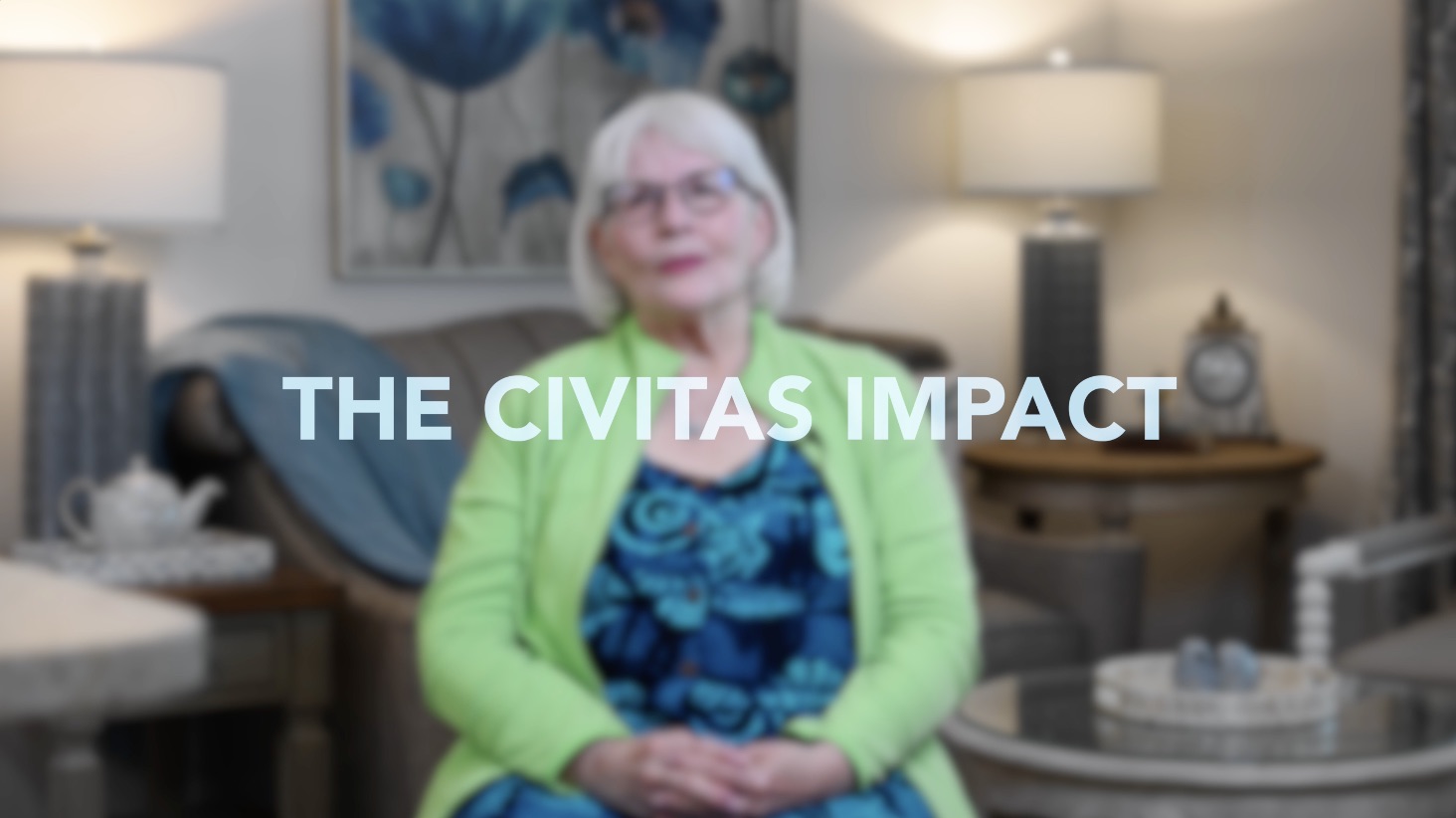 What is Assisted Living?
Assisted living is a long-term care solution for older adults. Residents require some assistance with daily activities but still value their independence. It provides a balanced mix of personal care and lifestyle services in an environment that encourages autonomy and well-being.
Personal Care Services
Personal care services in assisted living facilities focus on aiding residents with activities of daily living. These can include:
Bathing
Dressing
Grooming and hygiene
Feeding
Medication management
On-site rehabilitation services
The goal is to provide the right level of support, enabling residents to maintain their dignity and independence.
Living Space and Home Services
Assisted living offers private or semi-private apartments, often including:
Living area
Bedroom
Private bathroom
Kitchenette
Living spaces are designed to feel like home, with the added benefit of services like housekeeping and laundry to ease the burden of household chores.
Meals
Nutrition is a crucial aspect of senior care. Assisted living communities typically provide three meals a day. Chefs create menus for the dietary needs of older adults. Residents enjoy these meals in communal dining areas to promote social interaction.
Activities
One of the standout features of assisted living is the array of social, cultural, and recreational activities available. From fitness classes to hobby clubs, these activities stimulate the mind and body, fostering a vibrant and engaging lifestyle for residents.
The Unexpected Joys of Assisted Living
Assisted living benefits extend far beyond the practical support with activities of daily living like bathing and dressing.
One of the key advantages is the opportunity for social interaction in a warm and inviting community.
Social interaction is a key advantage and a vital lifeline for older adults. As we age, our social circles often shrink due to factors like retirement, the loss of loved ones, or health issues, leading to feelings of isolation and loneliness. Here's where senior living shines.
Regular social interaction has been shown to improve seniors' emotional well-being, helping to combat feelings of loneliness and depression. It provides a sense of belonging, a crucial mental health aspect often overlooked in older age.
Numerous studies have shown that social interaction can also have positive effects on physical health in older adults:
Lower blood pressure
Reduce the risk of cardiovascular problems
Boost the immune system
As our resident shares, assisted living is reminiscent of a college dorm where lifelong friendships are formed, and every day brings new opportunities for growth and enjoyment.
Team members at Civitas Senior Living communities go above and beyond to ensure assisted living residents feel heard and valued. They're open to listening and implementing ideas, creating an environment where residents actively contribute to their community's culture.
This level of involvement provides a sense of purpose and belonging. These are crucial aspects often overlooked when discussing the benefits of assisted living.
What is Memory Care?
Memory care is a specialized type of long-term care tailored to meet the unique needs of individuals with memory loss due to Alzheimer's and other forms of dementia.
Personal Care Services
The personal care services in memory care communities are similar to those in assisted living. However, they are delivered with an added layer of expertise in memory loss conditions. Team members are trained in dementia care. They provide individualized support that respects the individual's history, preferences, and abilities.
Living Space and Home Services
Memory care units are designed with familiarity and ease of navigation in mind. They typically feature private or shared rooms within a secure area of a larger community. Home services include housekeeping and laundry, with added security measures to discourage wandering.
Meals
Nutrition plays a vital role in memory care, with dietary plans often tailored to combat the symptoms and progression of memory loss. Meals are served in a communal setting, with dementia care specialists available to assist those with difficulty eating independently.
Activities
Memory care facilities offer a range of activities specifically designed to stimulate cognitive function and slow memory loss. These can include:
Music therapy
Art classes
Reminiscence therapy
Life/Workstations
Memory boxes
Seated fitness
The aim is to provide meaningful engagement, improve quality of life, and maintain a sense of purpose for each resident.
Empowering Memory Care Benefits
Memory care communities, such as those provided by Civitas, offer specialized support for individuals with Alzheimer's and other forms of dementia:
Vascular dementia
Dementia with Lewy bodies
Frontotemporal dementia
Mixed dementia
Parkinson's
The benefits of memory care communities are multi-faceted, encompassing:
Personalized care plans
Medication management
Structured activities that promote cognitive function
But the true value lies in these communities' emotional support and understanding.
It's a place where individuals with memory-related conditions can live independently, free from stigma and misunderstanding. The resident's testimonial illustrates this perfectly – they found love and companionship within the community, a testament to the nurturing atmosphere Civitas cultivates.
Peace of Mind for Family Members
For family members, knowing their loved ones are in capable hands brings immense peace of mind. Ensuring that personal care needs are met and knowing that their loved ones are thriving alleviates the stress often associated with long-term care decisions.
Our team members also facilitate activities and support groups for family members.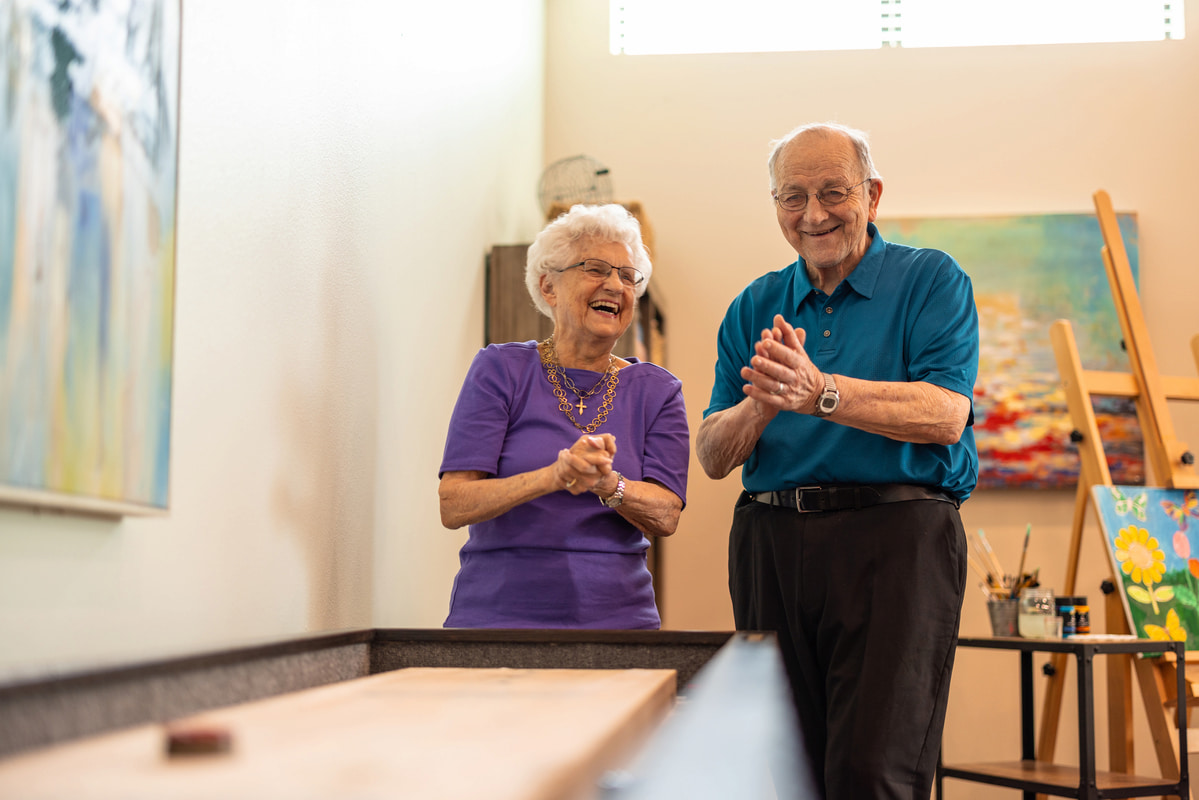 A New Chapter at Civitas
Moving into assisted living or a memory care community isn't about closing a chapter of your life. This is the beginning of a new adventure. It's about writing the last pages of your story in a place that's comfortable, clean, beautiful, and filled with good friends and people who help you grow.
Civitas Senior Living is committed to providing these benefits and more, paving the way for older adults to live their best lives. Whether you're considering a move to assisted living or seeking memory care for a loved one, we invite you to experience the Civitas difference firsthand.
Experience More Senior Care Benefits
Watch our "Ask A Senior" videos to hear directly from our residents about their experiences. Discover how they transitioned from feelings of fear and isolation to a state of joy and inclusion. See how assisted living and memory care benefits can transform lives, turning a daunting move into a positive life change.
Contact us to experience our benefits and services in person.