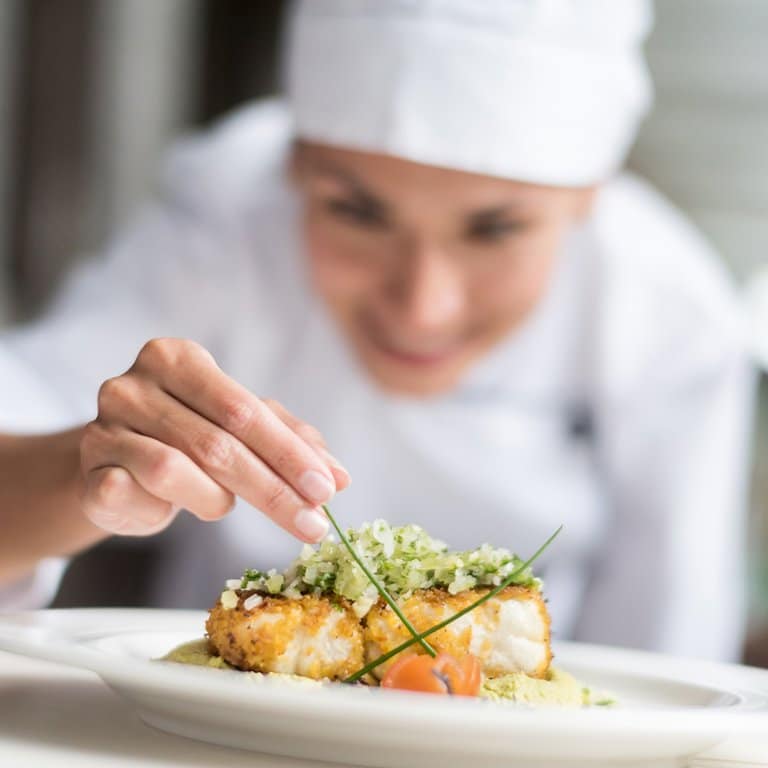 Assisted Living Passion Program
Food feeds more than just the body — it feeds the soul. Food is culture, identity, family, and fellowship. It's the focus of much of our lives. Food, in a word, is passion. That's why we are dedicated to providing our residents with a personalized and delectable culinary experience at Civitas Senior Living, every day. We understand the importance of food.
Our My Food program connects our residents to their Food and Beverage department and actively engages them in our culinary offerings. Our residents love participating in interactive cooking demonstrations, themed dinners, and recipe tastings — especially when friends and family are invited, too.
My Recipe
Many of our residents are expert foodies and have spent years finding and perfecting recipes. Civitas Senior Living lets these residents' expertise shine by including some of their personal recipes in our monthly menus through our My Recipe program.
My Community Signature Dish
Breaking bread is a gift given to us multiple times a day. It is an opportunity to strengthen relationships as well as minds and bodies. Our My Community Signature Dish program does even more. Through this program, we engage residents in selecting a meal that represents their community and thus empowers them with feelings of belonging. Once a quarter, our Food and Beverage Director creates four to five meal options as contenders. Residents taste them and vote on their favorite through a secret ballot, and the winning dish is added to the menu.
My Birthday Meal
Our staff loves doting on our residents. But a resident's birthday at Civitas Senior Living is a particularly special time to celebrate. We make sure to cook or bring in their favorite meal, provide a special birthday dessert, sing to them, and provide a festive atmosphere including friends and family members.
Themed Dinner Program
Our Themed Dinner program incorporates festive, multi-tiered meals that engage residents with entertainment, excitement, and plenty of unique opportunities to celebrate the fun things in life. Themed Dinners are inspired by things like holidays, celebrity birthdays, international cultures, world news, and community events. More than just a great meal, these events provide fun social interactions.
Cooking Demonstrations
Cooking is a lifelong passion for many of our residents, and they relish the opportunity to participate in one of our Cooking Demonstrations. These hour-long demos offers residents an interactive experience led by one of the community's dining professionals.
Once the demonstration is complete, the residents are encouraged to sample the dish, participate in a Q&A session, suggest future recipes, and take a copy of the recipe back to their apartment. The Cooking Demonstration delivers valuable insight to our dedicated Food and Beverage Team on what culinary tastes interest our residents most. Plus, the recipes explored at a Cooking Demo are limited only to what our residents can dream up!
Weekly Chef Feature
Mealtime is an exceptional time at Civitas Senior Living, where residents enjoy delicious, made-to-order food, great conversation with friends and neighbors, and loving interaction with our passionate staff. Once a week, we take mealtime to the next level and bring the community chef into the dining room for a fun, interactive dining experience we call our Weekly Chef Feature.
During the Weekly Chef Feature, delectable dishes are personalized and created right in front of the residents. Families and loved ones are encouraged to visit so everyone can join in on all the fun and fabulous food. From culinary conversation and cooking techniques to the fun and fellowship enjoyed over great food, the Weekly Chef Feature is the perfect way for neighbors, friends, and families to celebrate mealtime!
Seasonal Sips
Civitas Senior Living's Seasonal Sips are flavorful, handcrafted drink selections that match the season. It's an ideal way to savor a unique, refreshing afternoon beverage with friends while enjoying conversation in a welcoming and familiar environment. Some of our residents' past favorites include the summery, bubbly Strawberry Cooler and the toasty-warm Pumpkin Spice Chai.
MINDful Menu
As science continues to discover ways that diet affects every aspect of daily living, more and more evidence points to how making good food choices can have a direct impact on brain health and cognitive abilities. With this in mind, Civitas Senior Living has created the evidence-based MINDful Menu program. This menu is available every day as part of our daily specials and features dishes that conform to guidelines developed by nutrition experts at Rush University Medical Center.
Chef Selections
Our Chef Selections menu is full of delicious, made-to-order dishes offered at every mealtime as potential alternatives to the regular daily menu options. It is composed of five selections called "Chef Specialties." This menu is also where residents can find their My Community Signature Dish.