Debunking the Myths of Senior Living
Are you or a loved one considering independent or assisted living options? Making such a decision can bring up questions and concerns.
The main question is how much is senior living per month? Sometimes the cost is surprising. However, senior living is a good investment opportunity in many ways.
That's why we're here to shed light on the wonderful world of senior living and debunk some common myths holding you back. Take a journey with us and learn more about assisted living costs, the level of care available, and the hidden values of senior living.
At Civitas Senior Living, we believe in creating vibrant communities that empower residents to lead fulfilling lives. Join us as we explore the truths behind senior living, highlighting the benefits and addressing the misconceptions one of our newly engaged residents discusses.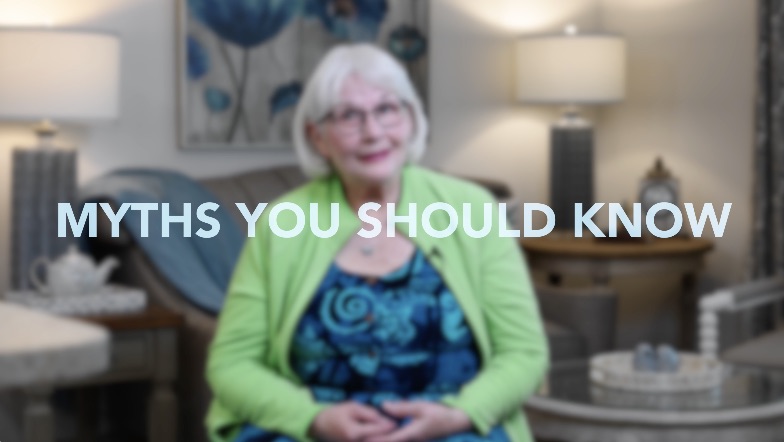 Unveiling the Truths: Myths About Senior Living Debunked
What's stopping you from moving to an independent living community? Do you think an assisted living community is more like a nursing home?
As more and more baby boomers turn 65, assisted living facilities are changing to meet new needs. Here are some of the misconceptions about senior living.
Myth 1: "Senior living is a place for old people, and it's dirty and smelly."
Let's set the record straight. Senior living is not a place where you're left feeling isolated or surrounded by unpleasant conditions.
At Civitas Senior Living communities, we've redefined what senior living means. Say goodbye to stereotypes! Our communities are vibrant, welcoming, and impeccably maintained. Rest assured that we have created spaces you'll be proud to call home.
Myth 2: "My kids are trying to get rid of me. I won't be able to live a fulfilling life."
We understand the importance of maintaining independence and leading a life filled with joy and purpose.
Civitas communities embrace the spirit of individuality. Our communities are hubs of activity, laughter, and growth. From engaging games to enriching experiences, you'll be part of a close-knit community that values your happiness and well-being.
Many people think they might be trapped in independent or assisted living. The world beyond our doors remains open to you with outings and transportation services. However, our memory care communities are secure to prevent wandering.
Myth 3: "Senior living is boring, and there isn't much to do."
Boring? Not on our watch! Imagine stepping into a world where every day is a new adventure.
Our communities' Passion Program is about creating a vibrant social scene. It's like reliving your college days, says our resident. Senior living provides the energy, camaraderie, and sheer excitement of being among friends daily.
Whether it's arts and crafts, social clubs, fitness classes, or simply sharing stories over coffee, there's something for everyone to enjoy.
Myth 4: "I will have a difficult time connecting and making new friends."
Making friends is a beautiful part of life, no matter your age. Our communities are designed to foster connections and create meaningful relationships.
Don't be surprised if you form bonds that last a lifetime. We've even hosted weddings for residents who found love within our walls. Civitas Senior Living is a place to thrive, connect, and celebrate life together.
Discovering the Value: Is Senior Living a Good Investment?
You might be wondering, is senior living a good investment? The answer is a resounding yes. New residents are constantly surprised by everything that comes with paying for assisted living.
Investing in senior housing means investing in your:
Happiness
Well-being
Peace of mind
At Civitas, we offer a comprehensive range of services, top-notch amenities, and a supportive community that's dedicated to your needs. It's an investment in a life filled with enriching experiences, newfound friendships, and the freedom to enjoy every moment.
Understanding the Costs: How Much is Senior Living Per Month?
Are you concerned about costs? We understand that budget plays a crucial role in your decision-making process. The cost of senior living near you can vary based on your preferences and needs. Our team is here to guide you through the process, providing transparent information and answering all your questions.
Navigating through the financial aspects of senior living can be challenging. However, it's crucial to understand the average costs associated with different types of senior living to make informed decisions.
Various financial assistance options are available depending on the level of assistance required. VA benefits, long-term care insurance, and life settlements are common options.
Independent Living
Independent living is ideal for seniors who can live independently with minimal assistance. These communities offer a social environment where older adults can enjoy their freedom while accessing amenities and social opportunities.
The average cost of independent living in the United States is around $3,000 per month.
Assisted Living
Assisted living is designed for seniors who require help with activities of daily living such as bathing, dressing, or medication management. These communities provide round-the-clock care and support, ensuring residents' needs are met.
The average monthly cost of assisted living in the United States is about $4,500.
Memory Care
Memory care caters to seniors with Alzheimer's or other forms of dementia. These specialized communities offer structured activities, secure environments, and trained team members to enhance residents' quality of life.
The average cost of memory care in the United States is approximately $6,935 per month.
The cost of senior living can vary significantly based on location. Civitas Senior Living Communities operate in Arizona, Colorado, Florida, Kentucky, Oklahoma, and Texas.
Choosing the right type of senior living is about more than just cost. It also depends on the individual's level of independence, health needs, and cognitive abilities. Researching and visiting different senior living communities can help you find the best option that suits both lifestyle preferences and budget.
Embrace the Truths, Embrace the Lifestyle, and Take the First Step
The value of senior living is a transition and transformation. It's about embracing a vibrant lifestyle, fostering connections, and enjoying every chapter of life to the fullest. The myths have been debunked, and the truth is clear.
Civitas Senior Living communities are places of happiness, engagement, and growth. Don't let myths hold you back. Embrace the possibilities that await you!
We're here to help. Contact us today to schedule a visit, explore our communities, and experience the warmth of Civitas Senior Living firsthand.