After years of dealing with the stresses of homeownership, downsizing to an apartment can be an exciting change. No more worrying about those swaying trees close to the powerline in your backyard. That mounting pile of odds and ends in the basement? Forget them. With only one or two rooms to manage, you can alleviate the headache of monitoring the cleanliness of a whole house.
While transitioning to an apartment can be liberating, you may also feel daunted about integrating small apartment decor. Luckily, there are multiple apartment decorating ideas to make your apartment feel delightful and truly yours. Here we share our favorite tips to create your ideal senior living apartment haven.
How to Decorate a Small Apartment
When transitioning to a smaller space, people often believe that functionality needs to take precedence above all else. While functionality can certainly help, your focus should be on creating a space that you love and fits your personality. Above all else, your apartment should feel like home!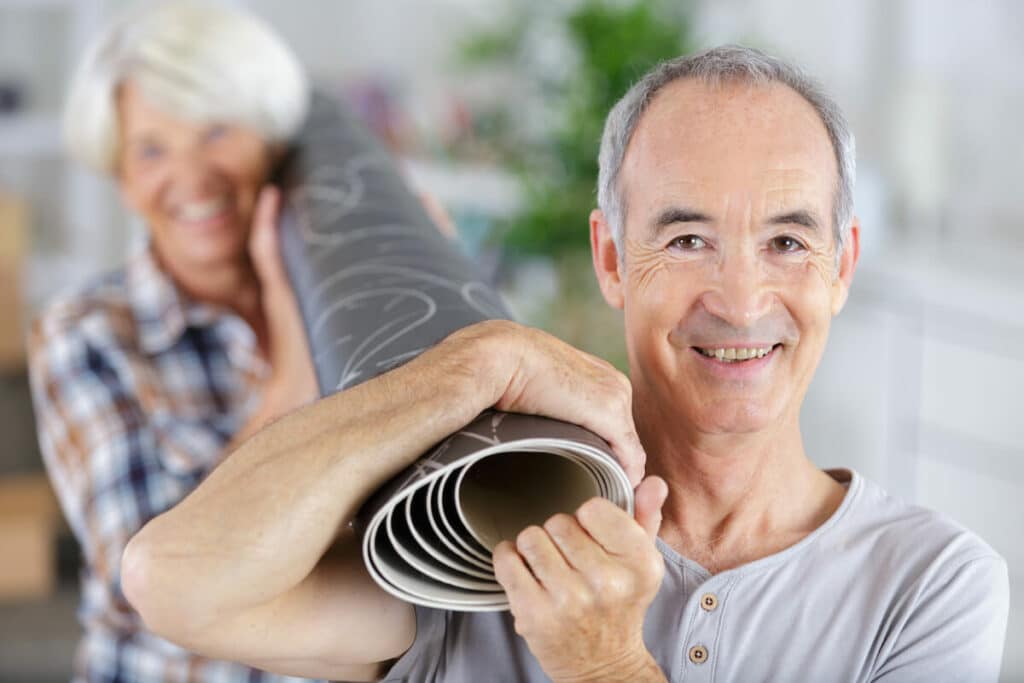 Let the Sun Shine In
The use of natural light is an excellent way to make your space feel cheerful and inviting. Heavy curtains that can shut out light can make a room feel drab and cold, so go for airy cotton curtains or sheer curtains instead. You can also accentuate the light in a room by using mirrors. A unique thrift-shop find can not only act as a bold statement piece but enhance the room's light reflection. Exposure to plenty of natural light during the day will also help you sleep better at night too.
Distinguish Zones
If you live in a studio apartment, give each space a specific purpose by using rugs, area dividers, or thoughtful furniture placement. For example, a hutch placed between the kitchen and living room can separate the two areas and provide useful storage — that way, when the grandkids come to visit, there won't be any confusion about where to lounge and watch a movie or where to bake your famous cookies.
Increase Space with Storage
You can find many ways to optimize your storage in a small apartment using the furniture you already own. Pieces like end tables, ottomans, and coffee tables provide extra space to hide away objects you don't want cluttering up your room – like throw blankets, remote controls, or framed photos that are out of rotation. Tall and slender storage solutions are the way to go when your floor space is limited. Building up – not out – allows you to organize lesser-used items vertically without taking up prime floor real estate.
Put Your Green Thumb to Work
Brighten any room by adding a touch of foliage to your home. Make pops of green work for you by using pots and planters to differentiate spaces and add some zen to a drab corner. Are you missing your home garden? For the plant lovers who want to go bold, consider adding a living wall to your apartment. This undertaking is a commitment, but the result is a gorgeous wall that adds a defiant zest of life to any space. You always wanted to live in a garden, so why not bring the garden home to you?
The loving staff at Civitas Senior Living is here to make your transition to your assisted living apartment seamless and easy. We'll take care of the menial tasks – like housekeeping and laundry – so you can focus on creating the ideal cozy haven of your dreams. All of our units are pet-friendly, so Fluffy and Fido can come along, too! The apartments at Civitas Senior are equipped with resort-style amenities and were designed with your comfort in mind. Contact us to learn more about our well-appointed apartments and address any other questions you may have.