Dogs, cats, and animals of all kinds make the best friends. They know the secrets to a good life are love, some tasty treats, going for walks, and taking naps. Your home would be incomplete without their wisdom.
National Pet Month is a time to celebrate the furry, feathery, and sometimes scaly friends we share life with and call on for companionship. Throughout May, pawed friends deserve extra attention. Find out how the pets in Civitas Senior Living communities live in luxury during this holiday.
Are pets healthy for seniors?
An article in Time Magazine suggests that dog walkers take 2,760 more steps per day than people who are not owners. This ritual also leads to around 20 minutes of exercise per day. Experts agree that 30 minutes of physical activity five days a week is essential to living a healthier life. It seems like dog owners are on to something.
According to the article, which focused on people over 65, 87 percent of people who walked with a canine companion met the recommended weekly exercise goal compared to 47 percent of canine-companion-less people.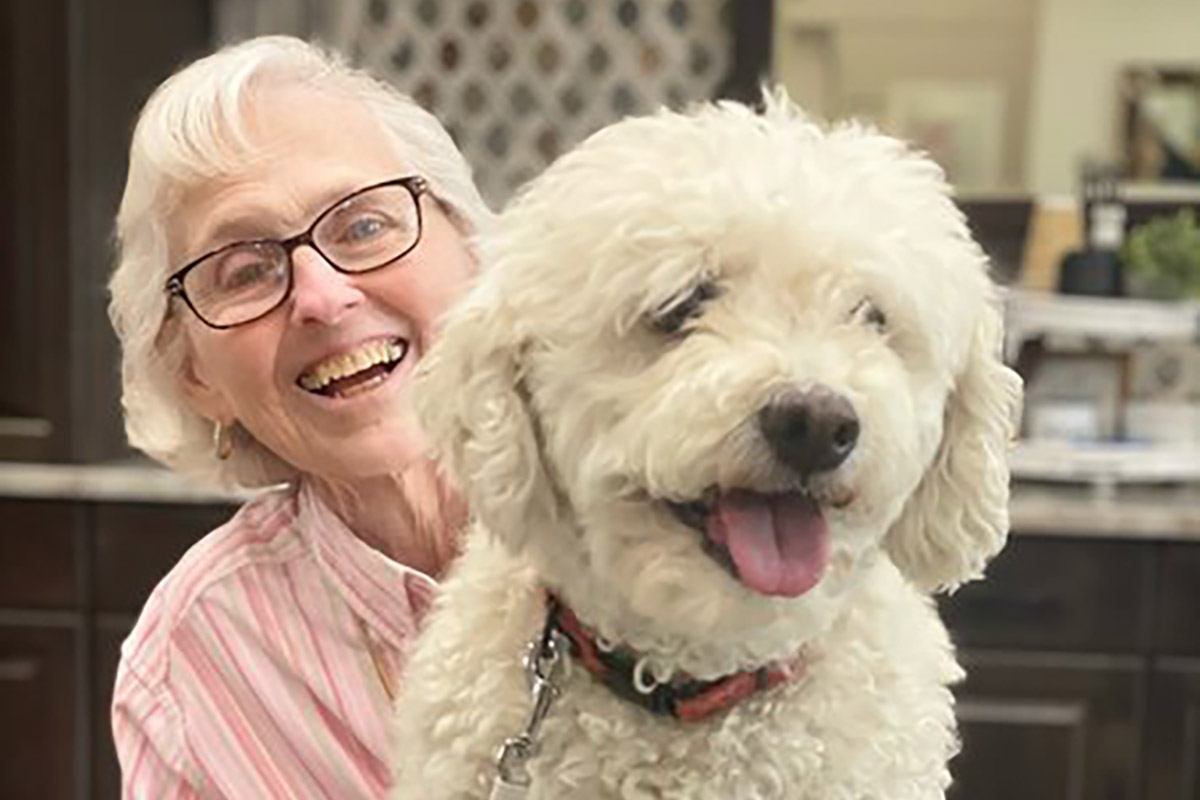 Cats sometimes get left out of the conversation of being a positive influence on health. Research appearing in a Healthline article says feline owners are known for being more open to new experiences than dog people and experience less risk for heart attacks.
A study mentioned in the article followed people in the first ten months of cat ownership and revealed a steady decline in problems such as:
The sedentary to sudden acrobatic nature of cats bring their owners a lot of joy, confidence, and overall happiness. Playing with a laser pointer or feather on a stick with a cat may not be as intense exercise as walking a dog, but moving more is always better than sitting.
How can seniors celebrate National Pet Month?
Make Gifts
In 2020, Americans spent over $99 billion on their pets. Many people spend around $40-$50 during the Christmas season alone on pet-friendly presents. Seniors in Civitas communities can take advantage of daily arts and crafts time to lighten their budgets and make their furry friend's gifts from the heart. Those more inclined or adventurous may enjoy painting a portrait of their pet.
Weaving pet toys can be an excellent activity for seniors to engage their brains and maintain dexterity. Tying knots is also a beneficial exercise for people living with Alzheimer's and Dementia. Repurposing cardboard boxes and paper towel rolls into feline forts gives humans something to do and offers cats a fun place to play.
Call your local humane society to see if they accept chew toys for the pawed friends waiting for their forever homes. Volunteer your time to make gifts for them too!
Watch Their Shows
Technology has many of us glued to screens more than we should be. Take a break from your daily Internet time and turn on a video for dogs or cats. There are also many cat-friendly games available to download onto tablet devices.
Have A Party
Some Civitas Senior Living communities have on-site dog parks for four-legged friends and their human companions. It's a fantastic place to play, roam, and socialize. Turn the party up a notch by providing fido-friendly treats.
Making healthy pet treats is not too different from making human treats. You might find a new snack you both enjoy. Seniors who want to engage their green thumb can grow cat grass and herbs to make catnip.
Pets Who Call Civitas Senior Living Home
Seventy percent of older adults say they would not give up their pet to move into a senior living community. In Civitas communities, residents do not have to make that choice. Meet some of our favorite pets:
Hampton, the distinguished gentleman
Roommates Tucker and Teejee
The West Fork Bandit is stealing hearts all over North Texas
About Civitas Senior Living
Our communities let seniors enjoy a higher quality of life, from chef-prepared meals to personalized care. Pet-friendly senior apartments are just the start of what residents enjoy on a daily basis. Find a community near you and schedule a tour of a new home for you and your best friend.