Civitas communities are all about celebrating. We celebrate special moments in residents' lives, we celebrate holidays together, and we celebrate just to have fun with themed parties and events. Our Celebrate Broadway events are a great example of how we get creative and get together.
Our most recent Broadway event was devoted to the hit musical, "Wicked." In March, our communities made their way to the Emerald City, clicked their heels together, and had a wicked good time.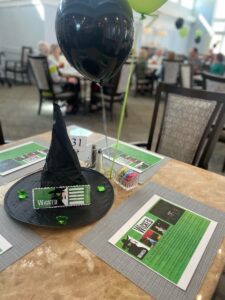 Residents and staff at Arabella of Athens in Athens, TX snapped some great pictures in their photo booth, sporting emerald green attire. They then dined on a Wicked-themed menu of delicious dishes that were good enough to cast a spell and make you green with envy.
Friends and neighbors at Legacy Oaks of Azle in Azle, TX took a trip to Oz, got dressed up, and even had some students from the local high school come by to perform a few songs for everyone's enjoyment.
Arabella of Red Oak in Red Oak, TX enjoyed a themed luncheon and social event centered around both "Wicked" and "The Wizard of Oz." Everyone had a blast.
"We played Bingo, had a scavenger hunt, and enjoyed some karaoke led by one of our talented residents, Joe. Everyone was laughing and singing and having a great time,"
shares Aaron Nordell, Arabella of Red Oak's Executive Director. Carol from Infinite Home Health also provided a Wizard of Oz-themed cake.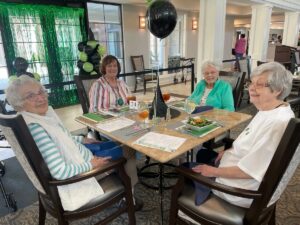 Two special guests came to visit The Cottage at Élan Westpointe in New Braunfels, TX during their themed lunch. Glinda the Good Witch and Elphaba, the Wicked Witch of the West, posed for pictures and were a hit with the residents. They left us all asking ourselves, "Are you a good witch, or a bad witch?"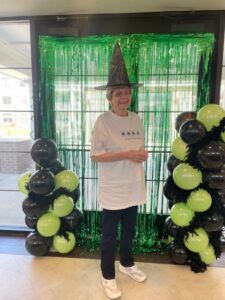 Residents at The Gallery at North Port in North Port, FL, and The Grand in Louisville, KY also enjoyed their themed lunch with a side of festive decor and plenty of Broadway flair.
Our "Wicked" themed events were just as popular as the hit soundtrack. We're always hosting creative and fun celebrations that are, of course, filled with delicious dining from our culinary teams. We make it easy to have fun.
Come Join the Party!
At Civitas communities, the fun never stops. From Broadway musicals to birthdays and honoring special moments, we have a passion for making life enjoyable. Learn more about a Civitas Senior Living community near you.