Senior living is a community for lovers. Civitas Senior Living communities across the country invite you to celebrate love with some of our heartwarming stories of endearment, adoration, and devotion.
These are a few examples of everlasting love in our communities, from senior independent living in Texas to assisted living in Cape Coral, Florida.
Love is Bold
From just kids in Europe to independent senior living residents in Grapevine, TX, Garth and Vera are living proof that love can last.
Garth fell for his future bride while stationed in the Air Force in England. Vera was apprehensive at the thought of dating a Yankee but accepted an invitation to a date. The pair continue to be inseparable residents of Dancing River Assisted Living all these decades later.
Love is Daring
Maria and Alex met while evacuating their home country of Ukraine during World War II. It was where an arrest turned into a life sentence of love.
Alex was hired to guard an area of their ship, which had just been freshly painted. Maria, no stranger to danger, decided to walk through the restricted zone to get the attention of the handsome guard.
"He yelled that he was going to arrest her," says the couple's granddaughter, who is also the Community Relations Director at The Waters Of Cape Coral.
"He always said that he ended up arresting her forever. They were married 67 years and together for 72."
Although Maria is now widowed, she adores sharing her love story with the community. Living with family in the building is rather convenient as well.
When You Know, You Know
Join us in wishing Dorotha and Tommy a happy 68 years of marriage. These childhood friends were engaged before the age they could vote. A high school dance and a trip to the movies sealed the deal on love for these two.
Married in August of 1954, they brought five children into the world and worked in their respective fields of education and sales. In addition to an entire family who are huge Aggies fans, Tommy says, "The secret to a long-lasting marriage is to get along with one another and don't fight."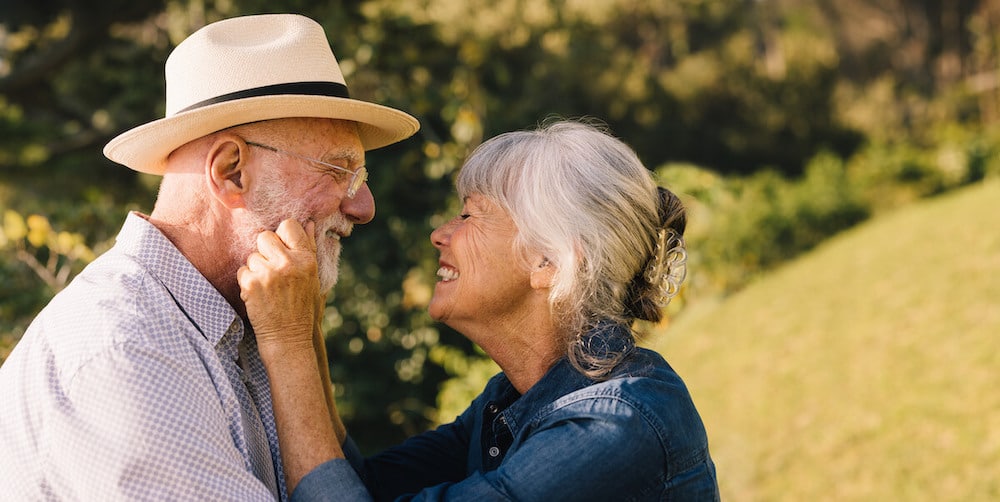 Love is Forever
Majorie and Carl of Alexis Pointe Senior Living have known each other almost their entire lives. Around the age of 13, Carl started dating one of Majorie's best friends, just to be closer to her.
When Majorie finally took notice of Carl, she never looked back. The pair were married for nearly 70 years.
"I love you, honey. Seems like I've always loved you, and I always will," were Carl's final words to his beloved bride before her passing two-and-a-half years ago. His family says he was in love with Marjorie his whole life and always will be.
Love Endures
Don and Lorraine met at Star Lake Camp in Bloomingdale, NJ, when he was 17 and Lorraine was 18, volunteering as camp counselors. They couldn't wait for the kids to go to bed so they could sneak off into the woods to hang out. It was during these late-night adventures that Don and Lorraine's relationship began.
They spent three years bouncing back and forth between New York and New Jersey on weekends. Don asked for her hand in marriage in front of her whole family. Following a ceremony in the spring of 1956, they started their life together in a small apartment in East Patterson, NJ.
Don worked in sales and business, while Lorraine shined as the Dean of Arts and Science assistant at The University of Delaware. They raised four children, who Don says is the secret to their lasting marriage.
"No one would take the four kids," says Don, the part-time comedian and full-time resident at The Gallery at North Port.
As they embark on their 66th year of marriage, it's residents like Lorraine and Don who make life in Florida senior living communities so special.
Good Old-Fashioned Love
Nearly 40 percent of relationships now begin online, but these stories of love started by chance encounters of good old-fashioned face-to-face interactions.
Don
Don,  The Brooks of Cibolo resident, remembers when things were slightly different.
"Back in the '50s in downtown St. Paul, Minnesota, the YMCA would host a Sunday dance for the community. They had a fellow who would play Big Band records such as Glenn Miller, Buddy Marrow, and Arty Shaw. This was a great way for young adults to meet. It was here that I met my now life partner, Carol Buell."
Don gave Carol a ride home in his Buick convertible following a night of swing dancing. They've been arm in arm in love for 64 years.
Peggy
Current resident at The Avenues of Park Forest, Peggy, met the love of her life in a similar fashion.
"I met my husband back in high school in 1948. We went to two different schools, but that didn't stop our paths from crossing. We would have this "Teen Town" party for us kids to have something to do besides getting into trouble. Since that first meeting, we were inseparable."
Peggy and her husband were married a year later and had three kids. "I lost him 2-and-a-half years ago, but my love for him lives on," says Peggy.
John
John and his wife Flo were married for nearly 70 years. He never left her side through assisted living and memory care. John is adjusting to life without his love but is now residing in independent living.
He owes his successful relationship to his faith in God and tells his stories of Flo to his friends in the community.
Love is Timeless
Nina and Duane met in the woodwind section of high school band class. Five years into dating and a stint in the Army, these love birds were married on the summer solstice of 1954.
Duane gave Nina a call and said, "I'm coming home on leave next week. See what you can do about getting us married." After the Army, Duane and Nina returned to their hometown, where jobs were waiting for them in the newspaper business.
The couple had three daughters and spent much of their time in various parts of the country for work before choosing San Antonio for their retirement home base. They enjoyed traveling all over the world. Especially trips in their motorhome to Canada and Alaska.
Nina and Duane celebrated their 50th wedding anniversary in Italy and are now celebrating their 68th anniversary at Élan Westpointe, assisted living and memory care in New Braunfels, TX. It's a blessing for their community to watch such a timeless love still blossoming.
Celebrate Your Love in Senior Living for Couples
Find a Civitas Senior Living community near you if you're interested in senior living for couples. Live an elevated life, free from chores and full of new friends and experiences. Contact any of our communities for a tour and choose the lifestyle that's right for you:
Independent Living
Assisted Living
Memory Care