Anyone who has gone to the doctor has had their blood pressure taken as a standard procedure. This vital measurement is the go-to indicator of your circulatory health, composed of your heart and blood vessels.
People of all ages are at risk of decreased oxygen circulation, but seniors should be particularly conscientious. 45% of adults in the U.S. have hypertension, and the number increases by 20% in the older adult population.
While the data on blood pressure for women varies slightly compared to the average blood pressure for men, the overall message is clear – seniors need to take their circulatory health seriously. We will review the recommendations for the new normal blood pressure for seniors and some tips for keeping your body at optimal health.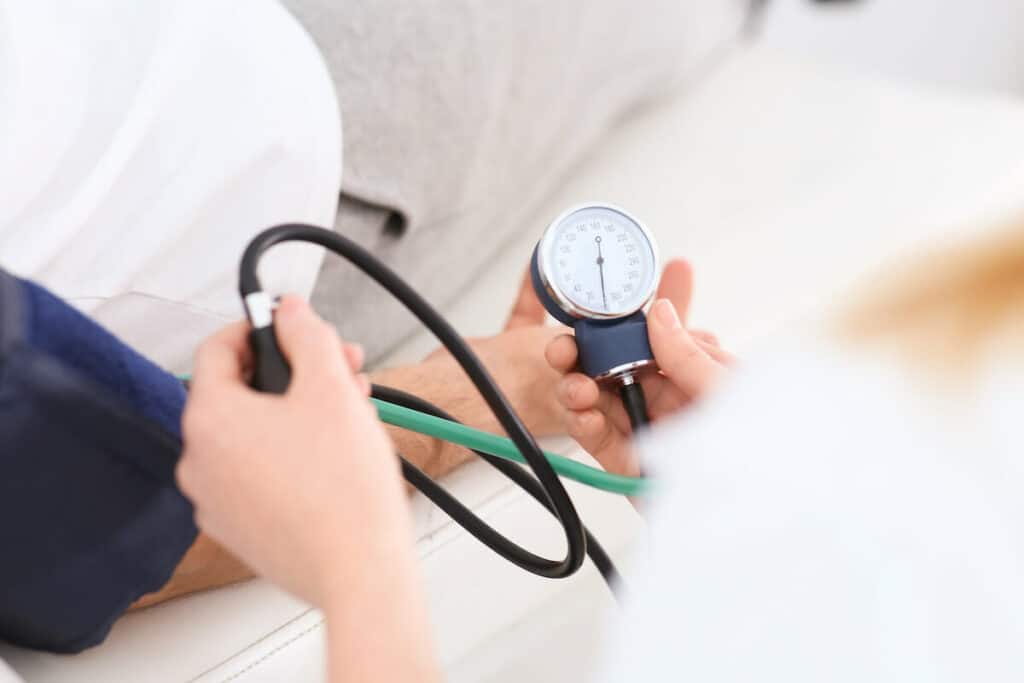 Blood Pressure Chart for Seniors
Your heart pressure measurement is composed of two numbers, the systolic pressure and diastolic pressure. The systolic blood pressure measures your arteries' pressure when your heart beats, and the diastolic pressure measures the pressure in your arteries when your heart rests. The American Heart Association classifies seniors' blood pressure ranges into five categories ranging from normal (healthy) to hypertensive crisis (critical emergency level).
Updated Blood Pressure Recommendation for Seniors
In 2017, The American College of Cardiology and ten other health organizations updated their blood pressure health standards. Whereas the recommended threshold used to be 150/80 mm Hg for those ages 65 and older, the new guideline decreases the healthy range to 130/80.
What the Updated Recommendation Means For You
Older men in particular should take note of this new health standard because – with the new guidelines – 70% to 79% of men ages 55 and older are now classified with hypertension. Those who were previously considered healthy may now fall within the elevated categorization. If it's been a while since you've had your blood pressure taken, consult with your doctor to ensure you are within a healthy range.
What Causes Increased Blood Pressure with Age?
Natural changes to the body contribute to increased blood pressure. The main culprit is the vascular system's health, with the arteries narrowing and losing elasticity over time. The arteries become less tractable and increase the applied pressure as the heart beats and rests between pumps.
Factors that Contribute to High Blood Pressure
Along with age, several outside factors can contribute to high blood pressure, such as mobility, nutrition habits, and alcohol intake. Be aware of the following blood pressure elevators:
High sodium intake
Smoking
Obesity
Lack of exercise
Potassium deprivation
Stress
Chronic conditions like sleep apnea, kidney disease, and diabetes
Certain medications
How to Combat High Blood Pressure for Seniors
Always check with your doctor for their expertise to aid you in a clear path to improved health. They may recommend a medication to get your blood pressure under control. In addition to consulting your doctor, the following tips may also help your circulatory system's health.
Eat a heart-healthy diet that includes fish with omega-vitamins, whole grains, fruits, and vegetables.
Incorporate stress-management techniques into your daily routine.
Yoga, Tai Chi, and daily stretches can moderate your stress and also help you improve balance.
Get a good night's sleep. Not only will some shut-eye help your blood pressure, but it will also boost your brain function.
Get up and get moving. Physical exercise can help your heart health and enhance your spirits as well.
The passionate staff at Civitas Senior Living are here for all of your health needs. Whether you need help making a doctor's appointment, assistance with medication management, or guidance with exercise and nutrition, a loving caretaker is here for you. Contact us to learn more about our heart-healthy activities.