If you're in the process of helping your parents downsize and move into an assisted living facility, you're probably feeling a bit overwhelmed. This time can create a lot of emotional and physical strain.
There are several financial considerations. You may stress about your loved one qualifying for senior living insurance. You may feel weighed down by selling a family home.
It's okay to feel these emotions.
To help make the transition a little smoother, we've put together a list of 11 downsizing tips for moving parents into assisted living.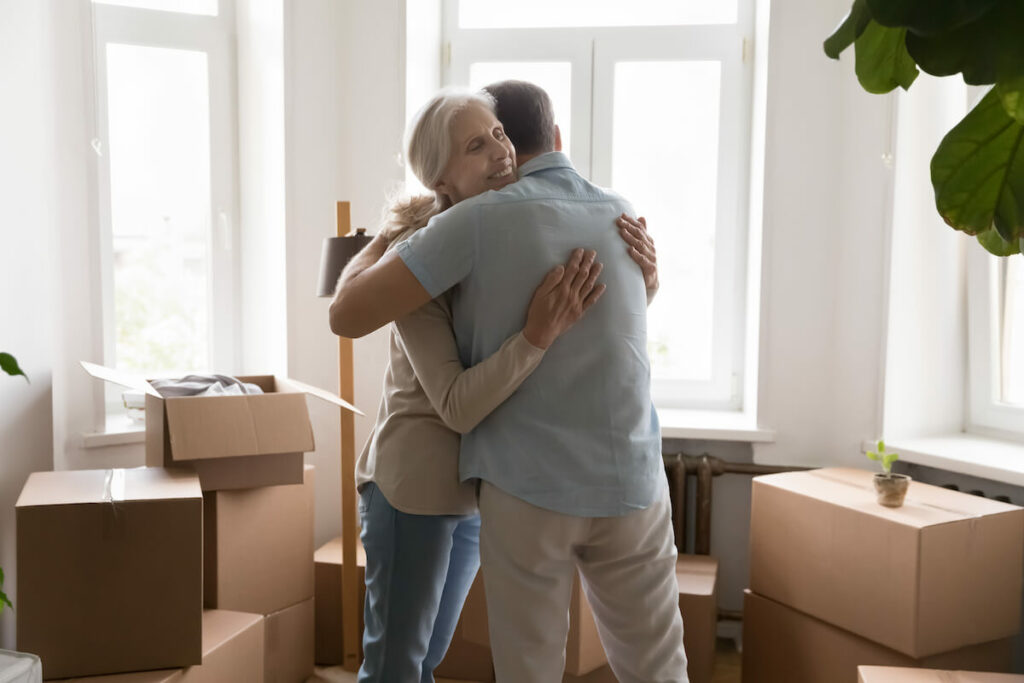 1. Make a plan.
Before you start packing up your parents' belongings, it's essential to sit down with them and figure out what they want to take with them to their new home. An outline will help prevent accidentally throwing away or donating sentimental items.
You may have to make your best judgment if mom or dad is moving to a memory care community for Alzheimer's care. Plan to bring items that will remind them of who they are or where they grew up.
Use a notebook to keep everything related to the move. It can contain your plan, to-do lists, heirloom items, and significant phone numbers.
2. Take care of financial considerations.
This tip may be where you want to start. Don't forget financial considerations like purchasing long-term care insurance or selling the family home.
These can be complex topics and may take time. Get professional advice to ensure you make the best decisions for your parents.
3. Go through belongings room by room.
Once you have a general idea of what your parents want to keep, it's time to start going through their belongings room by room. Start with items that are easy to let go of, such as clothes that no longer fit or books that haven't been read in years.
Stay organized by making three piles:
Keep
Donate
Trash
A "maybe pile" will slow down your efforts. Take care of one room at a time. It helps to get a feel for the process somewhere small, like a linen closet.
4. Decide what to do with sentimental items.
Sentimental items can be some of the hardest things to part with when downsizing. Consider giving away heirloom items early. Ask other family members what they might want.
If your parents have trouble letting go of certain items, try taking photos of them so they can still enjoy the memories without having to keep the physical object. Creating a photo album of these items can be another bonding experience.
5. Have a yard sale or donate unwanted items.
Once you've gone through everything and decided what to keep, it's time to eliminate the rest! You can either have a yard sale or donate unwanted items to local charities or thrift stores.
Whatever is left should be recycled or thrown away correctly.
6. Make sure important documents are easily accessible.
When downsizing, it's crucial to make sure all important documents are easily accessible at any moment. These documents include:
Birth certificates
Social security cards
Financial records
Mortgage paperwork
Health care information
You never know when you may get a call about mom or dad and need to reference a document. It can be easy to shuffle papers around and misplace them. Keep records in one location.
7. Label boxes by room.
As you're packing up your parents' belongings, be sure to label each box by room. This task will make unpacking at the assisted living facility much easier and ensure that nothing gets lost in the shuffle.
Your parent is likely moving into a smaller space. Get creative and think about how the contents of a room can fit into one box. If you're transferring over a sewing room or art studio, consider how you can dedicate a corner of the new home for that activity.
8. Get big things out of the way.
Arrange for any furniture or other large items to be moved ahead of time so that you don't have to worry about it on moving day. If you're unsure what to do with everything else, many charities will pick up donations from your parents' home.
9. Create an inventory list.
Once you've decluttered, donated, sold, and packed up your parents' belongings, create an inventory list of everything going into their new home. The list will help you keep track of everything and ensure that nothing gets lost in the move. You can even give a copy to the assisted living community.
10. Pack an "essentials" bag.
Moving can be stressful, which equals forgetfulness. Pack an essentials bag for your parents with everything they'll need during the first few days in their new home.
An essentials bag should include:
Toiletries
Clothing
Medications
Personal items
Device chargers
Any other necessary items
11. Don't forget to communicate.
Talk about mom or dad's expectations and what they hope to gain from their new home. Communicate your motivations for their move and listen to theirs as well.
Is your parent looking for more social interaction or a smaller living space that's easier for mobility? Do they want better access to medical care? Ask them about their feelings.
Go through their belongings together and decide what to keep, what to donate, and what to throw away. This process can be an excellent opportunity for meaningful conversations about memories and family history. It can also help ease any feelings of loss or nostalgia they may be experiencing.
Thank your parents for entrusting you with this important task.
Downsizing Help For Seniors
Moving a parent into a senior living community is a big decision. It can be a stressful and emotional time for everyone involved. But it doesn't have to be.
The Civitas Senior Living community near you understands what you're going through.
Our expert team members have helped families like yours make this transition for over ten years. We're here to help you every step of the way:
We'll work with you to find the perfect community for your parent.
We'll help you navigate the financial options.
We'll be there for you after the move, ensuring your parent is settling in and adjusting to their new home.
Contact Civitas Senior Living Today!
Contact us if you need additional information or for downsizing help for seniors. We'll be happy to help.