Memory care is a form of specialized care for seniors living with memory issues, such as Alzheimer's or other types of dementia.
Typically, specialized dementia care and memory care communities provide a safe, secure environment where residents can interact, pursue hobbies, and engage in activities designed to improve cognitive abilities, all under the watchful eye of caring, well-trained staff.
For residents in need of full-time dementia care or Alzheimer's care, here at Civitas Senior Living, we offer a comprehensive, evidence-based approach to Memory Care. Our staff is trained on every stage of dementia and Alzheimer's for personalized support.
Memory loss should not rob your loved one of their quality of life. This is why memory care aims to maintain independence and self-reliance in residents as much as possible, with staff providing support as needed. No two seniors who require memory care have the same cognitive function, so personalized care is essential. Staff is on hand 24/7 to provide assistance and create moments of joy.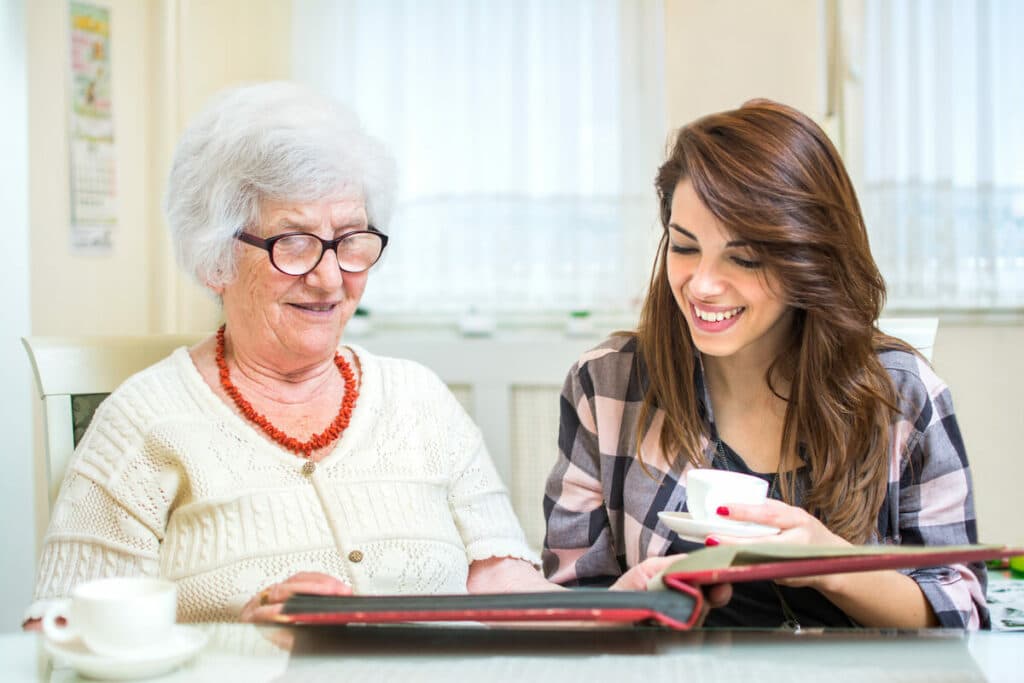 What Is Memory Care Living Like?
Memory care communities provide seniors with the help they need to perform tasks impacted by memory loss, such as taking medication, bathing, or eating. Staff take care of all housekeeping, laundry, cooking, and similar daily chores, so residents can relax, socialize, and take part in stimulating activities. Activities may include:
games
arts and crafts
dancing and music
hobbies
contact with therapy animals
puzzles
cognitive exercises
No matter what the activity, the capabilities of each individual are taken into account. Not all residents want to engage in all activities. Others may experience anxiety due to memory loss or develop "sundowners syndrome," a common condition in which cognitive decline worsens in the evenings. Staff are sensitive to these issues and provide each resident with the care they need.
What Should You Look for in a Memory Care Assisted Living Community?
Choosing a memory care community is a complex decision. When you visit the community, take notes and ask lots of questions.
While you're visiting the community, consider the following:
The Rooms
What are the private rooms of the facility like? In a memory care community, the rooms should look and function like private apartments, with plenty of living space and a private bathroom. Evaluate the room's cleanliness and airiness, and take note of important details like safety bars by the bed and in the bathroom and call buttons for staff.
Community Areas
Community areas in an assisted living facility should be open, warm, and welcoming, with easy-to-navigate floor plans, bright decor, and plenty of room for social gatherings and activities. Check out dining areas, and if possible, sample the food. Some memory care communities have enclosed gardens where residents can enjoy the fresh air and engage in gardening activities.
Security
Security is probably at the top of your mind when choosing a memory loss community, especially if memory loss causes you or your loved one to become disoriented and lost. The doors leading into the community should be secure, with a system that monitors everyone entering and leaving the building.
Quality Services
Specialized dementia care should be of the highest quality, with staff demonstrating a mix of patients, empathy, and understanding. The community should have a high staff-to-resident ratio, so staff members have a chance to bond with residents and provide the personalized assistance they need.
Engaging Activities
Memory care living should include a wide range of daily activities that encourage movement, cognitive awareness, and socializing. These activities should be varied enough that all residents can do the things they love, and also optional: after all, some days you just want to kick back and relax, while other days are all about engaging with hobbies and hanging out with friends.
The Goal of Memory Care
Ultimately, the goal of memory care is to support the unique needs of seniors with Alzheimer's or other forms of dementia. It helps residents maintain their skills as long as possible while providing enriching activities that stimulate cognition and improve quality of life. A memory care community lets seniors live their best lives without worrying about chores or activities made difficult by memory loss. Surrounded by other seniors and caring staff, you get to live your best life in comfort and ease!
Find a Civitas Senior Living community near you and find out if Memory Care is the right fit.