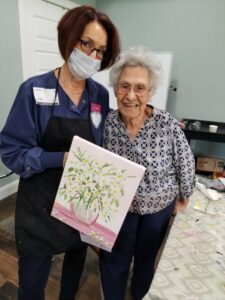 Civitas Senior Living community, the Brooks of Cibolo, located at 816 Everyday Way, recently helped resident Eudelia "Delia" G. celebrate a very special moment.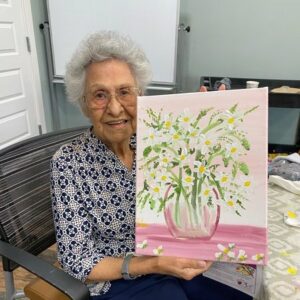 The community's Miracle Moments program gives seniors an opportunity to explore life-long hobbies, highlight unique talents, relive memories from their past, and make new memories. From small moments to large events, the Miracle Moments program is just one way The Brooks of Cibolo helps residents feel as special as they are.
Delia's Miracle Moment involved a beloved pastime, creating works of art. An art instructor came in for a private class to help Delia create a painting that her family can cherish forever. She titled her cheerful painting, "I Feel Happy."
About Delia
The 91-year-old began painting many years ago when she attended an art class. She would go to classes and hide away in the art studio while her children were in school. Delia has created many paintings, one of which is a depiction of two raccoons done by using only a toothpick.
"It was an absolute honor to celebrate our Miracle Moment with Miss Delia. You can find her present at every Art Throb class. She teaches the Activity Director techniques and enjoys helping the other residents," shared Candace Gutmann, Executive Director of the community.
Celebrate your moments with The Brooks of Cibolo
Learn more about the independent living, assisted living, and memory care community by contacting us to sign up for a tour.