Legacy Oaks of Azle Assisted Living had a fun day celebrating Cats, the Broadway musical. The residents got a kick out of Legacy, the robot cat! They discussed fun facts about the longest-running Broadway show, Cats, and even sang "Memories" together as a group!
Ariel Pointe of Sachse recently put on quite the show with their Cats musical-themed event.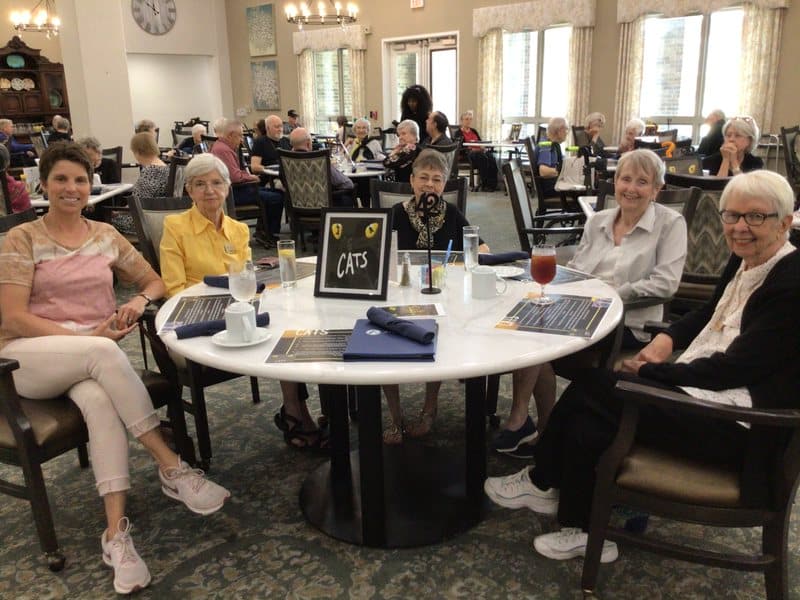 The residents enjoyed looking at pictures that decorated the tables as well as reading fun facts about the musical displayed on the placemats at lunch. After lunch, they watched the Cats movie to complete the experience."They thought it was great with beautiful music and amazing costumes," said Dana Bechtold, the Independent Living Activities Director.
All who attended the event were "purrfectly pleased" with the live entertainment by Phil Alford and Jill Brooks for the Cats-themed luncheon.
Residents at The Cottage for Alzheimer's and dementia care at Ariel Pointe also thought the musical-themed lunch was the cat's meow! Resident Donna allowed her inner cat to make an appearance when told she was having her photo taken. The mood was playful all around and everyone had a great time.
At Élan Westpointe, residents enjoyed paw print cookies in celebration of Cats. Everyone agreed that these cookies were the purrfect choice.
And at The Hamptons of Tyler, resident creative ladies Judy and Kay worked on their Cats-themed painting!
Celebrate Broadway at Civitas Senior Living!
We have a passion for planning fun, themed events like our Celebrating Broadway series. From the food to the decor and even the attire, we think of all the details. Find more fun at a Civitas community near you.