With the aging population, senior care options are becoming increasingly important. Assisted living is only one of the living options for Missouri City residents. Home care, nursing homes, and memory care facilities provide different services for different types of seniors.
It's often hard to know where to start. Is there a one-stop shop for senior care in Missouri City, TX?
At The Avenues of Fort Bend in Missouri City, Texas, we offer multiple services that can meet the needs of seniors and their families. From assisted living to memory care, our team is here to help seniors maintain their independence and dignity.
Let's take a closer look at the different types of senior care available so you can make an informed decision for yourself or a loved one.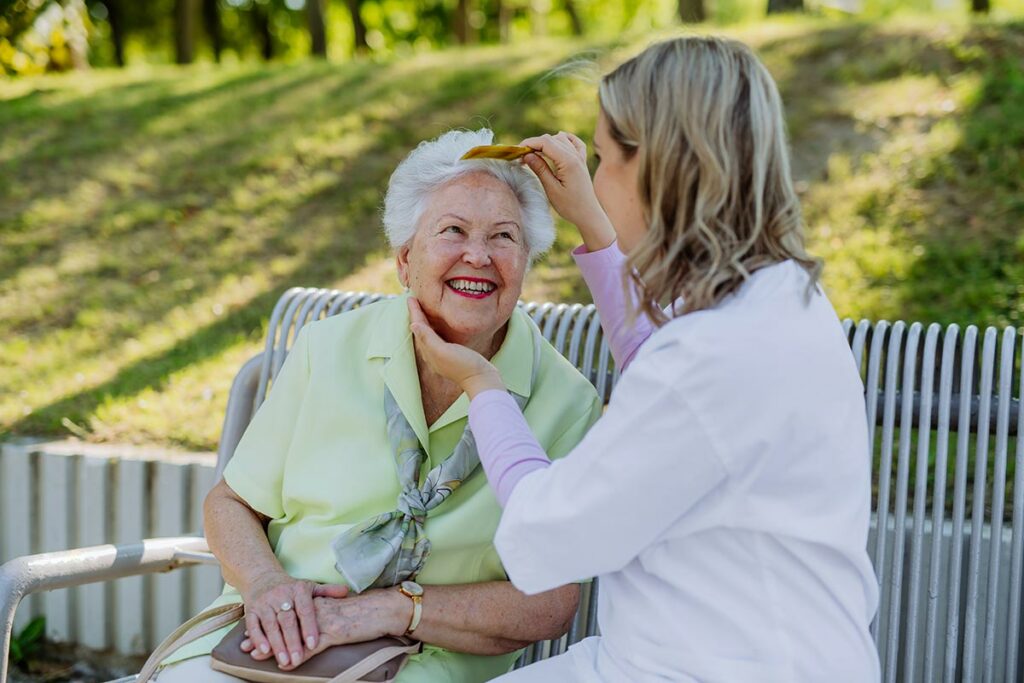 Assisted Living in Missouri City, TX
Assisted living offers seniors a wide range of services as they transition into retirement age. It provides an environment that allows them to achieve a healthy balance between independence and support. Promoting socialization is a significant well-being motivator.
At The Avenues of Fort Bend, our assisted living program offers daily activities like fitness classes, art projects, and chef-prepared nutrition.
Nurse support and senior care specialists provide individualized service. Some of our care options include:
Bathing, dressing, and grooming assistance
Personal hygiene support
Medication management and administration
Ongoing health care assessments
Residents live in senior apartments. These living spaces are purpose-built to accommodate the needs of older adults. Our professional team members perform housekeeping and maintenance. Pets and keepsakes are more than welcome to make the space feel like home.
The most significant benefit of assisted living is the community aspect. Residents form close bonds while attending worship services, community outings, and special events. Chef-prepared meals in the dining room offer excellent opportunities to meet new people.
Memory Care in Missouri City, TX
Memory care is designed for seniors with Alzheimer's or other forms of dementia. It offers a higher level of specialized senior care. Support also includes peace of mind for family caregivers.
Independence and purpose are possible for seniors with memory loss. The Cottage at The Avenues of Fort Bend makes those possibilities a reality.
Our secure memory care neighborhood features:
24-hour staffing to provide residents with around-the-clock supervision
Higher specialty staff-to-resident ratios providing individualized care
Calming and easy-to-navigate common areas
Brain-healthy menu options
Life-work stations
Family support groups
Signature programs like Dementia Live and Fit For You
We also provide activities tailored explicitly to memory care residents, such as gardening, music, and pet therapy. Our team works to stimulate minds, activate bodies, and let residents live in the moment.
Home Care and Nursing Homes vs. Assisted Living
Older adults and their families should compare all their options before choosing the best type of senior care. Home care and nursing homes are two additional routes. Understand the differences in cost and approach to care.
Senior Home Care Services
Senior home care services involve providing personal in-home assistance to seniors who cannot fully care for themselves due to physical or cognitive disabilities.
These services can range from simple tasks like grocery shopping or light housekeeping to more comprehensive medical services such as wound dressing or IV therapy. Senior home care services also provide companionship and emotional support.
Home care costs vary widely depending on the type and duration of services needed but typically range from $20 to $30 per hour. The average monthly cost of home care services is $4,576 in the Houston area.
That cost is higher than many assisted living facilities. It does not provide 24-hour care, amenities, or social opportunities. Meals, mortgages, and home modifications are additional expenses.
Nursing Homes
Nursing homes provide 24/7 supervision and assistance for seniors who require more intensive medical attention than what can be provided in assisted living. These facilities typically benefit people who need medical care due to chronic conditions or disabilities. Residents require frequent monitoring by skilled medical professionals such as nurses and doctors.
Nursing homes offer an on-site staff of skilled nurses and medical professionals. They also provide:
Meals
Medication management
Pain management
Wound and eye care
Catheter care
Unfortunately, nursing home costs are significantly higher than most other senior care services. The average price of Missouri City area nursing homes is approximately $6,000 to $8,000 per month.
Medicaid may help cover some of these costs depending on the individual's health care needs. Do research before deciding about types of senior housing or payment options to know more about financial responsibilities.
At The Avenues of Fort Bend, we understand how difficult it can be when deciding which type of senior living option is best for you or your loved one's particular situation.
We have a passion for providing each resident with personalized attention and experiences. Assisted living in our community makes maintaining independence and having fun a possibility.
Visit A Beautiful Option for Senior Care in Missouri City, TX!
Speak with our team members about finding the perfect senior living solution near you. Contact us today if you want more information about assisted living and memory care in Missouri City, Texas.