At StoneCreek of Flying Horse, we know that each senior is unique, and our Alzheimer's care program in The Cottage reflects the differences that make seniors special. The Colorado Springs senior care team is always available; we're committed to providing care that meets the needs and preferences of each resident.
What are the benefits of personalized Memory Care?
From energizing interactions to specialized programming focused on preserving cognitive function, our comprehensive approach helps residents maintain a sense of independence while receiving the support they need. Whether they're enjoying a cup of coffee in our beautifully landscaped garden or socializing with their peers, our residents live full and meaningful lives surrounded by passionate caregivers.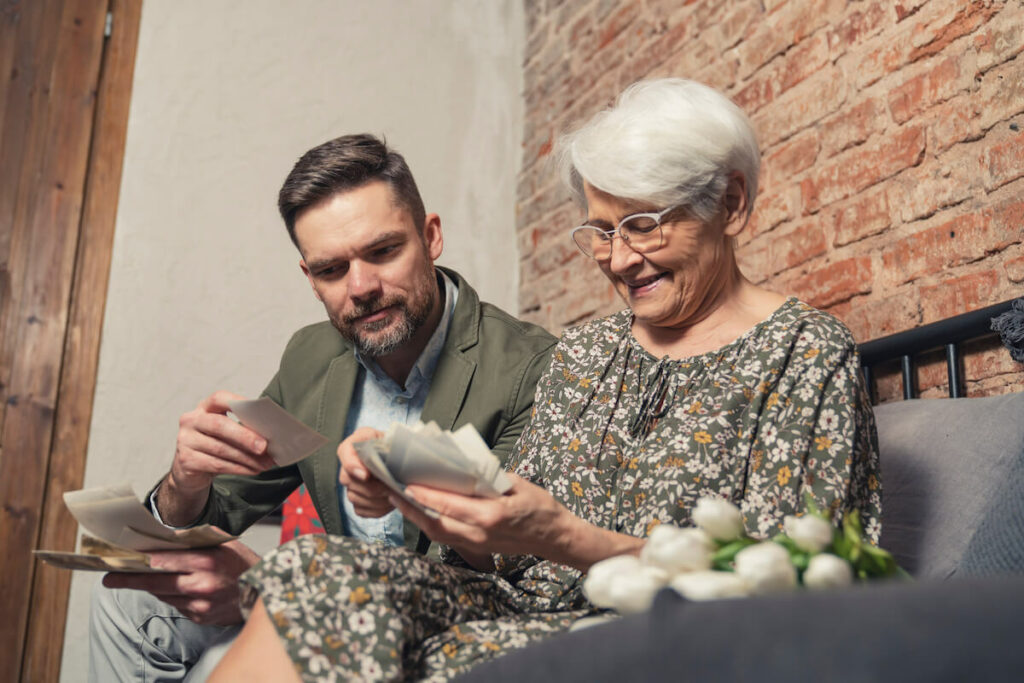 Feeling Happy, Helpful, Hopeful, and Productive
To ensure the benefits of Alzheimer's care, Colorado Springs associates use an evidence-based, individualized method of teaching and learning that helps associates connect with residents on their level. This no-judgment zone emphasizes respect and value for each resident; through activities that rebuild motor skills and connect to long-term memory, participants can improve their quality of life.
Our dedicated, knowledgeable coordinator just for Memory Care organizes the following activities:
Intellectually engaging puzzles, brain teasers, and word games
Signature themed sensory boxes
Interactive life and work stations
Art Throb Club
Green Thumb Club
Variety of other clubs
Because we are located in Colorado Springs, seniors at our community live in a scenic city with plenty of opportunities. We offer a variety of outings and events that keep our residents active and engaged outside of their Memory Care apartments, and even outside of StoneCreek of Flying Horse.
Nourishment of the Mind and Body
Chefs and other associates at The Cottage understand that food is both nutrition and experience. That's why they serve fresh, delicious, homemade food with warm, friendly service.
Our menus reflect up-to-date nutritional guidelines to improve physical and cognitive health.
In addition, several programs help to entice healthy appetites and encourage good nutrition, including Spice Club and hand towel aromatherapy sessions. Chef Action Stations offer residents the chance to get involved in the food preparation process.
With family-style dining, private dining options, dietary monitoring, and programs that make culinary experiences educational and interesting, StoneCreek of Flying Horse is the perfect place for seniors with memory loss to enjoy meal times.
Accommodating, Purposeful Senior Amenities
The Cottage was designed with comfort and community in mind. We wanted to create a space that felt like home, where residents could feel secure and confident, and we did; Memory Care residents live in their own accessible part of the building. Each suite or private apartment is easy to navigate and opens onto a spacious yet cozy living area for Alzheimer's care.
Colorado Springs associates encourage all residents to bring their own belongings and make their new residences their homes. Although seniors here cherish their old possessions, they often learn to embrace exciting new activities and routines, form friendships with fellow residents and team members, and discover different ways of thinking that benefit their well-being.
Reach Out to a One-of-a-kind Alzheimer's Care Team
Our community strives to provide the best possible service for our residents, and we hope that you will consider us when making your decision about Colorado Springs senior care. If you or a loved one is struggling with Alzheimer's or another form of dementia, contact us today to learn more about our Memory Care program and how we can help you or your loved one live each day to the fullest.