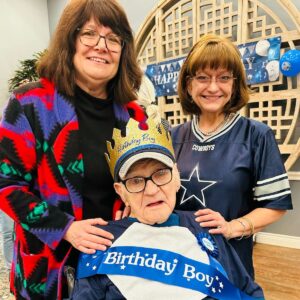 A special gentleman turned 103 years old recently. On February 3, 2023 Jearl W. celebrated his birthday at his senior living community, The Ridglea, among family and friends.
"Jearl is one of our veterans, so we wanted to make sure that his day was amazing," shared Activities Director Ashley Hicks. "When we asked him what he would like for his celebration, he said, 'Dallas Cowboys anything!'"
The staff at The Ridglea got to work and bought all of the decorations they could find representing the Cowboys, including a personalized cake. The Dallas Cowboys cheerleaders even sent Jearl a video birthday message!
"Our team pulled together to decorate the dining room, made food, and created a beautiful moment for Jearl, his family, and friends," added Ashley.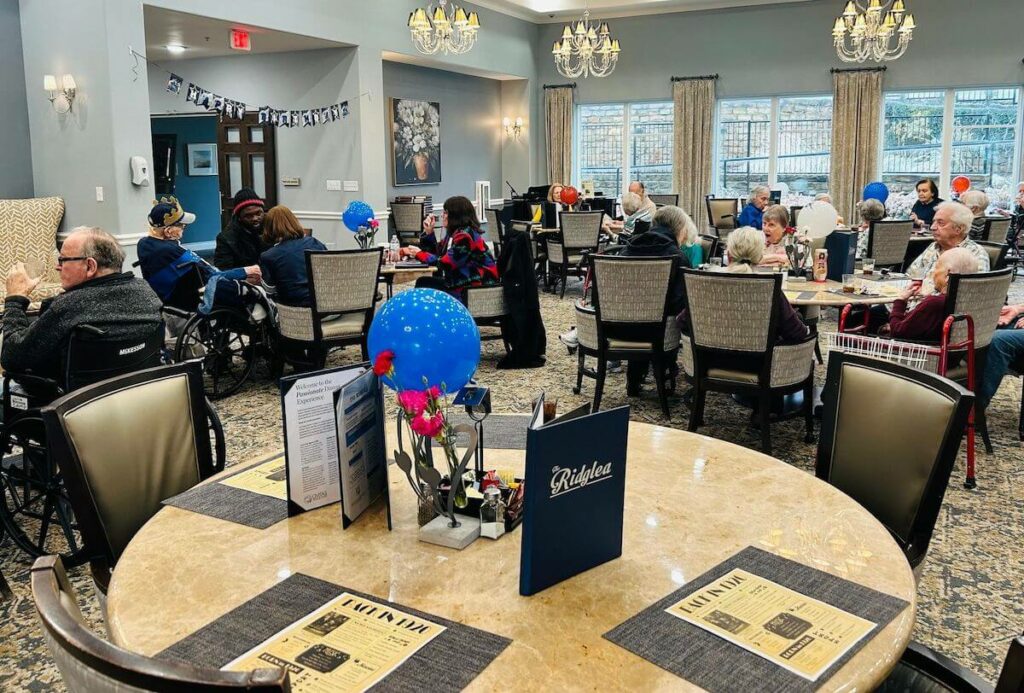 On a quarterly basis, The Ridglea performs 'Miracle Moments' for one of their residents. One of the staff chooses a resident to be featured and creates an amazing day just for them based on their interests, hobbies, or dreams.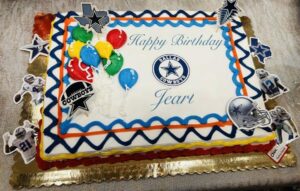 "This Miracle Moment is definitely one that we all truly felt blessed to be a part of," said Ashley. "With such a dedicated team that had gone above and beyond that week, we managed to make this day special for a sweet man that truly deserves the best."
Jearl was born on January 29, 1920 in Mineral Wells, Texas. He has two sons who he is very proud of: one is a doctor and the other is in nuclear physics. Jearl also has eight grandchildren and two great-grandchildren.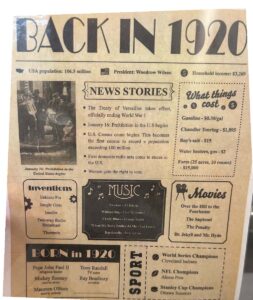 Before he went to join the Navy, Jearl was a champion boxer in Mineral Wells in 1938. He loved to box and go to matches. He also loved football, of course! Jearl always attended the Cowboys' home games.
Jearl joined the Navy in 1939 and served for four years during World War II. When he returned, he attended Baylor University and studied law. He became a very successful defense lawyer in Fort Worth. Speaking with an assistant who worked very close to him for 40 years, she said it was his passion, it's what drove him. He loved to study and learn everything he could about law and loved to teach others. She said he was so much fun; he would put on a great show in court because he had the best sense of humor, but also took what he did very seriously. He loved to help people and stand for what he believed was right.
When asked his secret to longevity, he said he had an aunt on his mother's side who lived to be 107. He thinks of her now in his older years and says most in his family lived out longer lives. He took great care of himself physically and mentally.
The staff also asked him what he thought the greatest technology has been so far. He says that computers helped jump court systems ahead, and helped change things in that world. But in the big picture, technology has its good and bad. He says it was better in the simpler days, and that young people should pick up and read a book more often!
Our associates at The Ridgelea work to help each resident lead a full, vibrant, happy, and active life. Contact us to discover our senior living options and how we can help you or your loved one enjoy retirement to the fullest.